More than 26 000 000 flowers sold. Close to 32 000 special events. Over 10 000 satisfied Brides.
My wedding flowers made from your Wedding Combo DIY Simple package with Cool Water and Vendela Roses. They turned out beautiful and I still have a centerpiece that will probably last a few more days.
Pictures of the flowers I used at my wedding from Global Rose! I used them to make bridesmaid bouquets and center pieces! This is a bridesmaid bouquet with my wedding heels! (Just make sure to have them delivered 3 days before the event so they look perfectly healthy!)
Most beautiful flowers delivered on time and still beautiful over a week later! Thank you!
Global Rose delivered our wedding flowers a few days beforehand and they were absolutely beautiful. We used carnations for our wedding and they are still beautifully displayed in our home. I wanted to thank the team of Global Rose for an inexpensive, yet beautiful option for our wedding.
Hi,Indeed the flowers (both the Paris roses and red carnations) came both on time and in perfect condition. Thank you so much! We made 1 large garland with the carnations and made 2 smaller garlands put out a few days apart with the roses. Everyone enjoyed the offerings! We will do it again at our next retreat event in Febuary! Many thanks again and feel free to post this as a recommendation to Global Rose. No photos were allowed unfortunately at the event but this will become a tradition.
Loved the flowers!! Used them to make the bridesmaids bouquets and to add some color to my wedding! I will post some pictures soon!
I got the flowers and will take them to my house to do the process you describe on this email. I just want to say they are BEAUTIFUL.. this is the first time I place an order via web site and had my personal doubts, but I want to say, I got what I was expecting. I will keep your contact for future orders, and will recommend your service to my family and friends.
The roses arrived promptly @ noon today. This was my first time using your site and I could not be happier....they are absolutely beautiful....they have been hydrated and will be ready for this weekend wedding. Again thanks for your service and the beautiful, beautiful flowers.
Got these for my dear friends 95 birthday.. They turned out wonderfully!
Thank you for wonderful service! My daughter and I just did the flowers for my nieces wedding and they were perfect!
The flowers were stunning. Thank you !
Thanks to Global Rose for our stunning roses for our fundraising event! Photography by Photography by MF.
this is the BEAST place for any rose that you need.
Valdivia Camacho Memphis. TN p>
To anyone considering Global Rose for your wedding flowers, DO NOT HESITATE. I spoke to Brian on several occasions before the event to be certain they could get the particular rose I wanted for the altar arrangements and pews, and not only were they the right variety, but they were more beautiful than the picture could capture. He was very patient with me, upon calling him several times. I ordered mini and large calla lilies, belles of Ireland, and two types of roses. They all arrived at 8:30AM from Fed Ex on the desired delivery date, and were MAGNIFICENT. There wasn't 1 bad or broken bloom out of over 500 flowers! My neighbor, who works for an event planner, was stunned at how beautiful they were. Not only that, it is now over 3 weeks later, and some of the roses are still fresh -- this is a miracle, since I have never had roses last that long, EVER. This is an amazing company to deal with -- I couldn't be more pleased!
The flowers were beautiful, fresh and lasted for several days! Thanks for providing a cost effective solution for wedding flowers!
Here are some of our wedding centerpieces... Pink carnations from you all. I don't know how to post it on your wall. Absolutely loved how fresh the flowers were.!
This is just one of the many vases of spider mums we had at my in-laws' 50th anniversary reception this weekend. We had a bouquet like this on every table. Very pretty!
Daughter in-law needed 100 Sun Flowers for her wedding. We were late in ordering but Global Rose pulled it off. Flowers were beautiful and price was perfect. Purchase here, you will NOT be disappointed!
Hello, I first wanted to comment that my order of 20 hydrangeas and 10 bunches of ruscus (half my wedding order) arrived today and they are BEAUTIFUL, I mean, top quality! The hydrangeas are kind of squished but that was expected with shipping. However, I'm freaking out because they are kind of early and I don't know what I should do to keep them alive until the wedding (November 2 at 6:00pm). Im scared they will die before the wedding! I really have to note again how beautiful they are though, even squished from the box lol.
A beautiful bountiful bouquet of white roses for my 40th birthday from my loving sorority sister.
I must admit I was a bit skeptical about ordering flowers for my nieces wedding. I was blown away by the freshness, the quality and beauty of the flowers. I have dealt with local wholesalers with less satisfaction. Global Rose saved the day and made the wedding beautifull. I would recommend them, without reservation.
I put wedding date but it was actually an order placed for my daughter's first birthday. I searched several different places for roses, including globalrose.com, bunchesdirect.com, bloomsinabox.com, samsclub.com, etc. Pretty much every bulk rose vendor I could find. The problem was that I needed these in less than a week, and globalrose was one of the very few vendors that offered next day delivery. I was so desperate I had even considered ordering from one of the places like ftd.com, Teleflora.com, and 1800flowers.com, however just the delivery charges were going to be outrageous. My main objective was to obtain 100 roses for less than $100. Not only could global rose guarantee the flowers would be here within 2 days, it was also way less expensive than going with one of the other bulk rose vendors. Shipping was completely free. Even for overnight! The website was out of stock of a few items under their "next day delivery" category, as I had originally planned on getting 50 pink roses for $66. However, I came out better with 100 multicolor roses for $89. Not bad. So I placed an order. Before receiving the roses, I was thinking "oh I will probably get some near dead, unwanted colors that were left over". I was highly skeptical of ordering flowers online to begin with, not to mention that I was allowing the vendor to pick whatever colors they deemed appropriate, as the information stated "colors may vary". Friday morning, 2 days before the event which is scheduled for tomorrow, they arrived. I was shocked to find 4 beautiful bundles of orange, yellow, pink, and white roses. The colors couldn't have been more perfect! These are better than florist quality, and I am amazed at what I received for the price. The only problem was the white ones had a few brown petals that will have to be removed. Other than that, they have blossomed beautifully. My fiance and I have already decided, we will definitely be getting our wedding flowers from globalrose.
Absolutely satisfied with our Calla Lilies for my Daughter's wedding... loved them!!!
Sorry, don't have a facebook page. The flowers were gorgeous! I've never had roses last so long. We brought some of the centerpieces back from the wedding and they lasted another whole week. Just beautiful. Not one bad flower out of all 350. Thanks for a beautiful wedding.
Sandi Haug St. Charles, MO
Ordered very nice calla lilies from Global Rose for a wedding of my customer. Fresh and nice. Love it. And they have pretty good customer service. Thank you.
Bryan, I just wanted to give you all a 'post event' update. The carnations DID perk up, and I am still enjoying the beautiful bowl full that is left from our event. Here are a few pics from our volunteers prepping the flowers and a picture of the table with the carnations set at the Mother's seat. Although the mix-up was somewhat anxiety ridden, I am planning on ordering some Fall flowers for my event in November. I (obviously) hope that all goes smoothly. Thank you for the incredibly fresh flowers that made the journey... and still came out ok!
Flowers ordered from global rose for a 30th birthday. They were fresh and it was easy to make the arrangements
I have never been so pleased, absolutely amazing hydrangeas! Perfect! Will order from you again! Thank you
Thank You!! You provided me with such Beautiful and Fresh flowers for my daughters wedding!! I was really able to save so much by doing the arrangements ourselves. They were very Beautiful!! My Beautiful Daughter and her beautiful flowers that I made her from Global Rose...
Brides bouquet and Just after the ceremony.
Thank you my Roses si beautiful abd fresh.....
My Wife absolutely loved the Roses! She was very impressed with the great care that was taken in packing them. Thanks for helping to make my Wife's 50th Birthday extra special!
I just wanted to take few moments to write following a recent order of 75 roses. I have to say I was concerned as I never placed such an order. I couldn't have been more pleased. Upon receipt, I immediately placed them in a large vase and the next day the roses were open and absolutely beautiful. Thank you for enabling us to have such a beautiful display of flowers at my Mom's 75th birthday party.
Rosemary Spoljarick N. Huntingdon PE
My flowers arrived and they were amazing! My mom was able to make me the bouquet exactly the way I wanted it. Thank you Global Rose!!
No issues here! Everything as ordered and expected. Flowers were beautiful. And can't beat the price...compared locally and they had the best packages. Be prepared to receive and take care of the flowers when they are delivered though. I think that's key. TIP: not very many florists suggest this, but bring a vase to the reception venue for the bridal bouquet if you want it to last longer!
I ordered the Delphinium Blue Flowers, 120 stems. They arrived on time as expected. Followed directions and placed flowers in water immediately. They were in full bloom on the day of our wedding. They continued to look good for days after. It was a great way to keep the cost down. I added greens and herbs from my own garden to create fragrant centerpieces and bouquets.
Thank you Global Roses for the gorgeous Creamy White roses I ordered for my Daughter's wedding! My cousin and I did all the bouquets, arrangements, ect., and they were beautiful! The order came in perfect condition and promptly on time! I will surely be recommending your flowers! Thanks again for making our wedding perfect!
I highly recommend global rose. I ordered carnations for my wedding. They arrived in perfect condition.
I arranged these for the tables for wedding reception.
Once again, the roses I ordered from you are breathtakingly beautiful. Thank you GlobalRose for the best deals around.
I ordered Black Baccara Roses from Global Rose last week. The roses were just amazing. This was one of my floral arrangements.
Thank you for your awesome customer service and beautiful roses. I am very pleased and Will definitely refer to your company!
Would just like to thank you for the beautiful flowers! Our wedding couldn't have been prettier! People are still talking about the flowers. I will use you for every event we will have in the future. Thank you
I recently received a large shipment of roses, sunflowers, bridesmaids bouquets, greens, boutonnieres, and corsages for my sons wedding. They were fabulous. My daughter works for a florist, and were getting them at cost through her was going to be significantly more expensive. You saved us so much money and yet the flowers could not have been bigger, fresher, more beautiful. Every thing was incredibly packed with care and right on time. I called your 800 number twice and the international number once, and was always treated as your number one customer. What a fabulous business you run. I simply cannot say enough positive things about working with your company. Add me to your long list of very satisfied customers.
I used Global rose for our daughters wedding, and was very happy I did, the roses were beautiful and the hydranges were too and they arrived right on time no complaints here!! will diff order again.
Most Awesome Freedom Roses as my centerpieces! Oh so Beautiful they are, even days after the ceremony! Thank you...You guys are awesome, in every aspect...from customer service, to the actual product! Love it all. Blessings !
We ordered 500 circus roses and 60 calla Lillie's for my daughters wedding. Arrived on wed for our sat wedding.. Perfectly bloomed, gorgeous flowers. We were so happy and the flowers made the event perfect.
My wedding director and photographer both thought that I'd got my bouquets done by a florist, but I did not. I bought the flowers from Global Rose and my wedding party and I worked together to make these! My bridal bouquet was so beautiful that I didn't want to throw it, but it was highly requested that I do so! : (.
These arrived on Friday and we used them for our centerpieces and had numerous compliments!! It's now almost Wednesday and they still look amazing!! Thank you so much for providing gorgeous flowers!! .
The hydrangeas still look great one week later! They were perfect for a baby shower.
Purchased theses flower 2 weeks ago for a baby shower and the came so healthy, strong and beautiful, it lasted 2 weeks. great quality . Thx global for a great package and a great deal.
These are flowers that I ordered from Global Rose and used in my recent wedding.
Thank you for the beautiful flowers for my daughter's wedding. Excellent job all the way around from flowers to service and reliability!
Karen Flinn
August 2013
Hi! I ordered 350 roses that were delivered on August 6. Just wanted to say thank you and they were/ are still absolutely beautiful!
Karen Flinn
Denise O'Shea
August 2013
I ordered 50 red roses for a memorial service. They were delivered on time, well-packaged and very beautiful. Thank you.
Denise O'Shea
Karmen Droneck
August 2013
Thank you so much for the Roses. They were absolutely beautiful!! I passed your website onto several people at the funeral, they too loved the roses :)
Karmen Droneck
Chelsea Kibler
August 2013
I bought the diy wedding combo. The flowers looked beautiful when they arrived 2 days before the wedding. I planned on making all the bouquets, table centerpieces, boutonnieres, corsages, and alter arrangements myself to save money. When I found this combination of flowers for the great price, I couldn't pass up the deal! The flowers gradually opened right up until the wedding day and still look great one week after the wedding. I would highly recommend globalrose to anyone needing to purchase flowers!
Chelsea Kibler
Pat Rose Russell
August 2013
The 100 roses I ordered on Monday, August 5th,to be delivered to Ontario, Canada were delivered Tuesday, August 6th at 3:12 p.m. The roses were in fantastic condition, fresh, tight heads, beautiful smelling. It was my Mothers 80th birthday and since our last name is Rose, it just seemed like a wonderful idea. My mother couldn't get over that they were long stem, fresh, and the colours were vibrant. I asked her if she was going to share some with her friends, she stated "NO WAY THEIR ALL MINE". Thank you globalrose for helping to make my Mothers 80th Birthday a hit. To be very honest it cost me the same to get a dozen roses sent, so from now on our flowers will be ordered in large numbers. ps. my birthday is next week, but I am a carnation fan, and have been showing my husband pictures!
Pat Rose Russell
Jamie Thomas
August 2013
The center pieces for my wedding! Flowers from Global Rose! They were perfect!!
Jamie Thomas
April Woods
August 2013
Our Roses & Babies Breath arrived Friday as promised. They were gorgeous Sunday (the day of our Bridal Shower) Thank you for a wonderful product, fast service and a GREAT price~!!!!
April Woods
Julia Epstein
July 2013
Wanted to thank you again for the beautiful roses for my wedding! The bouquets and centerpieces turned out amazing. The Vendela roses and Pink spray roses made a great combination!
Julia Epstein
Erica Gerdeman
July 2013
The wedding was awesome! Thank you!!!
Erica Gerdeman
Corazon Marcelino
July 2013
Corazon Marcelino
Tracy Webster
July 2013
Beautiful Green Carnations courtesy of Global Rose!
Tracy Webster
Linda Beason
July 2013
Flowers (Donna roses) for my daughter's party were beautiful. We made different arrangements for every table at a cost of less than a dollar a rose.
Linda Beason
Sue A Cooke
July 2013
I made this centerpiece for the head table at my grand daughter's wedding this past Saturday. The hydrangeas were gorgeous.
Sue A Cooke
Kaycie Bennett
July 2013
I used Global Rose for all of my wedding flowers a month ago. I ordered enough boutonnieres and pin on corsages for 16 people, my bouquet, my bridesmaids bouquets (calla lilies and roses) and 100 long stem roses to make into centerpieces. The total cost for all was around $650...very reasonable. I had these delivered the day before to create arrangements and they came in perfect timing. The flowers were beautiful and looked great in all of our pictures. I will use this site again in the future to order flowers for events. Thank you Global Rose!
Kaycie Bennett
Bri-Bri Luvzu
July 2013
I received these for my 21st birthday and I was very happy. I never had a guy give me THAT many!
Bri-Bri Luvzu
Tara Larkin
July 2013
Tara Larkin
AJ Hughes
July 2013
Global roses provides Messages Remembered with some nice roses to put our messages on.
AJ Hughes Messagesremembered.com
Isabel
July 2013
they are absolutely beautiful . . . Thank you so very much, I've been posting them all over telling everyone where I got them. I love them, my store smells wonderful.
Thank you again
Isabel
Nina
July 2013
Dear globalrose
I am sending you a picture of bride's bouquet I made with iguana and cherry brandy roses ordered from you. They were just lovely! Especially the cherry brandy roses.
Nina
Kim E. Paden
July 2013
I don't have any pictures, But they were lovely, they opened up & even smelled good. They made our event even more special. I have recommended you to everyone & will use your flowers again.
Kim E. Paden Westminster ,MD
Yvonne Cook
July 2013
We used the roses for our moms birthday party. they were beautiful and we got a large amount at a great price. will use this company again. the heads on the flowers were huge.
Yvonne Cook
Bertha Miranda
June 2013
Thank you so much for my calla lillys! They were beautiful.
Bertha Miranda Nashville, TN
Hansa Patel
June 2013
Beautiful flowers by global rose adorned the bride and groom at my daughter's wedding last sunday.
Hansa Patel Raleigh, NC
Lori
June 2013
Hello There: I couldn't figure out how to write a testimonial on-line, but I wanted to tell you I was so pleased with the roses for my event, they arrived on time, in fantastic condition, they looked absolutely beautiful and I received lots of compliments on them, everyone wanted to take them home with them after the event. To me, that speaks volumes! I've already started recommending your company to everyone! Thank you so much for helping make an event so easy and effortless and beautiful!!
Kind regards,
Lori (a very satisfied customer)
Kim Haggard
June 2013
I wanted to thank you for the quality of the roses that you shipped for my wedding on June 30, 2013. They arrived exactly as I requested and they were gorgeous! Everyone could not believe the price or the amazing fragrance that they gave off. Globalrose will be highly recommended by me to all of my family and friends. I will use Globalrose for all of my future floral needs.
Best regards,
Kim Haggard Chattanooga, TN
Nina Bekas
June 2013
Dear Globalrose, The 500 hot pink roses were just beautiful!! The alstroemeria was just as beautiful and opened fully for the event. Everything arrived as planned as always when I order from globalrose. This event was a 400 guest list quinceanera and therefore I made 40 centerpieces. I would like to commend Laura there at Globalrose for all her help for my questions. I have ordered from Globalrose several times in the past couple of years when I started doing events and am always satisfied. I will keep ordering always from you.
Nina Bekas Indianapolis, IN
Cathy Arrowood
June 2013
Cathy Arrowood
Angela Donato
June 2013
I couldn't have been happier with my daisies and carnations that I ordered! They were perfect for my niece's graduation party centerpieces that I made. I still have one of them today ...nearly two weeks later - still looks beautiful :)
Angela Donato
Elaine Chan
June 2013
Princeton University P-rade celebrating the 40th Reunion of the Class of 1973-- First Class of Coeducation.
Elaine Chan
Rosemarie Moniz
June 2013
This great.
Rosemarie Moniz
Melinda Camero
June 2013
Melinda Camero
Karen Rockwell
June 2013
The flowers for my son's wedding were absolutely spectacular and perfect!! I am so glad we ordered from Global Rose!
Karen Rockwell
Mona Newbauer
June 2013
My husband got these for me for my birthday. They were lovely and I enjoyed them for a long time. Then I pulled off all the rose petals and enjoyed them in other ways. Thank you honey!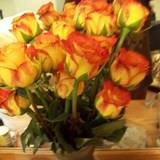 Mona Newbauer
Mary Ann Noel
June 2013
We love the flowers we purchased for our daughter's wedding. They were exactly like they looked online, she got a lot of compliments on them! Here is a picture of her dad walking her up the aisle.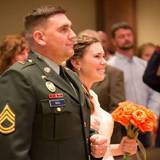 Mary Ann Noel
Elizabeth Barilari
May 2013
My Hydrangeas arrived on the exact date that was promised and they were perfect! !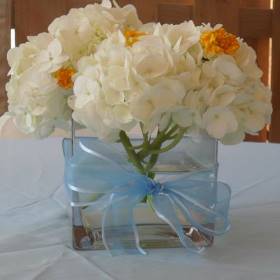 Elizabeth Barilari
Signe Beck
May 2013
Thanks for the amazing roses! What a beautiful wedding accent! All delivered on time, to Las Vegas!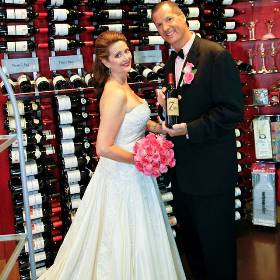 Signe Beck
Becker Barber , Saron
May 2013
My wedding roses arrived and I was disappointed. Half of what were supposed to be white roses were yellow. These yellow ones appeared to be a different rose than the ones that I ordered. I am happy to report that Global Rose was very accommodating and customer service was excellent.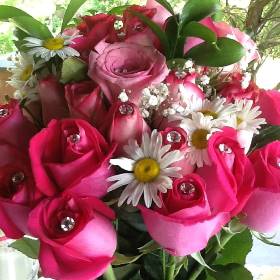 Becker Barber , Saron
McCombs Perkins, Chrisi
May 2013
I am absolutely pleased with the quality of your roses. They were stunning! I am a happy bride. I would highly recommend your company to any bride.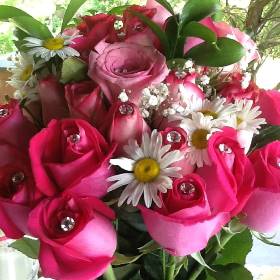 McCombs Perkins, Chrisi
Velazquez, Alejandro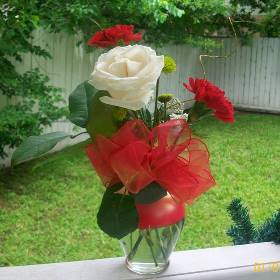 Walker, Margie
May 2013
I ordered 100 pink long stem roses for my brother's wife, I could not believe haw pretty they were, they were awesome roses, I have ordered red, yellow, white and mixed colors, you just would not believe how pretty they were and how long they stayed pretty, the best place to buy the most beautiful roses! thanks for making my friends so happy!!!
Walker, Margie
Snachez, Rene
May 2013
Thank you for the most beautiful roses I have ever given as a gift! The roses blossom into a different stage of beauty every day. Plus you use FedEx! I am happy to recommend Global Rose as a first class provider of quality and service.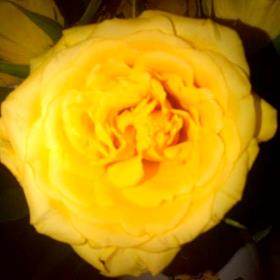 Snachez, Rene
Michelle DiFlorio Coles
May 2013
I received a box of the most beautiful roses..they really are. Thank You soo VERY MUCH!!!!!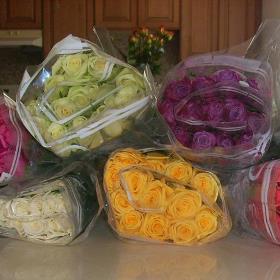 Michelle DiFlorio Coles
Didi Haybeck-Matregrano
May 2013
The Mothers Day Roses Came Today From The Contest. Thank you so very much. They are Gorgeous!! Going to be sharing with family and friends.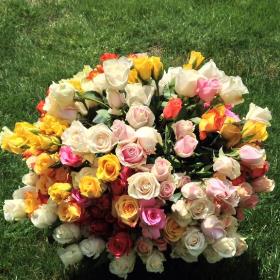 Didi Haybeck-Matregrano,
June 2013
Thank you all for the awesome flowers you sent me.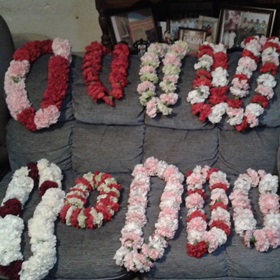 Carol
May 2013
Thank you so much for great service.. The roses were beautiful, had only one that the rose had broken off. But I don't care because the service was great and the roses were wonderful. I will buy from you again and I will tell my friends.
Carol=
Carol Murphy
May 2013
I just wanted to compliment your company on your excellent service and products. I was hesitant to choose an online wholesaler without knowing anything about the company, but your company is the most well run and efficient company that I have ever dealt with online! Thank you so much! Sincerely,
Carol Murphy =,
Karen Shipton
May 2013
Hello Global Rose Team..... Words cannot express how thankful we were to find your site. The flowers came to the minute when the email tracking notice said they would. I followed the directions exactly. Many, many people said they had never seen such beautiful roses and we couldn't agree more. Even more, they couldn't believe the low price we paid for them. They were packaged very very well and within a day they were opened nicely. Two days later at the wedding, they were gorgeous! A week ago today they came and they are still gorgeous. Thankyou....thankyou....thankyou....thankyou Global Rose. We will definitely recommend you and will refer to your company for any future floral needs. Thank you again!!
Karen Shipton, Grove City, PA
Janiece Buck
May 2013
Dear Global Rose: My above order was seamless. What a refreshing change. My recipient says your product is everything you show on your website. Fresh, clean, quality. Again, I say, what a refreshing change. I look forward to ordering from you in the future. Here's to Spring! Thanks!
Janiece Buck, Anchorage, Alaska PS. Fed Ex did an excellent job handling your product.
Mr. Lott
May 2013
I want to commend you for the wonderful roses, our Men of Valor of our church presented 300 long stem roses from you guys for our mothers on their day. The occasion was superior because of the beautiful roses provided. They were packaged very well, not one rose was damaged. Again thank you guys for making The mothers of Mt Olive Baptist Church day extraordinary.
Mr. Lott, Mt Olive Baptist Church, Valrico, FL
Eura A Givens
May 2013
I received my flowers 35 min. ago and they are beautiful. I am sure to use you again for Father's day flowers. My church gives every Lady a flower on Mothers's day and I am sure they will be pleased. Thank you
Eura A Givens, Harrisburg, PA
Kate Lessard
May 2013
My roses: Were spectacular! They came on time, they were fresh, and looked even better at my sons's wedding two days later. I will refer my friends to your site, and will remember Global Rose!
Kate Lessard, Dallas, TX
Ann Rose
May 2013
Our order arrived on Friday the 26th at 9am CST. The roses were a beautiful green and by Saturday morning they had opened and made gorgeous bouquets for the wedding reception tables. Everyone wanted to know where we got the flowers. Couldn't believe it when I told them. Your instruction on the care of the flowers after arrival was spot on. Thank you for delivering a great product for an important event. We could not have been happier, we will be ordering from your company again.
Ann Rose, Yutan, NE
Nicole Joseph
April 2013
I ordered flowers from your company for the first time last week. I needed for a retirement party at my job. The flowers arrived on time. I had to keep in the box an extra day, because did not have a way to transport 100 roses in water. Once in the bud vases they opened up and were absolutely the best roses I've seen. There were so many compliments from the attendees. Thank you and keep up the good work. Nicole P.S. I will order from you again!:-)
Nicole Joseph
Tina Boyle
April 2013
To everyone at Global Rose, I want to say Thank you to all employed at Global Rose. Your company is amazing! Every time I called I was able to speak directly to a person immediately :) I was never given the "run around" like most companies do. The flowers arrived on time and in perfect condition. This was our first time ever ordering flowers in bulk and doing the flowers with little experience. They were beautiful and held up very well. They were delivered on the 10th, today is the 17th and the ones we brought home still look wonderful! With a grateful heart, Mother of the Bride
Tina Boyle, Travelers Rest, SC
Jeanne
March 2013
The flowers were fabulous. I will order again.Thank you
Jeanne, Michigan City, IN
Lisa
March 2013
Hello, I recently purchased 250 hot pink roses for my bridal shower. I was hesitant making my first flower purchase online. The flowers were delivered exactly on time as I had requested. The flowers were absolutely gorgeous and were such a hit at the shower. Everyone commented on how amazing they looked, and even a week later our guests were still commenting. Thank you Global Rose!!
Lisa, Connecticut
Angel Dulin
March 2013
I would like to thank you for the lovely roses. It was my 1st time ordering from you & I was very satisfied with my roses. I ordered them for a wedding celebration for my best friend @ my home. My guest were amazed by the roses.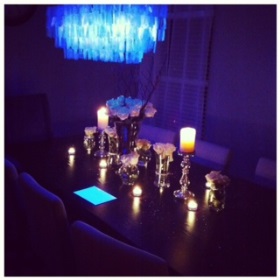 Angel Dulin, Charlotte,NC

Ann Eckert

February 2013

Hi I received my order today that I ordered yesterday the flowers are beautiful! Thank you so much our Drama Club Flower Gram is sure to be success! Thank you

Ann Eckert Roxbury,NJ
Tammy Edens-Cypert
February 2013
I can't even begin to express in words how very wonderful it was to open the HUGE box of roses that I won that was delivered today. They are absolutely gorgeous top quality. I just can't believe I won such a wonderful gift. I am going to have a wonderful time decorating my home with them, along with I shared with my daughters and my one granddaughter. A very huge Thank You to everyone at this company for their time and effort to make my Valentine's Day a day that I will never forget. I will post pics as soon as I can. THANK YOU again!!
Tammy Edens-Cypert
Nicci Tapp
February 2013
I received my BEAUTIFUL and GORGEOUS roses today!!!! Thank you SO much, Global Rose!!!!!!!!!!!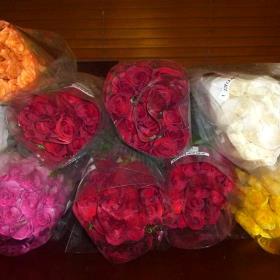 Nicci Tapp
The Team of Life, Inc
February 2013
The Team of Life, Inc. non-profit organization gave flowers from GlobalRose out to all their fundraiser attendees last night! Gorgeous flowers from GlobalRose.com!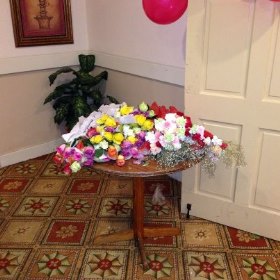 The Team of Life, Inc
Mick
February 2013
Roses are here and they're beautiful!
Thank you, Mick
Pepper Mintz
February 2013
I just wanted to thank you for your wonderful roses. I have ordered several times for my Mom and she is always so pleased. She just received her Valentine's Day roses. I sent them early so she could have time to make up bouquets for her friends. Turned out, one of her best friends' funeral was the day she received the flowers and she said it was such a joy to come home to a house full of flowers and she said the smell was lovely too. She was able to take flowers to a friend in the hospital that night and she said it was so nice to have flowers for herself and also flowers to give on such a sad day. All her friends are so impressed with the size and quality of the blooms and also the wonderful packing. Delivery has always been exactly as promised. One day I hope to have the money to order some roses for myself and to share with my own friends. I am so grateful for you prices and your wonderful quality. Keep up the good work. Thank you so much!
Pepper Mintz, Dallas,Texas
Janet Jennings
February 2013
The flowers were absolutely beautiful! Thank you for the excellent service.
Janet Jennings, Mount Vernon, OH
Michelle Sauers
February 2013
Thank you for the beautiful Black Bacarra Roses! Everyone asked about them and complimented the flowers and the arrangements! The photo attached is one of the many flower arrangements that I made for our Holiday Party in January. I was so excited and nervous about ordering the flowers, but they were perfectly beautiful as promised. This was a great experience and the price could not be beat. I will be recommending Globalrose to everyone!! All the best,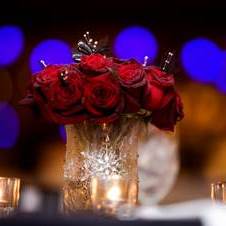 Michelle Sauers
Emma Scott
January 2013
I wanted to let you know that the roses we ordered from you for our Military Ball in November arrived in beautiful condition, perfect timing and with wonderful support from your customer service. Thank you so much for being such a great company!
Emma Scott
Lew Otterman
Freeport, PA January 2013
Thank you for the prompt delivery of 100 Roses for my Aunt in Grand Junction. They were beautiful and very appreciated by all the Commons residents and staff. My Aunt was very suprised for her 96th birthday. I will put Global Rose at the top of my Flower List.
Lew Otterman
Joann Curtis
Morris, NY January 2013
Roses arrived this pm via FedEx and where in pristine condition. Thank you for the excellent service and excellent roses.
Thank you again, Joann Curtis
Paulette Sears
Show Low, AZ January 2013
Just wanted to let you know the roses were absolutely ~BEAUTIFUL~!!!
They arrived in perfect time, and in perfect shape and definitely helped to make the occassion just that much more special!!!
I will definitely recommend GlobalRose!!!
Thank You again! Paulette Sears
Jillian Vanens
Loup City, NE January 2013
Fabulous. Flowers were great! Thank you!
Jillian Vanens
Jesse Mase
South Portland, ME December 2012
Dear Friends at GlobalRose, My order #15169 came Friday as scheduled and wow, what wonderful roses! I have ordered many times from you folks and the roses are always great but these are even better. I got 25 Alex, 25 Cool Water, 25 High Magic and 25 Hot Princess and separately, by two's, or all together they are so gorgeous. I have two bouquets in the living room, one in the dining room, one in the kitchen and two in the bathroom and one in my bedroom. What a way to ring in the New Year! Thank you so much for such fresh roses and the best service. I grow my own in the summer up here in Maine, but yours sure can make a rose-loving guy happy all winter.
Jesse Mase
Judy Conn and Michelle Bevis
December 2012
Hello: We wanted to thank you for your OUTSTANDING service! The roses arrived in mint condition, not a bad one in the bunch, cut them put them in water for two days and by the wedding day they were in bloom and made the entire room smell delicious. They were just as we expected and the customer service was stellar!! We cannot thank you enough for making this wedding day perfect. Even the DJ's that worked the wedding asked where we got such beautiful dark red roses and commented on how exceptionally beautiful they were!.
Judy Conn and Michelle Bevis
Mandy Brown
December 2012
Flowers were beautiful. Thanks so much for your help. The wedding decorations turned out awesome!
Thanks again, Mandy Brown
Glenda Evans
December 2012
Thanks the flowers were great and a big hit for my niece. She had so many roses at her graduation she could no hold them.
Glenda G. Evans
Angela Poulin
December 2012
WOW! Not only has your customer service department been incredibly responsive (and patient) with a OCD MOB, but when the flowers arrived last week, I was absolutely floored by how gorgeous each and every blossom was (in all 200+ roses--individual and in the ready set I do bridal party combo, only 1 flower was imperfect). The flowers are still gorgeous 5 days after arrival! I will use you in the future for any and all my flower ordering needs! Will post pictures immediately following this post, and later as well as pictures begin to roll in from the wedding.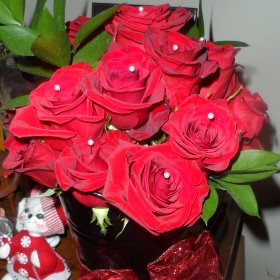 Angela Poulin
Iris Morales
December 2012
It was a great experience dealing with Global Rose. I had ordered 75 mixed Roses and they were well packaged, arrived on time, and were simply beautiful. They also lasted for a very long time. I will definitely purchase again and highly recommend Global Rose to those that want to celebrate there special events or just for their own enjoyment, with these beautiful and long lasting flowers. I am a satisfied customer.
Thanks again!
Iris Morales
Vera Lamplota
November 2012
roses were delivered on time and were beautiful Big success !
Thank You Globalrose
Vera Lamplota
Claudia Morales
November 2012
Hello,
I just wanted to send a quick note to thank you for your prompt responses to my concerns and questions about delivery, etc. The roses were of wonderful quality and everything I expected. Many thanks,
Claudia Morales.
Austin, TX
Theodore Sotoropolis
November 2012
The roses arrived on time and as advertised. Thank you!!!
Theodore Sotoropolis
Kay Johnson
October 2012
Thank You Global Rose for providing such premium products! I ordered 200 hundred roses and the simply the best centerpieces for my nieces wedding. The roses were absolutely stunning. All of them opened up perfectly and, 9 days after the wedding I was still enjoying the centerpiece I took home with me. Great customer service and a great product. I WILL be a repeat customer and tell all my friends how pleased we were with Global Rose. Thanks again for making our day so special.
Kay Johnson
Rosa Loor-denis
October 2012
EXCELLENT PRODUCT. GREAT COLORS AND TEXTURES FOR THE EIGHT VASES NEEDED AS CENTERPIECES FOR A PRIVATE EVENT.
WILL HIGHLY RECOMMEND TO ANYONE.
THANK YOU.
Rosa Loor-denis
Judy Weltman
October 2012
Hi Laura,
I wanted to let you know that the flowers we ordered (#13003) were stunning. They arrived in great condition and lasted for the duration of our celebration. We had so many comments from our guests about the beautiful colors.
Thanks to your company for wonderful service and wonderful flowers.
Judy Weltman
Vicky Copess
October 2012
Received these lovely Topaz roses yesterday, got them right into water and within 4 hours they looked as if I had just been out in the garden picking them. They are so much more than I had expected, very nice long stems, flower head larger than expected and the color is out of this world. Delivered on the date expected. Thanks so much for having these lovely roses at such an affordable price. I will be ordering more!
Happy as a lark in Kansas
Vicky Copess
Cheryl Szurma, Deja Dezigns
September 2012
Hi. Just want to let you know I was 100% satisfied with my order. I have ordered thousands of roses in the past and have NEVER received such beautiful roses. They are still beautiful today! Thanks for your great customer service and great flowers!
Cheryl Szurma
Jerry Woodside
September 2012
They were great. better than expected.
Jerry Woodside
Deann A D'Onofrio
September 2012
I am writing to thank you for the excellent service and the beautiful flowers from order #12861. These flowers were for a memorial service for my best friend who had just died, and I was so very pleased with the quality of your flowers, the way they were shipped/received, and enjoyed by our guests.
I will recommend you to others and will look forward to using your service in the future.
Thank you again,
Deann A D'Onofrio
Gabrielle Gonzales
September 2012
sharing my daughter's wedding bouquet still looking beautiful since the wedding last weekend...ivory roses combined with blue hydrangeas...the roses were studded with "diamond" jewel pins....!!!
Paulette Ruth Shunk-Clever
August 2012
My assortment of spray roses came today, I was so nervous to buy them online, but the price couldn't be beat, so I bought them for my wedding. I love them! I can't wait to see what they look like after they open up! I am very happy with my purchase.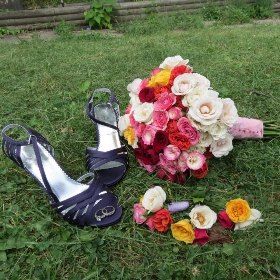 Thank you & thank you for having such beautiful flowers at an extremely affordable price. My most difficult decision was choosing between the spray roses & the regular roses.
Paulette Ruth Shunk-Clever
Gabrielle Gonzales
August 2012
roses were delivered on time and in beautiful shape! can't wait to start the wedding bouquets! Thank you for great customer service!
Gabrielle Gonzales
Kim Radek
August 2012
Thanks we received the roses and they were just beautiful.
Thanks so much for your help.
Kim Radek
Lee Ann Berardi Smith
August 2012
Just received 75 stems each of lavendar Cool Water roses and white Blizzard roses. They are stunning! They are going into assorted china tea pots for centerpieces for a 90th birthday party Sunday.
Thank you so much!
Lee Ann Berardi Smith
Jo Gordon
August 2012
I received this order and the flowers are beautiful!!!
Thanks,
Jo Gordon
Stephanie Munoz
August 2012
To whom it may concern,
I was a skeptic, I have to say. To order flowers online from a company i had never heard of was a little nerve wrecking. I needed red roses fast using a tight budget. The flowers that I had ordered for my uncle's memorial were absolutely gorgeous and arrived right on time! I am thrilled with how everything worked out and will order from your company again. Thank you so much for making it all happen.
Sincerely,
Stephanie Munoz
DeAnna Trivett Morrison
August 2012
My wedding flowers were beautiful (and well priced)!!!
DeAnna Trivett Morrison
Margaret Turk
August 2012
Thank you for the great service and Beautiful roses! I will highly recommend your company!!
Your newest client,
Margaret Turk
Glenda Bridges
July 2012
Thanks You Global Rose!
Beyond Arrangements & A Black Tie Florist could not be more pleased.
My first order from Global Rose, arrived before 10:00a.m. and were packed well, and very fresh, no drooping heads, no dead leaves, and were packed for freshness guarantee.
We can't wait for our next order tomorrow to arrive!
You have earned another customer, and did I say call backs were prompt, and follow up with the order direct from the grower too!
Glenda Bridges
Paloma Y Luna
July 2012
I was extremely hesitant to order flowers online but I decided to give it a chance. The biggest draw for me was that I could use paypal and feel secure with the purchase. My mind was set to have low expectations for delivered flowers, but as soon as I opened the delivery box I was astonished. The roses were of a vibrant red and in great condition. It was a great value and my wedding turned out beautiful!! Thank you Globalrose!!
Paloma Y Luna
Jesse Galvez
July 2012
You guys are awesome! Ill make sure to save you in my favorites for the next time I organize a party. I do arrangements as a hobby since I looove flowers, who doesnt right? and since the family knows I have a knack for it, they have got me to do a quinceanera in the past and a wedding now. Im sure this wont be the last time I need your help. J You guys saved me tons of $$$. For the quinceanera I went to a local florist and even though I got the flowers In bulk they were still almost 3 times as much. Have a fantastic day and again, thank you for taking such good care of my babies. They all arrived in perfect condition, and I thought it was super creative the way you placed little water reservoirs on each of the hydrangeas. You guys rock!
Thanks again!.
Jesse Galvez
Linda Neiger
July 2012
We received the red roses on Wed July 18 for a July 21 wedding... they were absolutely gorgeous. The blooms were huge and beautiful. It was a real asset to the wedding. This is my second time using Global Rose. Com.... I can't tell enough people about these fabulous reasonably priced flowers.
Thank you again for making another wedding of one of my 13 children very memorable.
Linda Neiger
Colleen Quiter-Ramirez
July 2012
Hello all at Global Rose, I just wanted to say thank you for your prompt service, helpful attitude, and, most of all, for the stunning loose roses that I recieved to make my centerpeices. They were beyond beautiful and really added a simple elegance to my wedding. Thank you so much!! I will definatly use you in the future and reccommend you to anyone who needs exceptional quality flowers without an outrageous price!!.
Thanks again and all the best to you.
Colleen Quiter-Ramirez
Lolita Sagen
July 2012
WOW I Always think that if you order flower online it wont be fresh, but I order Flowers online for my wedding at John Wayne Marina anyway, I was glad I did because the roses at GLOBALROSE.com is just wonderful, they are fresh as it can be, I'm so happy I ordered it here, the ROSES are BEAUFUL I ordered 100 red roses and 100 white and 150 filler. All I can say is they are fresh and ship the day I want it to ship, and a lot of people at my party saying the are beautiful, it make the whole room looks very beautiful. .
Thank you so much GLOBAL ROSE you save my wedding day. Thank you..
Lolita Sagen
Tara Heil
June 2012
I ordered 250 red roses and 80 white roses to make wedding bouquets for my wedding. They were the most beautiful roses I have ever seen! They were shipped when I needed them with great directions on what I needed to do! Thank you!!
Burghardt Bodenburg
June 2012
Dear Madam or Sir, The roses I received - on time and in perfect condition - are the best roses I have ever had. A Thank you very much! to all, who worked on my order!
Best regards,
Burghardt
Kim
June 2012
I ordered this combo last year & again this year as a fundraiser for our dance team to provide flowers for our dance recital. The combo worked perfect, providing roses & filler to make multiple bouquets that we puttogether. We had these delivered on a Friday for our Sunday performance. They arrived by mid morning (despite a last minute panic attack by me when FedEX showed est. delivery of MONDAY! But a quick reply to a frantic email to your company calmed my nerves a bit) We immediately cut them & got them into water, per your suggestion & by Sunday morning, the roses had bloomed beautifully & the alstroemeria were just starting to open & show their color. We ordered Hot Lady & Miracle last year & they were both gorgeous. The HotLady was a very pretty dark hot pink...much more pink than your picture shows, which was perfect for us. And everyone fought over the few remaining Miracle colored roses we had left...a very pretty orange with yellow base...MUCH prettier than the pic shows. We've already ordered for next weekend & will be placing yet another order in a few weeks to help out another dance team with their fundraiser.
Kim
Rachelle Bell
June 2012
We ordered the White Rose Corsage and Boutonnieres for our parents and grandparents at our wedding. Our florist wanted to charge $40 a piece for the Corsages and $15 for the boutonnieres, and since we had 3 moms, 5 grandmothers, 3 dads and 4 grandfathers, we knew that would be to expensive to get them from the florist but still wanted to give them something to wear. These corsages and bountonnieres were perfect! We had them delivered the day before the wedding, which they arrived around 10am. They all came in little water capsules attached to the bottom of them to keep them fresh and they were standing upright in a box that was specially made for corsages. We put the entire box in the fridge overnight and took it to the wedding location the next day. Since they are in water, the stems are a little longer, so you have to cut the stems before you put them on, so make sure you have floral scissors handy (we only had regular scissors, so it was a little tricky put we made it work). Also, you can get the clear boxes that corsages/boutonnieres usually come in when you get them from the florist at Hobby Lobby or other crafts stores if you want it to look more presentable before you give them to the person wearing them. This was such a great buy and we saved hundreds by ordering them from here. Most importantly, our grandparents felt special that we gave them all something to wear...we kept the good deal a secret from them :) Also, it was so convenient that they just came to our house. It is also nice that you can order as many corsages or bountineers in different colors as long as the total # = 16, so you could give different people different ones if you wanted to.
Rachelle Bell
Kathy Pavlick
May 2012

I could not be happier with the flower order I received from global rose. They arrived ahead of schedule, as fresh as could be, and with added extras I did not expect. Everyone commented on how beautifully done everything was. The pearl pin details on the roses and the wrap on the bridesmaid bouquet were just exquisite. The two bunches for extra petals were so pretty we wrapped them and used them as nosegays for two little girls. Thank you for making my daughters wedding so lovely. I will recommend global rose to everyone!

Sincerely,

Kathy Pavlick
Megan Knorr
May 2012
My bouquet on my wedding day.. gorgeous Vendela roses from Global Rose.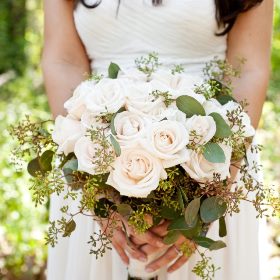 Megan Knorr
Jesse Mase
May 2012

Dear Folks at Globalrose,

I've ordered several times before and the roses were always excellent, but this order #10994 is truly magnificent. The roses have opened perfectly, lasted for days and are as fresh and anyone could ever ask. Thank you so much, and I can't wait to save up the money and order again.

Jesse Mase South Portland, Maine
William & Robin Everitt
May 2012

I just have to let you know how beautiful the roses are! I ordered them for the Mother's Day service at the church and they arrived perfectly packaged. They were absolutely beautiful as we passed them out to all of the ladies two days later. We had a few left over and they are now looking beautiful in my office.

Thank you! .

I will be sure to let anyone who needs roses know that we had a very positive experience ordering from you.

William & Robin Everitt Central Church of Christ Clarksburg, WV
Karyn Hill
May 2012

Thank you for providing quality roses. I was skeptical about purchasing roses without seeing them, but I was pleasantly surprised. The roses lasted one week, and for a matter of fact roses that were brought from visitors on the same day I received yours died by the next day.

I most definitely will be ordering soon. Unfortunately I lost the coupon but that's okay.

Have a wonderful Mothers Day and weekend.

Karyn
James Harris
May 2012

We received our shipment of fresh cut carnations this morning and we couldn't be happier. All of the communication from the initial sale to the shipment updates have been first class. The quality of the carnations is the best we have received form any vendor.

Thank you!

Pastor Jim Harris

Calvary Chapel of Salt Lake
Ellen Poorman
April 2012
Dear Sirs,
I just finished up doing a wedding for a young couple on a tight budget. I was a little apprehensive about ordering roses through the mail, but the flowers arrived and were amazing. Out of 100 roses, we didn't lose a single one. They were fresh and beautiful. I have attached a picture of the bride's bouquet which is a mixture of your roses and alstrohmeria combined with silk flowers. Your customer service was great and the gals were so helpful. Thanks for helping to make this a beautiful wedding!
Poorman.
Megan Lee
April 2012
My beautiful Vendela roses from Global Rose starting to bloom. 500 of these beauties were delivered yesterday!!!
Luvia Garcia
April 2012
I wanted to thank global rose for an amazing experience!!! Great service and i was very pleased with my order. The flowers arrived ahead of time and came in a very secure package. The flowers where of great quality too!! Thanks again for your great service!! i will always be a customer and definitely recommend you guys to everyone i know.
Peggy Schmid
March 2012
Dear Global Rose, I just finished up doing a wedding for a young couple on a tight budget. I was a little apprehensive about ordering roses through the mail, but the flowers arrived and were amazing. Out of 100 roses, we didn't lose a single one. They were fresh and beautiful. I have attached a picture of the bride's bouquet which is a mixture of your roses and alstrohmeria combined with silk flowers. Your customer service was great and the gals were so helpful. Thanks for helping to make this a beautiful wedding!
Sincerely, Peggy Schmid.
Jesse Mase
South Portland, ME
March 2012
" What magnificent roses came last Thursday - your roses are easily the best, no questions. Amber was an excellent substitute for Donna, and Hot Princess and Big Fun made a superb trio. I love the freshness and the vigor of your roses, as well as the choice of variety, not just color. I've ordered before from RoseSource.com, 100roses.net, amazonflowers.us, as well as FTD and ProFlowers. I will only order roses from you from this point forward - you have made me a regular customer. Thank you again,"
Jenn Boronski
March 2012
"I just wanted to let you guys know that the roses i ordered from you for my wedding reception were AMAZING!!!!! they arrived on time and i had one with a broken stem out of 100, but even that one was long enough to use in my arrangements. Thank you guys for your service :) i put up a good word for you guys on theknot.com as well"
Megan Sokolnicki
February 2012
The roses arrived, and as usual, are beautiful! We order each year as a fundraiser, and have never been disappointed in the quality or timeliness. Keep up the great work!
Mary Beth Cecil
February 2012
Thank you so much for the beautiful, long-lasting roses of supreme quality, which were delivered to my house exactly when they were promised! I ordered the 500 rose special for my daughter's wedding, and received many, many compliments on the flowers! After the wedding, I rearranged them, and gave them back out to my friends who helped me arrange and decorate with them, and they lasted for almost 3 weeks in all! (The blooms were large enough that I could pull off outer petals, recut the stems, and place them in fresh water 3 or 4 times, and they still stayed large and beautiful!) I have, and will continue to recommend GlobalRose to anyone to needs to order flowers! Also, the customer reps with whom I spoke were all so helpful and patient with me!
I have attached a few pictures if you would like to use them!
Thank you again for such helping to make my vision come to fruition in such a delightful way!
Margaret Sledge
January 2012
Hello i have attached a few photos of the flowers that were ordered. The flowers came on time and they were able to hold up very well. Everyone loved the flowers and could not believe that we order them online. I have been suggesting Global Rose to my other friends that are getting married as well.
Sledge Wedding.
Jan Hadaway.
Jenkinsburg, GA October 2011
"Thanks for the quick response and the beautiful roses last week..they were PERFECT. I grew up in the florist biz and I know good stock and those were the BEST!."
Miranda Lee
Jeffersonville, IN October 2011
"Just wanted to say the roses where so perfect for my wedding -i was a Do it your self bride with all the flowers and i was very impressed with the roses that came! THANK YOU willbe a loyal customer hence forth!!!! : )."
Sita Jeffers
Springfield, PA October 2011
" Hi Globalrose.com Wanted to send you a quick note of thanks! As mother-of-the-bride plus chief planner and decorator for my daughter's wedding on Saturday, you must understand I have a little case of the "butterflies"! I can't express my happiness when my order of flowers arrived from Global Rose about an hour ago. Not only did they arrive at the perfect time, but they breathtakingly beautiful! I am so grateful for the support you gave me over the phone last week and the patience with which you treated my call. I will certainly share my experience with others concerning Global Rose and be expecting my next order very soon. Again....thank you so very very much!!."
Michele M. Poelking And Party Planner
Springboro, OH September 2011
"Thank you globalrose.com!! I ordered roses from you to decorate a Wedding reception. They arrived at 9 am on the scheduled day and they are just BEAUTIFUL! They match the color on your web site pretty much exactly which is very tricky when it comes to cream roses! I ordered Vendela which I would recommend to anyone wanting a creamy rose. Thank you for the ease of ordering and delivery as promised without any hitches."
Deborah Mooney, Lasting Florals
Midlothian, VA September 2011
"Just want to let you know I received my order of Gerbera Daisies at 10 am this morning in perfect condition. Your packaging is superb, my gerberas are sleeved with nets and I am SO thrilled with that I can not tell you. The colors you chose are exactly what I wanted and the customer service was excellent, they even enclosed food with each bunch and I'm sure now the wedding will turn out beautiful.."
The Flower Lady
Leighton, AL September 2011
I bought these Freedom roses (along with some Escimo roses) for a wedding I was decorating and they were absolutely beautiful! The bride was SO pleased! They are a classic red rose. There were no dark spots at all and they were extremely fresh. They were packaged VERY well. I have used flowers from several other retailers that were much more expensive than these and no where near the same quality. These are BY FAR the best roses I have used and the price can not be beat. I am now a Global Rose customer for life.
I am now a Global Rose customer for life.
L Neiger
Newberrry, SC August 2011
We received our order on the day we requested it. We ordered 100 white roses for a wedding. They came in great shape and were absolutely beautiful... the price was fantastic. We had so many compliments. I made my daughter's bridal bouquet with the roses, siberian white lillies and calla lillies.... it was gorgeous. Thank you so much for the great service and beautiful roses...
I will recomend you to everyone I know...
Kaylee Wolenetz
Fergus Falls, MN August 2011
I usually never write reviews, but I am usually never this impressed.
I found your website while I was searching for wholesale flowers to use at my wedding, as the florist here are so expensive. I first believed that this was way to affortable to be real, so many roses at such a low price! I was so hesitant because of the risks that come along with ordering flowers online. I read great reviews and so I decided to place a "trial sample order". I then ordered the smallest order I could find, which was 75 roses. Still cheaper then a lot of arrangements. They came in the day that I chose, and they looked stunning. I did as you suggested in the instructions as soon as I got them. It is now day two and I can't believe how stunning these roses are. The colors are so vibrant and the petals are flawless. I will now be placing a much larger order for my wedding this September.
Thank you so much.
James Maxwell
Washington, NC June 2011
I wanted to take a minute and email your company and tell you how pleased I was with my rose order. I placed an order at the end of May for 200 Tibet & Vendela roses. They arrived at my home by 10:30am on the delivery date of June 6/9/11, fresh as fresh could be.
I did not have to peel one petal, I just clipped stems and placed in water. They arrived to me on Thursday for my daughters Saturday wedding. I placed them in water in my refrigerator and there they stayed until the wee hours of Saturday morning.
They were then turned into lovely bridal party flowers, right down to the grand parents. They were a lovely addition to the reception table. I wish you could see the photos, I would love to share them with everyone. My mother who is retired from the flora business says they were some of the finest flowers that she has worked with, and she has been through many!
Again, thank you so much for making our special day even better. I have already started spreading the word about your company, bragging about how much I saved. It's great to be able to say that these days!
Yomaris Maldonado
Ridgefield Park, NJ June 2011
After a little bit of a scary time when the 1,200 roses we recently ordered were being delivered, everything turned out fine and the flowers were beautiful so I just wanted to send my sincerest thanks. I thank you for your continued support. I do look forward to working with you again and I just hope that FedEx makes our lives a lot easier going forward.
I've attached some pictures of what the event looked like with your amazing roses.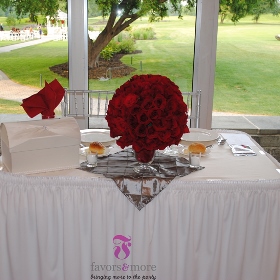 Thanks again!
Alexa Drubay
Media, PA May 2011
I've been wanting to write to you to let you know that at first, I was nervous about ordering roses from your company for a special anniversary celebration. It was my first time ordering from globalrose.com and I didn't quite know what to expect...and I had so much riding on having the perfect roses for my celebration...
However, my order arrived just like you promised and I was very impressed by the quality and freshness of the flowers. They looked SPECTACULAR!!!
The shipping worked just like you promised.
I was so delighted, the anniversary couple LOVED the flowers and so did all the guests. We received so many compliments and the roses lasted a week, each one of them opening into full bloom and perfuming the room with a delicate scent.
I plan to order roses from your company again and will highly recommend globalrose.com to others.
Thank you for an excellent job!
Jody Seibert
West Lafayette, OH April 2011
I ordered your assorted rose package of 250 in mid-April. Wow, what a beautiful bunch of flowers! I have ordered from many on-line flower vender's but none have even come close to the quality and price. Thank you so much! I will definitely be a continuing costumer.
Thanks again, Jody Seibert
Kathryn
Key West, FL November 2010
Hi,

I got married a few weeks ago, and I just wanted to say that I was totally impressed with the flowers from Global Rose. The colors were exactly what I wanted, the roses were so fresh, I was amazed that not one rose was damaged. Our arrangements turned out absolutely gorgeous!
Thanks so much and keep up the great work!
Anonymous Customer
Griffith, IN October 2010
What beautiful roses. It's been a week today since received, and each is still in bloom and alive! Many people at the reception asked where I got the roses, as they loved them. Of course, I recommended Global Rose to them.
Kris and Anisa Munch
Sanford, FL October 2010
My husband and I just renewed our vows after 10 years and decided to do our floral arrangements ourselves because of the extreme price difference when using a florist. I have to admit that I was nervous about ordering flowers online (sight unseen), but I couldn't be happier that I did. We ordered the Wedding Combo Beautiful and it was more than beautiful. The flowers were gorgeous and delivered right on time. They opened up to full, crisp, fresh roses and the callas were amazing! Thank you for making our renewal such a wonderful experience and for having a company that provides exactly what they say when they say it. Should we have the need for flowers in the future we will definitely be using you!
Ilisis Designs serving the New York and New Jersey area
Sussex, NJ October 2010
Dear Globalrose,

I can't begin to tell you how great your flowers were!! The roses, the Cal Lilies, the Hydrangeas and the Casa Blanca as well as the Stargaze Lilies!! They were outstanding!! Your order was on time, your employees are outstanding, even calling me to make sure I had received my order and that all was to my satisfaction. I am so happy I have found you!! You have a client in me forever!!! I will not be purchasing anywhere else!! The quality of your flowers is like no other!! I am looking forward to a long fruitful relationship!!!
Sincerely,
Isis
Rosebank Farms
Johns Island, SC
"Every week when our Standing Order comes in, we can see the Globalrose difference. The flowers are fresher and the price is great. Going direct with Globalrose makes it easy for us."
Flowers by Annette
Charlotte, MI
"I was thrilled with my Valentine's order. Not being a full service florist, I don't have the capability of ordering on a regular basis... but I surely will place any holiday orders with your company. The friendliness of everyone I spoke with speaks volumes for Globalrose. You are A-1 in my book!"
Flower Mart
Glenwood Springs, CO
"I know I can count on good quality even at peak times. For the last two Valentine's Day we have purchased from several suppliers and the best quality has come from Globalrose. I can order early in the morning or very late at night. I don't have to wait for them to be open or for an operator and the service has been very responsive to a few concerns."
Bond's Flowers, Balloons & Gifts
Salt Lake City, UT
"We have been purchasing our roses and carnations from Globalrose now for over a year now. We have found the flowers to be far superior to the ones that we were receiving from our other sources. We have had numerous customers call us to say that their Roses have lasted much longer than any other roses they had received in the past. We have virtually eliminated all customer complaints that their flowers did not last long enough. This applies to roses as well as carnations.
The size of the flower is also impressive. We have been buying mostly "shorts" which are as long as our other suppliers "medium" and "longs". The head size is as large as any "long" that we normally would purchase. We have been purchasing the lower priced carnations and the stem length and head size are outstanding. Globalrose has always had our order to us exactly when we scheduled it. The price is right, the flowers are impressive, the longevity of life is superior, and they are at your door when scheduled. I have had numerous suppliers over the 46 years that our shop has been owned by our family and we have not had any better product than that from Globalrose."
Josie's Creative Designs
Yemassee, SC
"I was thrilled to be able to order my roses direct for Valentine's Day. The quality and prices were simply great. Please note that our order was delivered on the exact date as promised."
Boulevard Services Ltd.
Freeport, Grand Bahamas Island, Bahamas
"Last Valentine's Day we decided to distribute red roses at our gas stations throughout the Bahamas so I looked through the Internet and found Globalrose. Not only were the roses of an excellent quality but they arranged all of the international shipping documents so everything went flawlessly. We look forward to working again with Globalrose for all of our future floral needs."