The history of Valentine's Day and the story of its patron saint himself is shrouded in mystery. While we are sure that February has long been celebrated as a month of romance, and that St. Valentine's Day, as we know it today, contains remnants of both Christian and ancient Roman tradition, no one is really sure who Saint Valentine was, and how he become associated with this ancient rite.
Several different saints named Valentine have been recognized through the ages, each of whom was martyred. One legend says that Valentine was a priest who served in third century Rome during the reign of Claudius II. When the Emperor decided that single men made better soldiers than those with wives and families, he outlawed marriage for all young men. Valentine, seeing the injustice of the decree, defied Claudius and performed marriages for young lovers in secret. When his actions were discovered Claudius ordered that he be put to death.
There are other legends that suggest Valentine may have been killed for helping Christians escape harsh Roman prisons. According to one story, an imprisoned Valentine actually sent the very first "valentine" greeting when he fell in love with a young girl who visited him during his imprisonment. Before his death, it is said that he wrote her a letter signed "From your Valentine," a phrase still in use today. Although the truth behind the Valentine legend is cloudy, the stories all emphasize his appeal as a romantic figure.
Giving that special someone flowers on Valentine's Day stems from a long-standing history of sending bouquets as non-verbal declarations of love. The Persian custom of floriography, which means "flower writing," was introduced to Europeans by Charles II of Sweden in the 18th century and taught gift givers the meanings of each bloom. As the tradition of floral gift giving blossomed through out Europe, it became a custom associated with Valentine's Day.
Not surprisingly, this classic rose bud is the most popular choice for Valentine's Day. Perhaps it is because red roses symbolize love, romance, beauty and perfection. The Valentine's Carazon arrangements include 6 stems of stunning roses, ruscus and alstroemeria. On the other hand, perhaps its gratitude, appreciation or admiration that you wish to convey. Valentine's Day isn't solely for lovers. Pink roses as presented in the Valentine's Day Pink Heaven arrangement will show that special someone that your are grateful for them and all that they do.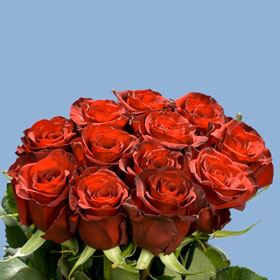 If yours is a blossoming love, a bouquet with daisies will symbolize beauty, innocence and purity. Gerberas are recognized by their large flowering heads and peppy hues, giving them an additional meaning of cheerfulness. The happy flowers are always a favorite to receive and you can present them in the Thinking of You arrangement which also comes with pretty red carnations, white pompom daisies greenery and a stem of spray roses.
An established love is just as important if not more so than a new one. The man or woman who gives a bouquet such as the Valentine's Heart with pink lilies knows that his is a sophisticated love and knows his partner well. Lilies typically stand for beauty, class and style, the hallmark of a well worn love.
Carnations are just right for fascination and new love. For some reason, carnations have a bad rap, but they are so pretty and are arvelous flowers. The Valentine's Amoure arrangements include red carnations and Gerbera daisies as well as greenery. Remember, those Gerberas hint at a blossoming love, its up to you to make sure it happens!