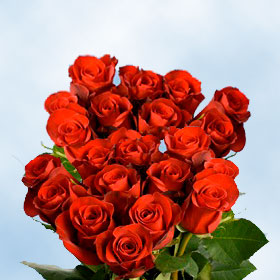 All over the world on February 14, it is a common sight to see lovers spending the day in the cozy company of their special someone. Over time, this day has come to be celebrated by people of all ages many of whom make elaborate preparations to celebrate Valentine's Day, sometimes way ahead of its arrival.
Valentine's Day is not only a celebration of romantic love, but also a way of strengthening the bond that exists between friends, family and acquaintances. Apart from gifting each other with poetic words of love, exquisite floral bouquets are also exchanged. In fact, a lot of times we find that flowers speak words of emotion and feelings, much better than words.
The rose is the traditional Valentine's Day flower, because it signifies romantic love. We all know that red is the color of love. Red roses are the undeniable symbol of romance, romantic love and everlasting and enduring passion. Send this message to your special someone and take her breath away with The Roses Valentine's Flowers. The Roses Valentine's Flowers come in a box of 50 Red Roses each with 16″ – 18″ stems. Can you imagine the look on her face when you arrive to pick her up for your special evening with 50 beautiful Valentine's Day roses in your hand?
Is there a special lady in your life that you admire; your mother, grandmother, or mentor? A lavender flower represents beauty and admiration. They are also a token of refinement, grace and elegance. The Sentimental Joy arrangement comes in a vase, and contains purple and lavender spider mums, lavender roses, purple pom-poms and more. This arrangement will make any special lady smile this Valentine's Day!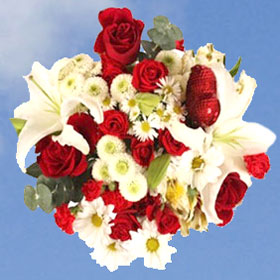 Don't forget your friends or family members who have loved and supported you throughout the year. Globalrose.conm has a lovely special something for them, too. The Valentine's Thank You Bouquet is just what you need, with 7 bouquets showcasing 18 stunning flowers such as lovely red roses, white alstroemeria, red mini-carnations, white asters, white pompom daisies, white pompom buttons and white oriental lilies. This Valentine's Day, give fresh flowers to the 7 people in your life who have made a difference, or combine them into a gorgeous single bouquet for an even greater thank you.
Make this a Valentine's Day to remember for all those who have touched your life in a special way!