May through August is probably the most popular time of year for weddings. A summer wedding is full of sunshine and warmth, and is ripe for an outdoor setting such as a beach, a garden, or a beautiful yard. Take advantage of the long days of sunner with an afternoon wedding, or highlight a glorious sunset by saying your vows as the sun sets behind you. Bring light to an evening wedding with torches and strings of lanterns in the trees.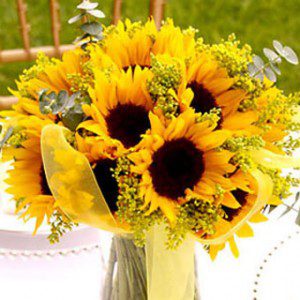 An extra-summery idea is to use gingham tablecloths with sunflowers in metal watering cans as centerpieces. Fill your wedding space with bright and cheerful flowers from Globalrose such as the Sunflowers and Solidago Centerpieces. There are 3 Centerpieces per box and each has 16 sunflowers, 15 solidago and 6 eucalyptus. If you decide to stay with an all yellow color scheme for your arrangement, you can create a classic, sophisticated statement ideal even for formal occasions. For an interesting arrangement, select your yellow flowers in different shades of yellow, light to dark. Yellow flowers that accent sunflowers are snapdragons and daisies. The Your Choice Of Color (150 Flowers) selection from Globalrose allows you to choose 150 soft yellow snapdragons to compliment your centerpieces and décor. As for daisies, the Chrysanthemums Yellow Daisies Flowers (144 Stems 576 Blooms) presents a classic daisy bloom with 4 to 6 blooms per stem. The box contains 144 stems of yellow daisy pom poms 24″ long, just right for mixing in with your sunflowers and snapdragons.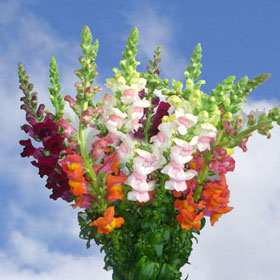 For your bridal bouquet, why not use the Sunflower Bridal Bouquet SunFlowers from Globalrose? This beautiful and elegant Sunflower bridal bouquet has 13 stems of yellow sunflowers plus 1o stems of Solidago and 3 eucalyptus. The bridal bouquet is 18″ long and the stems are wrapped with ribbon. As with all wedding or special occasion flowers, we recommend your delivery date to be two or three days before your event and to order at least 10 days before the delivery date. Your wedding flowers and wedding roses are shipped absolutely fresh, directly from the greenhouses to you via FedEx. Globalrose sells wholesale flowers at prices that are usually lower than most local wholesalers. All our wedding flowers are cut specially for you and your special event, a few days before they are delivered to your door.