Flowers might seem like a traditional Valentine's Day gift for women, but many men also love receiving a Valentine's Day bouquet! When a man receives flowers from a woman at his place of employment, it's often an enjoyable and unexpected surprise. An impressive display of fresh flowers on his desk at work will make him feel special and will have him thinking about you all day long!
Valentine's Day history dates back hundreds of years. The original Valentine, a priest who lived during the height of the Roman Empire, came under orders to stop initiating the marriage of lovers. The priest refused to comply and was imprisoned for his troubles. He supposedly continued to send messages to his parish, writing what has become known as the first Valentine cards. In the early 1800s, Esther Howland began producing cards for her friends filled with words of affection. She sent them to those she cared about, eventually developing her own business and the commercial Valentine was born.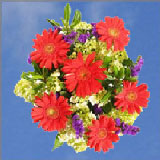 Choosing Valentine flowers for a man requires a bit of thought and planning. When sending Valentine flower arrangements to a man, remember that many men are very visual. Pastels and pale colors should be avoided, and the more vivid hues expressed. Traditional reds, oranges and yellows in their vibrant shades area good idea. The Valentine's Day Passion Bouquet contains 7 bouquets consisting of red gerbera, green pittosporum purple statice and green mini hydrangeas. Arrange them in unique 'manly' vessels matching your guy's interests, like a vintage beer stein along with an invitation to an ale house or an empty popcorn container with two tickets to a movie? The options are limitless, and the Valentine's Day Passion Bouquet gives you enough bouquets to let you include your dad, grandfather and the other important life in the festivities.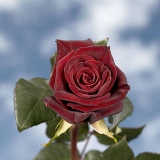 Many men love roses, too! However, for a more masculine look, choose a rich, dark shade like the Long Stem Black Roses. Arrange them in a leather container for Old World flair and make the men in your life feel extra special. Globalrose.com has the perfect Valentine's Day flowers for your man so take a look at our huge selection of fresh flowers and make this Valentine's Day, one your man will never forget!