If you're in love with daisies, you can incorporate them into many aspects of your wedding. The daisy is a sweet white flower with a yellow center, that's what most people think of when they think of the kind of daisies that grow wild, however, there are many shades of daisies from bright red to bright orange. By making use of the many colors of daisies and you can add pops of color all throughout your day.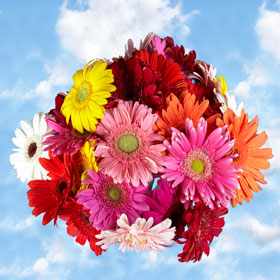 Known as a flower for all seasons, Gerbera daisy bridal bouquets are a beautiful and versatile option for any bride. The gerbera can be used alone as a lovely, natural looking bouquet, or they can be mixed with other flowers, greenery, and accents for more formal arrangements for the bride to carry. A Gerbera daisy is characterized by its striking long petals and distinctive center which is actually hundreds of tiny flowers. Depending on the shade, the gerbera may look delicate or bold and regardless of color this flower is not only lovely, it's also an economical choice since it blooms repeatedly throughout the year in mid-spring, mid-summer, and mid-fall.
With its wide range of shades, the effect of a multi-colored gerbera bouquet is festive and fun. A multi-hued bouquet can lend the perfect touch to an informal wedding, or be a bold color surprise at a monochromatic or black and white wedding. The Gerberas Assorted 120 Flowers collection comes in 24 bunches of 5 stems each in a variety of happy colors.
Perhaps you want to add something to the gerberas to formalize the bouquet a bit. The effect of gerberas and roses is lovely and romantic, especially in nosegays, posy, or other circular bouquets. Esperance Roses are a lovely compliment to a bouquet of gerberas. A combination of light pink and cream with a touch of green on the outer petals make this rose very special.
Globalrose.com grows gerbera daisies year round in greenhouses that use the latest technology offered, allowing us to guarantee quality every single day. Your gerbera daisies are shipped absolutely fresh, direct from the greenhouses to you via FedEx. Globalrose sells gerbera daisies, wholesale flowers and wholesale roses at prices that are lower than most local wholesalers.