A taste for color is one of the first things when it comes to style and leaving a lasting impression. In fact, color could be the very thing that takes your breath away. It does not matter what kind of flower or rose for your special online delivery that you may be looking for, wholesale flowers from Global Rose are a great deal, with premium value flowers.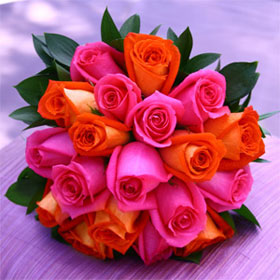 Back to color, regardless of the occasion, though it may be a wedding, a grand event, or a great surprise…what you choose it exactly proportional to the statement you make. For example, let's say you use a color combination of white and pale pink flowers. This will have a very ethereal effect upon the room, and will strike notes of purity, divinity, and innocence. Contrastingly, pink and orange flowers are loud and very joyful. Think of a tropical theme, or an event that you want to be bursting with colors…for example, an Indian-inspired party.
Red and white can look patriotic and is a striking combination because it blends together both the purity of white and the passion of red. For something a little more understated, you can go for white and yellow; which has a friendly youthfulness while still suggesting complexity.
Now, this is only the beginning of combining colors in your floral arrangements. There is always more, of course!