As you surely know by now, Valentine's Day is on its way. This Valentine's Day, as your heart reaches out to your sweetheart; keep in mind some of this interesting trivia as you get ready to celebrate.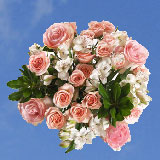 • The ancient Roman festival Lupercalia, the festival of the wolf, was the precursor to Valentine's Day. Celebrated from February 13-15, it was a purification ceremony. Like our modern-day exchange of love notes on Valentine's Day, boys would draw a girl's name from a box on the eve of the festival and then escort her to the festival the next day.
• During the 1700s in England, a girl would pin four bay leaves to her pillow and then eat a hard-boiled egg, including the shell, the night before St. Valentine's Day. If she dreamed of a boy that night, she would soon marry him. Wouldn't it be better if she sent him a Valentine's There's a few to start arrangement? There are 8 whimsical arrangements in the box and each arrangement includes esperanza roses, white alstroemeria, pink spray roses and green pittosporum. No vase is included, so she can make one large bouquet, or have several left over to share with her friends.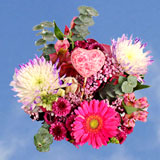 • In some Latin American countries Valentine's Day is known as Día del Amor y la Amistad, Day of Love and Friendship. Globalrose has just what you need to show your best friends how you feel. The Valentine's Bouquet Friendship & Love are ten charming arrangements of 15 flowers each, containing pink alstroemeria, hot pink gerbera daisies, green eucalyptus, lavender tinted gypso baby's breath, purple tinted spider mums, purple pompom button chrysanthemums and stems of pink snapdragons. You know your friends will love the Valentine's Day Bouquet Friendship and Love this Valentine's Day!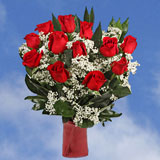 • The red rose was the favorite flower of Venus, the Roman goddess of love. The color red stands for strong romantic feelings making the red rose the flower of love. Your Valentine will swoon when she finds the Valentine's Bouquet Love You Forever at her door. This Valentine's Day flower arrangement comes with 3 stems of green leather leaf, 3 stems of gypso million stars and 12 stems of gorgeous red roses. A vase is included so she can show them off to her fiends.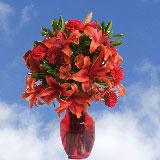 • One of the most beautiful and incredible gifts of love is the monument Taj Mahal in India. Built by Mughal Emperor Shahjahan as a memorial to his wife it is the emblem of the eternal love story. It took 22 years and 20,000 workers from all over Asia and India to complete the project. Save yourself some time and send her the Valentine's Le Grand Amour. This Valentine's Day flower arrangement includes 22 flowers like the beautiful red carnations, green pittosporum, red alstroemeria, red matsumoto and elegant red Asiatic lilies. Prove to the lady in your life that your love is grand with our Valentine's Day Le Grand Amour bouquet! This resplendent arrangement arrives fresh in a lovely vase.
Go out and create your own Valentine's Day traditions this year, and remember to arrive at your romantic destination with fresh bouquet of Valentine's flowers from Globalrose.