What better way to say "I love you" than to promise "I do" on Valentine's Day. Couples who get married on the most romantic day of the year are able to take advantage of the decorations, romantic poems, and the colors of the holiday to create a wedding that will be all love, magic and sweetness.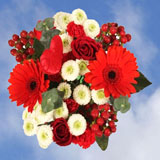 Valentine's Day decorations of red, white and pink, hearts and chocolates shared between valentine sweethearts, and beautiful roses can get overwhelming, but it is possible to decorate in understated elegant way.
• Roses in red, white, and all hues of pink are perfect for a Valentine's Day wedding. They make a dramatic statement on their own, especially when accented with baby's breath or green ferns. Not only will you need flowers for the bridal bouquet (may we suggest the Bridal Bouquet Royal Red Roses), but also lovely welcome gifts for out of town guests and roses are always a welcome sight. Is there a better greeting than to enter a hotel room tired from a long journey only to find a bouquet of Valentine's Deeply In Love Bouquet in your suite? You'll receive 8 charming arrangements in your shipment. Each fresh cut bouquet is a lovely arrangement of 16 flowers consisting of red roses, red gerberas, green eucalyptus, red hypericum, red mini carnations and white button pompons. Order enough for each room and get the party started!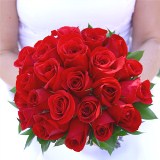 • Don't forget the rehearsal dinner! Floral centerpieces will set the tone of your big day. Place one of 7 Valentine's Passion arrangements on each table and you are sure to impress.
• Are your guest being transported to the wedding venue? Decorate the wedding transportation with garlands of similarly hued flowers.
• Bridesmaids' bouquets can also be used to create lavish buffet table decorations or to surround the cake.
• Create guest table centerpieces with 4-5 separate clusters of flowers from the Roses Valentine's Flowers collection of 50 red roses so that each couple can take a part of the centerpiece home.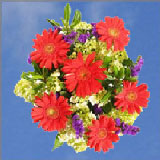 • Sprinkle rose petals from Rose Petals Red: there are 42,000 red petals to put on the cake table and walkways and to toss instead of rice as the bride and groom depart.
Remember, Valentine's Day is a special day of love and romance and it's just around the corner. Globalrose.com has an incredible selection of Valentine's Day flowers to help you express your love and affection on your special day!