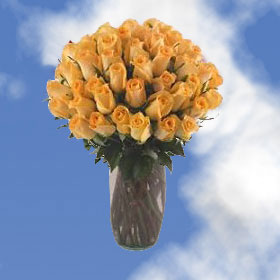 The demeanor is everything, perhaps the only thing. We can control our words and even our actions, we can create a fiction or enrich our reality…but the expression on the face is very telling, it is often not detected in our attempts to control and portray whatever side of us we may wish.
Designed for interminable beauty, an arrangement such as our Enchanting Sunset flowers will reveal the true expression of authentic feeling. Why is that? Orangey hued roses and their phenomenal petal count which translates into such a memorable silhouette will have you absolutely spellbound.
The scent of these roses alone is so delicate and mesmerizing, as they make a statement in the most subtle of ways…arising from the soft scents of decadence in order to wrap their sweet aroma around you and create the most entrancing state with these free delivery roses online.