This Valentine's Day, take some time to select a gift for your beloved grandmother and the other 'moms' in your life as well. Buying your special ladies a gift on this special day will remind them that your affection and appreciation for her is steadfast.
There is no love like a mother's love. Send flowers for Valentine's Day to all of the special moms in your life, and thank them for the love they have brought into this world. Show your mom, mother-in-law, the mother of your children, your best friend or any woman who has devoted all or part of her life to being a mother that you care about her. Send Valentine's Day flowers personalized with blooms and sentiments that reflect each mom's style.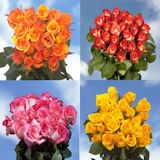 Roses are a great way to say, "You're Special!" on Valentine's Day. For the modern mom, use the roses from the Flowers Valentines Roses in an assortment of colors, cut the stems short and arranged them in a small square or round vase. For moms who are a little more traditional, wrap a wide, sheer colored ribbon around the base of a taller vase and secure it with a pretty ribbon. By personalizing your gift, you've shown that you made a special effort to honor the most important woman in your life: your mother. And when you deliver those flowers on Valentine's Day, be sure to remember your Grandmother! Try the traditional mixed arrangement from the Valentine's Day Big Hug Bouquet. Filled with fragrant gerberas, dark pink micro pompons white pompon cushions, red carnations, pink Asiatic lilies, white spray roses and a white aster, you will receive enough for 8 special ladies.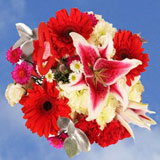 You've confided in your favorite aunt about your first love, you've asked her for fashion advice, and she has always given you the best birthday gifts. This year, give your aunt the Pretty In Pink arrangement to remind your her how much she has meant to you over the years.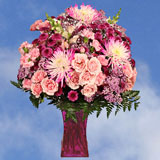 Your best friend gave birth this past year to her first child and is still adjusting to becoming a new mom. The Valentine's Day Bouquet True Love arrangement comes in a vase with leatherleaf, lavender gypso, pink mini-carnations, hot pink spider mums, purple pompom buttons, pink snapdragons and pink spray roses. This lavish bouquet will both brighten her day and help her relax. Sending a new mom flowers for Valentine's Day is an easy loving gesture that will remind her you'll be there to support her as well as her newest family member for years to come.
This year, remember all the moms in your life. By sending bright and cheerful flowers for Valentine's Day, you're sending a gift of love and appreciation. By being moms, they have made this world bright and cheerful place to be.