On February 14th, while we are celebrating Valentine's Day, those in Finland are celebrating Ystavanpaiva, or Friend's Day. In Mexico it's Dia del amor y la amistad, a day of love and friendship. Admittedly, here at home it may be a day for lovers and sweethearts, but it's still a day to express love and appreciation to the important people in our lives, including our friends and family.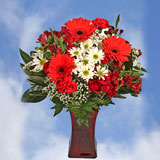 The Valentine's Day Bouquet Garden of Love from Globalrose is a fun arrangement to send to someone signed 'from your secret admirer'. This assortment of flowers includes red alstoemeria, red carnations, red gerbera daisies, green cocculus, green leather leaf, gypso million star, white pompom daisies, and red spray roses. A vase is included.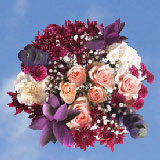 Reach out to someone else on Valentine's Day. Take the opportunity to contact someone that you haven't spoken to in a while; maybe a friend, or a family member. You simply never know who might love to be remembered on Valentine's Day. Send them a Valentine's Day Candy Bouquet. Sent directly from Globalrose's greenhouses via FedEx, your box will contain 12 delicious arrangements consisting of pink spray roses, baby blue eucalyptus tinted purple, green ruscus that's been tinted pink, white gypsophila, purple novelty pompoms, and white carnations. Place these pretty flowers in novelty containers or baskets for an extra Wow!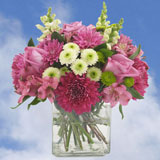 Do you know of someone who has recently lost a significant other? Maybe a neighbor or coworker is recently widowed. The Sentimental Joy arrangement comes in a vase and includes purple/lavender spider mums, green, lavender, rose and white pom-poms, snapdragons, ruscus and alstroemeria. Valentine's Day would mean a lot to her and would make you feel good as well.
Valentine's Day can be a wonderful day if you are in a relationship, but difficult if you are alone. Remember how special you are, and then help the others in your life feel special, too. Valentine's Day isn't just for lovers.