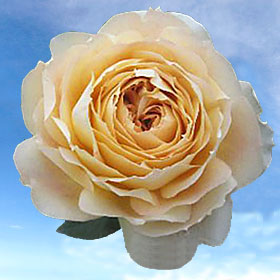 Glittering, glowing, and sparkling table centerpieces can truly add to the aesthetic wow-factor at events. One exciting way to bring extra brightness is to garnish gorgeous flower arrangements with votive candles besides them. For a wedding that will dazzle guests beyond words, consider creative ways to make your table centerpieces be unforgettable. Besides a towering vase of vibrant and fragrant lilies, little creamy colored votive candles will be like the visual equivalent of hearing a chorus of angles sing on Christmas eve in the background. That small touch that makes everything magical. Not that flowers need any help, but trying something different with them will certainly be something to talk about. It is also a highly affordable way to make sure your engagement, function, or fundraiser has a lot of glitz and glam.
Imagine a lush arrangement of deep-red roses paired besides a clear ornate bowl filled with floating votive candles that dance as their lights pass by each other like ships. Those orbs of light will bounce off the rich color of the flowers to create an image that is quite special.
For a more down-to-earth look, you may make a holder for a votive candle out of an orange. Fruit in vases already makes for a stunning arrangement, a glowing orange globe besides some creamy white flowers would make for something astonishingly beautiful that has a light summer freshness as well. There are many ways to create centerpieces that are stunning, the flowers take the stage but why not add a little back up?