Delicate, durable, and delightful, the carnation is a rich and meaningful flower choice. The carnation's scientific name is dianthus which roughly means "flower of love" or "flower of the gods". One of the worlds oldest cultivated flowers, it is appreciated for its ruffled appearance and clove-like scent.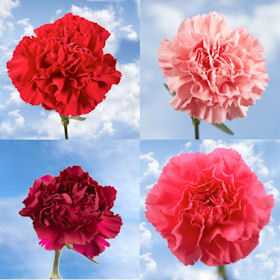 The history of the carnation dates back to ancient Greece and Rome where it was used for both art and decor. Carnations during these ancient times were found mostly in shades of pale pink and peach, but over the years the palette of colors has grown to include red, yellow, white, purple, and even green. Throughout many centuries of change, the popularity of the carnation has continued to be undiminished.
The carnation represents fascination, love and distinction. Different messages can be expressed with the flower's different color varieties. Light red carnations, are often used to convey admiration, while dark red expresses sentiments of love and affection. The white carnation is associated with purity and luck, and pink is often given as a sign of gratitude.
To this day, carnations are a popular flower choice for Valentine's Day. They are immediately recognizable and possess a charm and allure that captivates people around the globe. The carnation is also a great flower to sell for a fund raiser. A Valentine's Day flower fundraiser can be a great idea for your organization. Who wouldn't want to receive a pretty carnation on Valentine's Day? Carnations are accessible, low-cost flowers to send to friends or family. A flower fundraiser works great for schools. Carnations should be used because of their long life, and they can be bought in bulk at an exceptionally reasonable price from Globalrose.com. Get permission from your school administration, gather your committee and then contact Globalrose.com. so we can help make your Valentine's Day fundraiser a fun and profitable experience for your organization!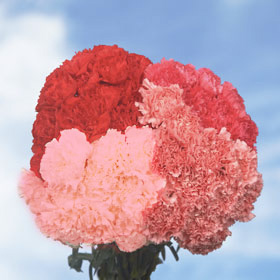 The 400 Bulk Valentine's Day Carnations from Globalrose are fresh dazzling and stunning. They are a perfect combination of red, white, and pink. Many organizations turn to online companies like Globalrose.com as a source for wholesale carnations. Globalrose is the leading online suppliers of wholesale flowers. The company employs state of the art technology and the best shipping solutions to deliver world-class wholesale flowers directly from the flower farms to customers. An inseparable combination of top notch customer service and superior flower quality are distinguishing factors which place Globalrose far ahead of other suppliers of wholesale flowers.
So spread the love on Valentine's Day by sending a carnation to your friends, family, and secret crush!