The perfect wedding day accessory is a beautiful, eye catching centerpiece matching your wedding style and color palette. Whether you are planning an outdoor country wedding, or an evening black and white affair, flowers will make all the difference. You can easily create an ambiance of majesty and splendor at your wedding reception with the exquisite fresh cut flowers from Globalrose.com. Your celebration should be spectacular! Captivate and delight your guests with gorgeous, lush flowers wherever the venue.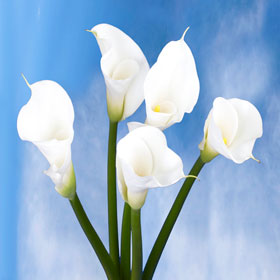 Outdoor weddings and receptions are unmistakably beautiful, but an outdoor reception brings problems that aren't an issue for indoor events. The sun, wind, and pesky bugs need to be considered when choosing centerpieces for your outdoor reception. An interesting choice might be to use low vases to prevent centerpieces from blowing over. Some flowers will wilt in the heat faster than others, so choose varieties that don't wither and keep them in the shade as much as possible. Remember that darker hues will attract wasps and other insects, so try to limit their use.
Traditionally, the arrangements selected to go on the tables will incorporate elements that mimic the flowers carried by the bride and her bridesmaids. However, it's crucial to work with the aesthetic of the venue itself. When outdoors, try working with natural elements such as branches and wild flower sprigs. Earthy green accents such as those in the Fresh Breeze collection provide a great pop of color on an outdoor table. Each arrangement includes a vase and white roses, bells of Ireland, ruscus, white Asiatic lilies, white mums, green carnations and green pompoms. Add beautiful hints of color with Gerbera Daisies from the Gerbera Daisy Flowers collection. They come in a variety of fun and festive colors and are 3 to 5 inches wide. You might also try using grasses and mosses to offset more formal elements, such as white lilies from the White Calla Lilies 36 Flowers or clusters of hydrangeas from the Hydrangea Assorted 40 Flowers collection.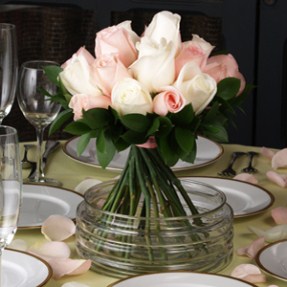 If you have decided on an indoor reception, consider how formal the wedding is. Towering vases with a cascade of flowers is a foolproof way to impress any guest. Add further wonder and awe to the arrangement by adding twinkling pieces of crystal and other interesting elements. The Royal Light Pink & Ivory Roses Three Centerpiece collection highlights a simple elegance with light pink and ivory roses. There are three centerpieces per box that include a total of 21 roses and 13 ruscus. Add classic fillers flowers such as limonium, asters, leatherleaf or gypsophila found in the Fillers Combo Pack Flowers collection. Vases are not included with the Royal Light Pink & Ivory Roses Three Centerpiece collection, so we suggest vases that measure 5″ to 9″ inches in height with an opening of 3″ to 5″ inches wide.
When ordering your wedding flowers we recommend that your delivery date be a day or two before your event and that you order at them least 10 days before that date. Your wedding flowers are shipped absolutely fresh, direct from the greenhouses to you via FedEx. When you choose Globalrose, you will see that they sell wholesale flowers and wholesale roses at prices that are lower than most local wholesalers.