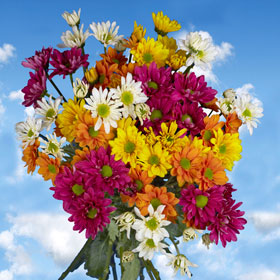 Turn your house into a jubilant flurry of activity this Easter. Celebrate spring and Easter by throwing a garden party, complete with an egg hunt. Set up a few tables in the back yard or at a local park; enjoy the sunshine and fresh air and take part in some of fun Easter activities.
Fresh flower bouquets as favors can be a great way to stretch your party budget. The bouquets can serve as party décor while the party is underway, and then do double duty as take-home gifts for guests. Flowers can also be grouped by color for a vibrant down the center of each table. A sunny collection of colorful daisies and calla lilies will brighten the space and fit in perfectly with an Easter theme. The Chrysanthemums Assorted Daisies Flowers collection includes 144 stems of assorted daisy pompoms. Colors may include yellow, apricot, orange, salmon, pink, red, mauve, lavender, purple, cream, white and bi-colors. The Mini Calla Lilies Assorted Colors is another option with energetic and attention-grabbing blooms that make a statement in their simplicity. Dramatic and playful, the calla lilies come in a box that contains 240 stems that are 16″ to 18″ long and include colors such as yellow, apricot, orange, salmon, pink, red, mauve, lavender, purple, cream, and white.
Tie each bouquet with wide colored ribbon, and display them in vases for the party. To make these party favors more personal, attach a simple card to each bouquet with a special handwritten Easter wish for each guest.
Remember, your flowers and roses are shipped absolutely fresh directly from the greenhouses to you via FedEx. Globalrose sells wholesale flowers and wholesale roses at prices that are usually lower than most local wholesalers. All of our flowers and roses are cut specially for you and your loved ones 3 to 4 days before they are delivered to your door.