Mother's Day in America didn't begin as a commercial holiday, but rather a call for peace and women's activism. In 1870, horrified by the human devastation of the Civil War, Julia Ward Howe, the author of "The Battle Hymn of the Republic", conceived of an International Mother's Day in which women would come together and promote general interests of peace. Julia Howe believed that women needed to rally together for peace in order to keep their sons from having a war to fight in where they would be sent to kill other mothers' sons. In Boston, she initiated a Mothers' Peace Day observance on the second Sunday in June which was held for a number of years. She, along with Anna Jarvis, rigorously championed an official celebration of Mothers Day and the declaration of an official holiday. Her idea was widely accepted but was later replaced by the Mothers' Day holiday now celebrated in May.
It makes sense that a women's crusade for peace was crystallized through the eye of motherhood. A powerful and commonly recognizable model, 'Mother' speaks to the common theme of human experience regardless of our nationality, race or tribe.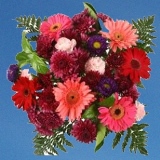 Many people chose to send or give their mothers flowers on Mother's Day. Mixed bouquets often are popular Mother's Day flowers, offering a splash of variant shades and a variety of flowers choices. The Mother's Day Mom's Best 7 Impressive Bouquets from globalrose.com will delight your mom, and the other women in your life who are mothers. The Mother's Day Bouquets Mom's Best collection includes 7 vibrant bouquets. Each bouquet contains 2 stems each of pink gerbera daisies, burgundy gerbera daisies, hot pink gerbera daisies, and pink mini carnations. There are 4 stems each of purple pompon cushions, and green leather leaf, as well as 1 stem of purple matsumoto, and 3 stems of green vibornum. Vases are not included, but they will look fabulous and heartfelt when tied with a pretty ribbon or presented in a whimsical container.
Remember, Globalrose.com has been cultivating flowers for over 30 years. Your bouquets will be cut fresh just 3-4 days before they arrive on your doorstep, which is more than a week earlier than most other retailers and wholesalers can guarantee! Each bloom is checked for excellence and the no-worry promise that you'll be pleased and delighted with your floral purchase!