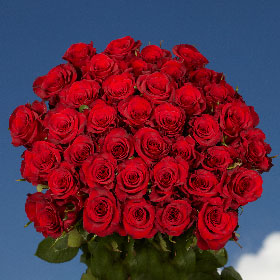 Gorgeous or delicious house trap-vibes aside, there are a few ways to express how your are "Ready For Your Love", and we, of course, have a few ideas. So come, join us in the world of the most beautiful marriage possible: fantasy and reality.
Artfully saying just what you want can be tricky, but with just the right touches of sensation and sensuality, you can cascade into the most delightful of atmospheres and absolutely lose yourself in delicious wonderment.
What are we talking about? Free Flower Delivery at Cheap Prices from GlobalRose, or course. With these competitively low prices, it is hard to resist jumping on the bandwagon and joining us in providing the secret ingredient, the key, if you will, to an unforgettable time.
With engagements, for example, the ring is often the centerpiece of your activity. It is the "crown moment", but something so grand is always better received with further gifts to enhance the moment…the same concept as backup dancers for the lead singer. Imagine returning to your hotel room after a spontaneous trip, elated because "She Said Yes", and once she passes through the door…an amazing bouquet…or perhaps MANY bouquets of fresh flowers await her. Amazing. She wont have words.