Everyone is running about, children are either graduating or passing on to the next year of school, love is in the air, birthdays and all sorts of celebrations are happening. Life surrounds us. And yet…there's something still missing. The meaning of life is a topic for another blog post, the lack that we're addressing today is the one that you feel whilst going through the motions of life, flitting about the house, attending the occasional garden picnic and dinner party. As human beings, we are very sensitive to our atmosphere. It's remarkable how a few changes can make such an enormous difference.
Bring brightness into your surroundings instantly with our fresh and radiant flowers. It does not take much work in order to have a little extra something to smile about as you continue enjoying your day-to-day routines! In the kitchen, grab an old canister or perhaps some blue-tinted glasses and enjoy the youthful cheeriness of white daisies! This casual arrangement literally takes seconds and makes you feel fabulous. Not even the spa can compete with Global Rose's therapy.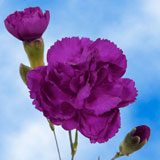 For a regal set up, find white containers of all sorts, perhaps that pitcher you never use in the kitchen anyway. Then, fill them with a wealth of different white flowers such as peonies and hydrangeas. The elegance of simplicity is unmatched, you'll feel a sense of wholeness just by taking these small measures.
Add an explosive pop of color by creating an arrangement with a large round ball of purple carnations. This striking hue is sure to make positive marks on your day.
Enhance your life with floral companions, you'll notice the difference immediately.