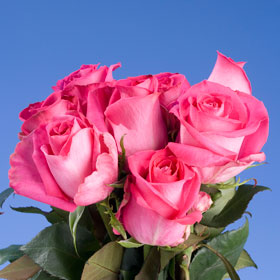 Surround yourself with symbols of love this Valentine's Day! From pretty flower arrangements to romantic displays of candles, heartfelt homemade Valentine's Day decorations help create an affectionate atmosphere for your loved ones. Express your love and appreciation with beautiful flowers from Globalrose. Whether you choose shades of red or pink, fresh flowers will fill your home with a sense of enchantment and love on Valentine's Day!
Start with Sweet Unique Roses 75 Long Roses. This delicate and creamy pink color rose has shades of a darker pink on the inside. Each rose has a large head that opens quickly into a magnificent bloom. One box contains 3 bunches of 25 roses each, enough to make several lovely arrangements in your home.
Here are a few ideas of what to do with your creamy pink roses:
Tuck a homemade card into a small bouquet of 3 roses.
Cut rose stems to 6 inches and remove leaves. Pack them tightly in a straight-sided glass hurricane jar and tie it with a ribbon.
Three pink roses and a handful of tiny pink spray roses tied together and placed in a paper cone with a ribbon-hanging loop, make a lovely decoration for a door handle or chair back. You can even hang them from a chandelier over the dinner table!
A small teapot brimming with flowers on an entry way table is a welcome sight for your Valentine guests. Pack the teapot tightly with pink roses and watch your guests smile.
Create a deliciously sweet floral arrangement: fill a clear vases with Valentine heart candies, then adorn with pink roses.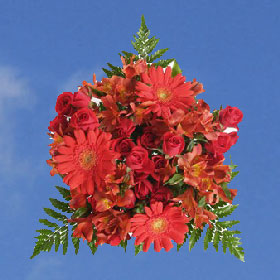 Don't forget the candles! Put the Valentine's Day Candles arrangement on a small table in front of a mirror for a warm and cozy holiday glow. The bold colors in this stunning arrangement will surely captivate your guests, Each box contains 8 arrangements consisting of 4 stems of imposing red spray roses, 4 stems of red alstroemeria, 3 stems of red gerbera and 3 stems of green leatherleaf, enough to bring some to the office to brighten the day of your employees or co-workers too!
Make this Valentine's Day special for all of the adoring people in your life with fresh flowers from Globalrose.com. With so many varieties of roses and other beautiful blooms to choose from, Globalrose will surely have the flowers you are searching for this Valentine's Day!