A wedding is one of the most critical days in the life of brides and grooms. But brides have a long list of tasks to do. And one of them is to select  perfect romantic rose bouquets for brides. After all, it is the center of attraction and a reflection of all her emotions. You can get all of a rose bouquet under 100 for your D-day will make you smile even wider!
Romantic Rose Bouquet for Your Life Partner
We all know that there is a certain budget set for weddings and all the required elements in it. Wedding bouquet flowers can really get a little too expensive sometimes. But if you get the option of ordering it from an affordable place that keeps the quality intact, then why not?
Classic Red Rose Bouquets:
When we think of a wedding bouquet for the bride, the first one that comes to our mind is a classic red rose bouquet. The color red is a symbol of love and affection, and it is a perfect option for a wedding occasion to celebrate love and new beginnings. You can order a bunch of red roses to gift your partner or to include it in your bridal bouquet.
Pretty Pink Rose Bouquets:
Another favorite in the list of wedding bouquet flowers is a pretty pink rose bouquet. The color pink enhances the beauty in everything and adds a touch of freshness. You can order a fresh bunch of pink roses to match your natural bridal blush of happiness on your special day. They will surely fill your day with romance.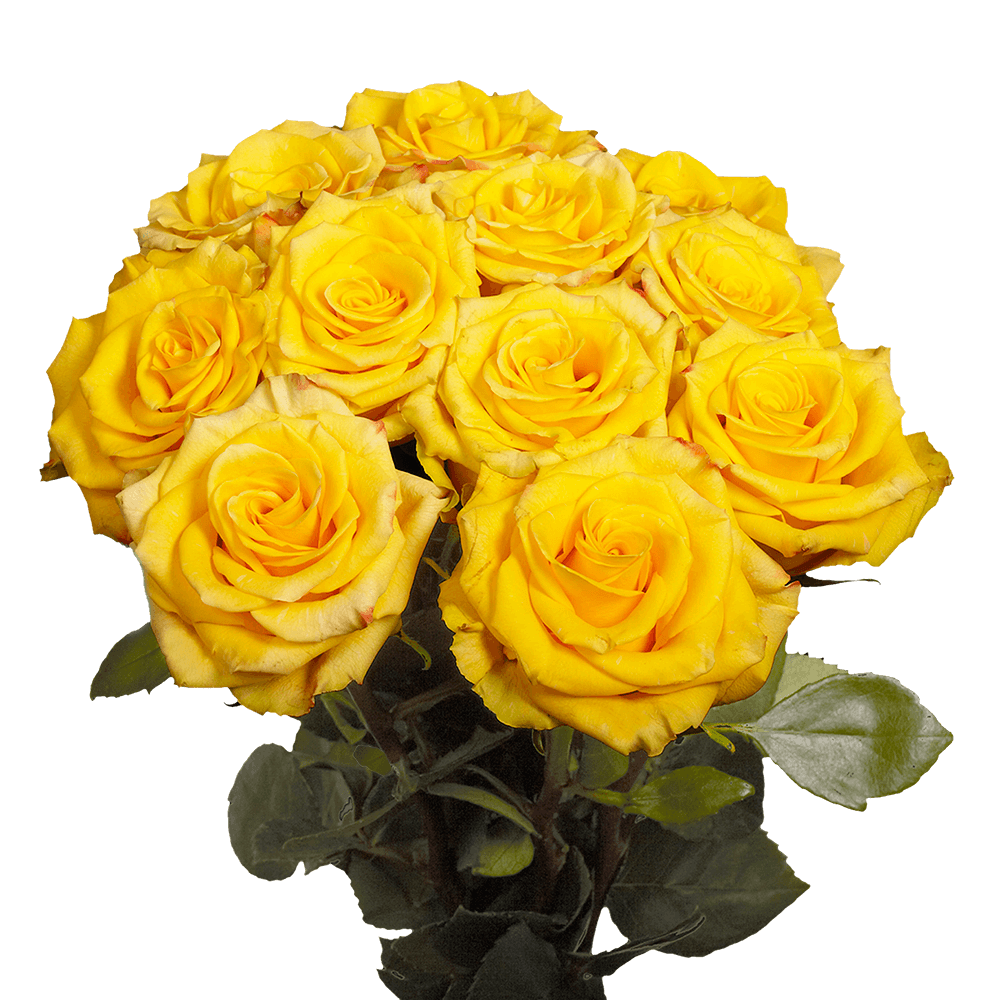 Yellow Anniversary Roses
Apart from the most opted colors- red and pink, yellow is now becoming a favorite for a bridal bouquet or a bridesmaid bouquet. The color yellow is a symbol of friendship and warmth. It adds a tint of mellow and calm vibe on a rather hectic wedding day. You can order a fresh rose bouquet for bride and celebrate your day with a smile!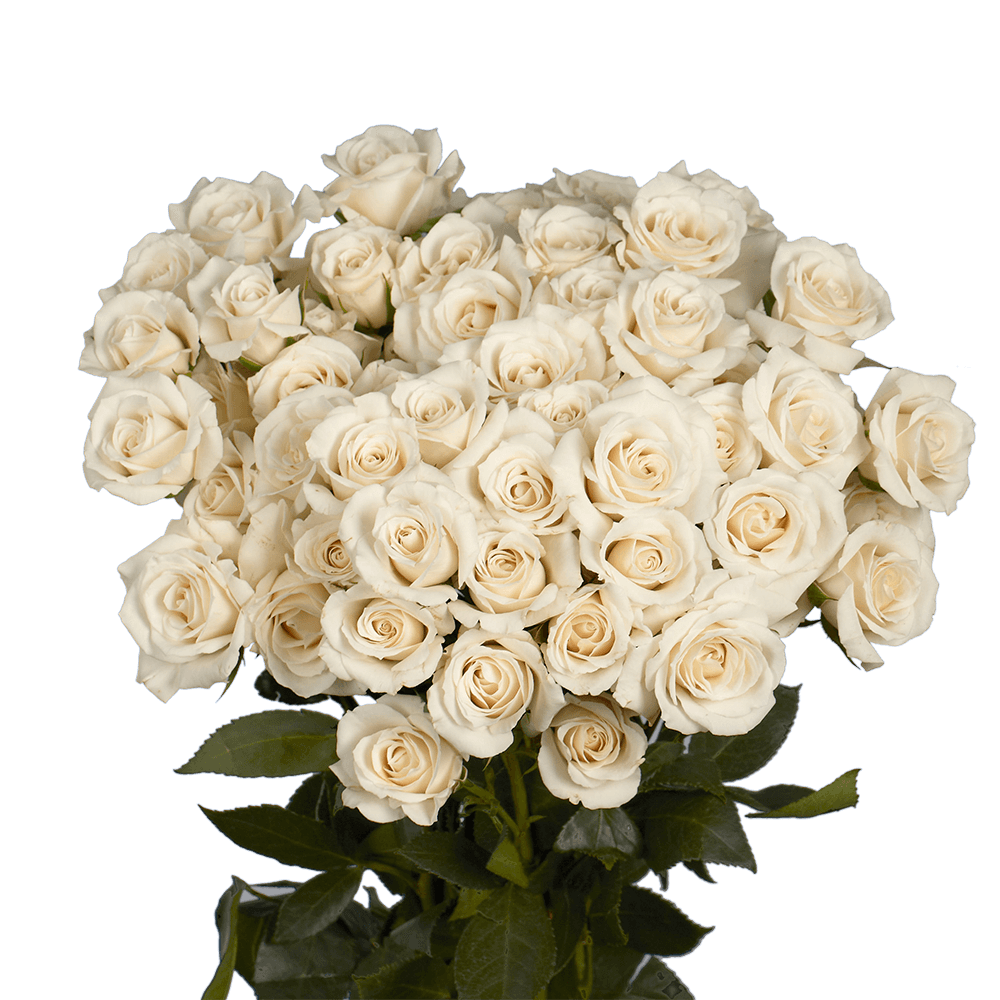 White Spray Roses
Another option of a rose bouquet for brides. There are some people who like to keep things minimal and chic. For them, a bunch of wonderful white roses is the top pick. The color white is for peace and serenity, giving you an essence of positivity. White wedding flowers are eternal and like a breath of fresh air.
Apart from some basic options of rose bouquet for brides, you can also go with some rare and out-of-the-box colors. Orange is again a bright color that can go really well with your pastel shade wedding attire. It will be a center of attraction. If you want to showcase your personality with the help of the choice of a bridal bouquet, pick this one!
The shades of purple are very much in trend these days. A bunch of deep purple rose bouquets for brides is the best bet. If you are someone who wants to go with contemporary and pathbreaking color. This one is sent from heaven for you. You can also use this for your wedding décor or include this in a bridesmaid bouquet to make it look more eye-catching.
A bridal bouquet is something brides look for and plans for before they even find a groom. If you are planning a sunset wedding set in the outdoors and want to hold the hues of the sky in your hands, this amber rose bouquet is for you. What else could be more divine and romantic than this!
Wedding bouquet flower options aren't limited to the above-mentioned colors. If you want a shade that will totally surprise your groom, family, friends, and the rest of the wedding guests, a bright color rose bouquet will do the job! It perfectly goes with all kinds of bridal outfits and embellishes the beauty of the bride!
If you are done with the colorful, peppy hues of the flowers available, you can always go back to the inherent color of nature- green! Pair a rich bunch of green roses with green leaves for your bridal bouquet and go all out there. You can easily get this rose bouquet for bride right around your wedding day, and the freshness and fragrance will be just in place.
Selecting a wedding bouquet for a bride can often be a confusing task. If you are someone who loves both orange and yellow color rose bouquets, then don't worry! You can order half the number of totals for each of them or choose your quantity according to your preference. If you think a two-color bridal bouquet is better than one, go for it!
Similarly, if you want both pink and yellow color rose bouquets, you can get them delivered. Choose half pink, half yellow, more pink, less yellow, more yellow, less pink; it's all up to you! Pink is pretty; yellow is warm; together they make a perfect pair for your wedding bouquet flowers.
A little experimental combination is the one with the orange and pink color rose flowers. But it is completely opposite and more beautiful than what you think of it. When earthy orange combines with pink blossoms, they add you double the beauty to your bridal bouquet.
If choosing just plain white wedding flowers is a little too boring for you, you can add a pop of orange color to it, and it will balance out the basicness perfectly. Select how much Orange to White ratio you want to keep accordingly.
Another option of making white a little less boring is adding a bunch of pink flowers. White and pink are a perfect combination of a romantic bouquet for the bride and groom, and it perfectly goes with the wedding vibe.
Assorted Mix of Color Rose Bouquets:
After all these options, if you are still confused, the best way to go about it is by selecting an assorted mix of rose bouquets for brides. Yes, you can mix and match colors according to your liking, what goes well with your bridal outfit, or how your wedding will be. Pink, Red, Orange, Amber, Purple, White, Green, Yellow, every color combined will nothing be less than perfect. And you'll get a multi-color rainbow-like rose bouquet for brides!
Conclusion:
The price range for these wedding rose bouquet for brides starts from 50 to 100. If you are concerned about the quality and freshness, then do not worry. It will meet all your expectations, and you'll be surprised. No one thought that ordering flowers from the comfort of your home could be practical someday. But thanks to the internet, technology, and the right people who do it. Buy fresh flowers today to fill your wedding day with romance or to add a romantic touch to your space without paying the cost of a gem!