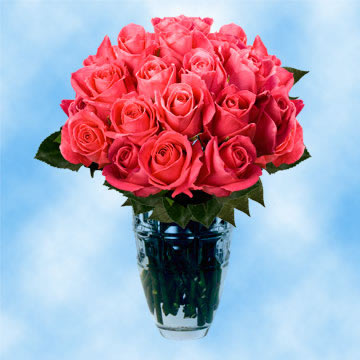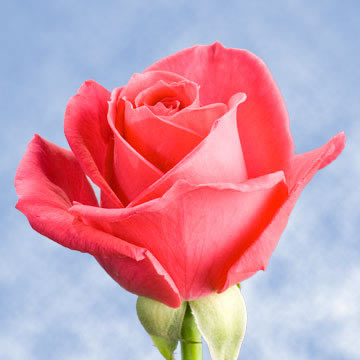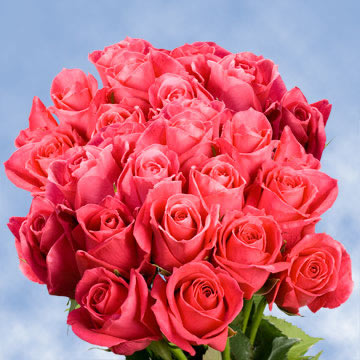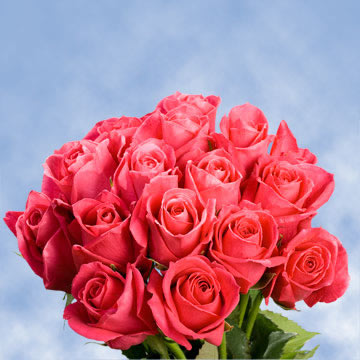 Color tones for all Deep Hot Pink Roses may vary due to the computer monitor and/or Mother Nature.

---
---
Product Information
•••••
• 50 Stems of Hot Lady Roses
• 2 bouquets of 25 stems each
• Color: Deep Hot Pink
• Hand Picked
• The stems are 16" - 18" long
• 1 rose(s) per stem
• Guard Petals: Yes 3 - 4
• Diameter when bloomed: 2.6" - 3.8"
• Time to Bloom: 31 - 72 Hours
• Vase Life:
7 - 12 Days
• Stage on arrival: Fresh Closed Bud
Additional Facts

Product Description
•••••
Your search for Vibrant Hot Pink Roses ends here!. When you order Vibrant Hot Pink Roses with us, you are guaranteed to receive the fresh, perfect blooms. We pride ourselves in being the Internet's premiere dealer of Hot Pink Roses. Few other flowers have as much appeal as our Vibrant Hot Pink Roses. We ensure that every petal will be intact when you receive your order and that you or someone special will delight in their beauty. When given as a gift, your beautifully bloomed Hot Pink Roses will induce smiles and melt hears. We offer free delivery when you order online.
We are attentive to every petal to provide the freshest flowers when you order Hot Pink Roses. We nurture all of our blooms in our greenhouses in a process that is very eco-friendly. We only cut our orders for Hot Pink Roses when preparing for delivery. Order a beautifully bloomed bunch of Vibrant Hot Pink Roses today!
---
Flower Reviews
•••••
Lisa Green

September 2018

The roses were beyond gorgeous!! Thank You Global Rose!

Kelli Sosa

April 2018

These roses were absolutely beautiful and I will only buy my roses from global rose from now on. These were for the centerpieces for my nieces sweet 16 and everyone complimented how beautiful they were. Thank you.

Lavishly Sweet A'vents

October 2016

From Facebook

By Nicy Rodriguez

Verified Buyer

' I painted wine and beer bottles, and used them as vases for my orange and hot pink roses and carnations. my guests were so in love with it. the flowers were beautiful. thanks global rose. im glad I followed your advice to have it delivered 3 days before my party. '

By H-Montgomery Whitham

Verified Buyer

' 100 light pink & hot pink roses ordered. They were gorgeous! When ordering, follow all instructions (including 2 day prior to event order date) for theses beauties to look their best! Great value as well!!! '

By Bronco Federal Credit Union

Verified Buyer

We just delivered 200 beautiful hot pink roses to the residents of our local nursing homes that we had delivered from Global Rose. Happy Valentines Day!

By Dwayne Fullmer

Verified Buyer

These are the hot pink roses I got my wife for valentines. I have never been disappointed with Global Rose. I recommend them to everyone.

By Paola Andrea LLamoza

Verified Buyer

Beautiful hot pink roses from my Colombia Bella!🇨🇴🌷🌷

By Google Customer Review

Verified Buyer

Arrived on time, some of the hot pink roses fell off at the top but still lived and made a pretty but short centerpiece. Their color was great. Lavender roses were awesome. Hydrangeas didn't last more than a few days.

By Patricia Dill Adams

Verified Buyer

I ordered 100 pink roses for my wedding on June 14. The roses were BEAUTIFUL and arrived on time. Thanks Global Rose!

By Amanda Key

Verified Buyer

' First time to use global rose and i loved the flowers, the only issue i had was FedEx delivery on both days. Next time Ill have it delivered to my work instead of residence. I ordered 50 light pink roses and 20 white hydrangeas and i followed the instructions they had and was very pleased. These were for a friends baby shower. '

By Renee Delport

Verified Buyer

Ordered 100 pink roses from you two weeks ago. We could not have been happier with the roses!! They were beautiful. Thank you so much!!! (and the instructions provided kept the roses looking great)

By Genia Meister

Verified Buyer

' I would like to take this opportunity to say THANK YOU for the 100 beautiful pink roses. This is my story---a local florist had dropped the ball 4 weeks before the wedding and I had no clue what to do. So, I got on line and looked for flowers. I came across your website and found the perfect pink rose for my daughters wedding. I am leary about ordering such items on line considering the time frame, shipping, etc. but I called, left a message and someone called me back within 2 hours. I also sent emails discussing the purchase and to confirm the shipment and received emails with answers and confirmation within 18 hours. The roses arrived as promised on Wednesday, November 12 before lunch and they were as fresh as if I had picked them myself. The roses were flawless--directions were sent and I followed them to the T....my daughters wedding was on November 15th and the roses were fully opened and are still open and smelling great...I cannot thank you enough for your professionalism, your courteousness, and pray that God blesses each of you in the years to come. I will most definitely use your roses again and again....Thank you for the beautiful pink roses. My daughters cried with happiness!! '

By Sheila Bourke

Verified Buyer

Thanks to Global Rose for providing beautiful Pink Roses for our Valentines Charity Ball... We were fortunate enough to have our Local Boy Scout Troop #50 hand one to each woman who attended saying... Happy Valentines Day! Arent they adorable!

By Michele Royal Kimsey

Verified Buyer

Beautiful pink roses!

By Alta Whitt

Verified Buyer

' The 100 pink roses I ordered from Global Rose were magnificent!!! They were beautiful, fresh, and delivered on time! Added to 8 more pink roses, they became my tribute to Stella Marie Liberto, on the 1st anniversary of her unexpected death. Stella was my first granddaughter. And giving out 108 roses that day, one to represent each day she was with us, was a beautiful time of remembrance and healing. I am grateful for Global Rose making it possible. '

By Dawn M. Gibson

Verified Buyer

' Dark pink rose bouqet! Thank you Global Rose for a beautiful bouquet for our beautiful day!! Went perfect w the light pink, white and gray wedding colors! It pops in every picture! '

By Kathy Lansdon-Gautreau

Verified Buyer

50 pink roses for my parents 50th wedding anniversary. They were gorgeous Thank you

By Michelle Tempesta-Cirello

Verified Buyer

' Ordered 50 peach /pink roses and split them up to make simple centerpieces for my sisters shower, the flowers were beautiful '

By Robyn Jones

Verified Buyer

Hot Lady Pink roses was delivered on a Thursday my party was on a Saturday however the vase of flowers stayed outside in the heat until Sunday afternoon and now they are inside the house. #beautifulroses

By Оля Кінаш

Verified Buyer

'Peachy Pink roses was delivered on a Thursday my party was on a Saturday. All the flowers were fresh and wrapped with a lot of thought, none were broken at the stem. they bloomed within few hours. Flowers I created for my friends birthday, the second time Ive used Global Rose. Flowers were amazing! Using you again! thanks GLOBALROSE! #beautifulroses '

By Angela Miller

Verified Buyer

We celebrated our Grandmothers 100th birthday with pink roses everywhere!

By Leiann Sandstrom

Verified Buyer

'I ordered the peckoubo peachy pink roses for my daughters bridal shower and when I first opened them, the outer layer of petals were coming off easily, but over the next couple of days and as they started to bloom, they were beautiful and were perfect. I am ordering them for the wedding. Very happy.'

By ‎Margaret-Meg Walsh

Verified Buyer

Thank you for the comfort created by the beauty of the pink roses 💔💔💔💔💔💔

By Cassandra Berger DiPasquale

Verified Buyer

These pink roses last 3weeks!!!

By Google Customer Review

Verified Buyer

The roses were well packed and arrived on time. My bouquets and center pieces were beautiful! The price was unbelievable. While I was nervous about the quality, but I was extremely pleased with the results. When the roses arrived, they looked a little tired. After they had a chance to hydrate, they were beautiful! Since I ordered 550 roses, it was no surprise that maybe a dozen roses scattered here and there were broken or damaged, but that was completely expected. All of the other roses were in pristine condition. Next time I have an event, I will definitely order from Global Roses again! Advice to other shoppers: 1. UNPACK the roses COMPLETELY from their plastic wraps when you are hydrating them. They are packed super tight for transport and the plastic wrap could damage the roses as they hydrate. The ones that I didnt completely unwrap during hydrating were all squished by the plastic when they plumped up. 2. Order a little bit more than you need. There will inevitably be a few that are damaged in transport, but with the unbelievably low prices, they are totally affordable. 3. Try to check out the roses in person at a florist before ordering. I wanted a very pale pink rose for my bouquet, on a whim, I ordered the 'light orlando' based on the pictures from the Global Rose website and it was slightly darker than expected. 4. Great customer service. If you have any questions, I would strongly advice calling their customer service line. They helped me figure out how much fillers to order so I didnt waste my money ordering more than I need. 5. Make sure the roses do not arrive more than 2 days before you need them for semi open buds, and 3 days before you need them for nearly full blooms.

By Google Customer Review

Verified Buyer

I ordered 100 pink roses for my sons wedding. A local florist that I know charges $7.50 per stem! Our arrived on time -- two days ahead of time -- and were absolutely beautiful! They made the difference in all of our arrangements for the reception and the altar. Thank you so much, Global Rose!!!

By Google Customer Review

Verified Buyer

Sent these to my Mom for V-day... They were beautiful.. the shades of the pink roses changed inward on the rose, and the white roses had a beautiful secondary greenish shade to them.

By amazon feedback review

Verified Buyer

I sent these pink roses to my mom for her birthday. i contacted the seller after I placed the order as I forgot to submit a card. The seller responded immediately. The roses were sent with an accompanying card. The roses arrived earlier than promised. My mom was so thrilled with how fresh the roses were and the amount of roses, she sent me a photo. My mom is 89 and that has never happened before!

By amazon feedback review

Verified Buyer

I ordered both roses and baby's breath from Global Rose for my sister's baby shower. I was worried about the freshness considering they were being sent from Bogota. However, I got the flowers super fast and they looked fresh and beautiful. I ordered the light pink roses and they were the exact color as show in the photo. For what I paid, it was a super deal. Definitely will use again!

By amazon feedback review

Verified Buyer

They were half yellow,half pink roses but my mother in low loved them! Thank you!

By p. f.

Verified Buyer

These are GORGEOUS!!! My wife loved these 50 long stem pink roses for Valentine's Day. And for $90!! You can't get two dozen long stems around me on Valentine's Day for that price. I will certainly be back!!!

By candy

Verified Buyer

Outstanding flowers with large buds, delivered on time with only 6 stems broke out of 50 which were used in bud vase. Very satisfied. Ordered pink roses.

By m. colon

Verified Buyer

I ordered both roses and baby's breath from Global Rose for my sister's baby shower. I was worried about the appearance and freshness considering they were being sent from Bogota. However, I got the flowers super fast (just under a week) and they were carefully packaged and looked fresh and beautiful. I ordered the light pink roses and they were the exact color as shown in the photo. Even after a week, these flowers were going strong. For what I paid, it was a super deal. Definitely will use again!

By ashton

Verified Buyer

I ordered these for my wedding reception and there was more than enough for 20 centerpieces (around 10-12 roses per mason jar), a bouquet, and some vases to decorate the gift, guestbook, and cake tables. It says you can't order for a specific date, but we called them on the phone and they adjusted the order so it would get there on a certain date for the reception. My friend is a former florist and she cautioned me about ordering flowers online especially at the price I found them at. She had me send the flowers to her house so she could take care of them for me and give them the best chance of looking good for the reception. When they arrived (on time!), she was shocked at how beautiful they were and how big they were. They were huge! Very beautiful, healthy, and vibrant. The company recommended we have them delivered on Thursday (because they do not deliver on Saturdays or Sundays, so if we scheduled for a Friday delivery and there was a delay in shipping due to a storm, etc it would buy us some time). Our reception was on Sunday at 5 p.m. I do feel that was cutting it a bit close, because some of them had wilted significantly by the next day after the reception. But, on Sunday at the reception they served their purpose and were gorgeous! There were so many roses that my friend even used the 'extra' roses to decorate the various tables with rose petals. I was thrilled with how beautiful, healthy, and vibrant the roses turned out, but my ONLY complaint is that they were not the color pictured. The picture is of a soft pink rose and the roses I received were magenta/fuchsia/hot pink. Thankfully we did not have a color scheme besides silver and burlap, so the roses were the only color at our wedding and it did not matter. But, if I had based it on a soft pink color scheme I would have been in trouble. If I were not tied to a specific color / shade of pink, I would definitely order again from Global Rose! Saved me a ton of money. We got all of our wedding flowers for less than $170!

By b

Verified Buyer

When my niece was born, I gazed at her sweet, angelic face and told my sister that her skin was as soft and beautiful as a beautiful pink rose. My beautiful niece turned 50 this year and I sent her 50 beautiful roses, one for each year of her precious life--a blessing to all who know her. I did not get to see the roses in person,but she told me they came beautifully pack and were wonderfully fresh.

By amazon customer

Verified Buyer

Absolutely 100% satisfied with the shipping time and the quality of the roses. I live in the United States of America and the roses arrived on time and in excellent fresh condition. These are the most extraordinary and wonderful roses in the world!!! Four days later the roses are holding up very strong and I'm sure they will last another 7 plus days. This purchase was the best decision I made about fresh roses and i will order again. I want to thank the staff and company for an above all expectation experience. Thank you so much. Shane from Georgia