Yellow & Light Pink, & White Roses Bridesmaids Bouquets
3 to 6 bouquets with 32 stems each
$0
FREE SHIPPING
Get ready to be amazed by the beauty of our premium yellow, light pink & white royal rose bridesmaid bouquets for your best girlfriends.
EARLIEST DELIVERY DATE:

PRODUCT INFORMATION
3 to 6 bouquets with 32 stems each
The stems are 16" - 18" long
Color:
Yellow, Light Pink and White
Assembled & Picked by Hand
Vase Life:
Stage on arrival:
Fresh Semi Bloomed
Time to Bloom:
15 - 48 Hours
Product Code:
bmbqt-ryl-yel-lpnk-wht-roses-qty
PRODUCT DESCRIPTION
A lovely trio of flowers - premium yellow, light pink & white royal roses for your bridesmaids' bouquets or decorative wedding pieces. You can place your order of fresh flower bouquets as a set of 3 or 6 depending on your needs but trust that these blooms will look spectacular for any special occasion such as weddings, engagement dinners, formal events and more.
These lovely spring tones will help complement the overall look of your bridal party to achieve that ideal romantic elegance on your big day. Each one of our yellow, light pink & white royal rose bridesmaid bouquets will be hand gathered and beautifully crafted to ensure perfection.
Please note that since these are natural roses, the color tones may vary slightly from the pictures above. Along with your online purchase you will also receive our complimentary packets of floral food to keep your roses looking as fresh as ever.
FLOWER REVIEWS
Cristine Dinse Judd
Verified Buyer
April 2018
Judds buds floral LOVES GLOBAL FLORAL!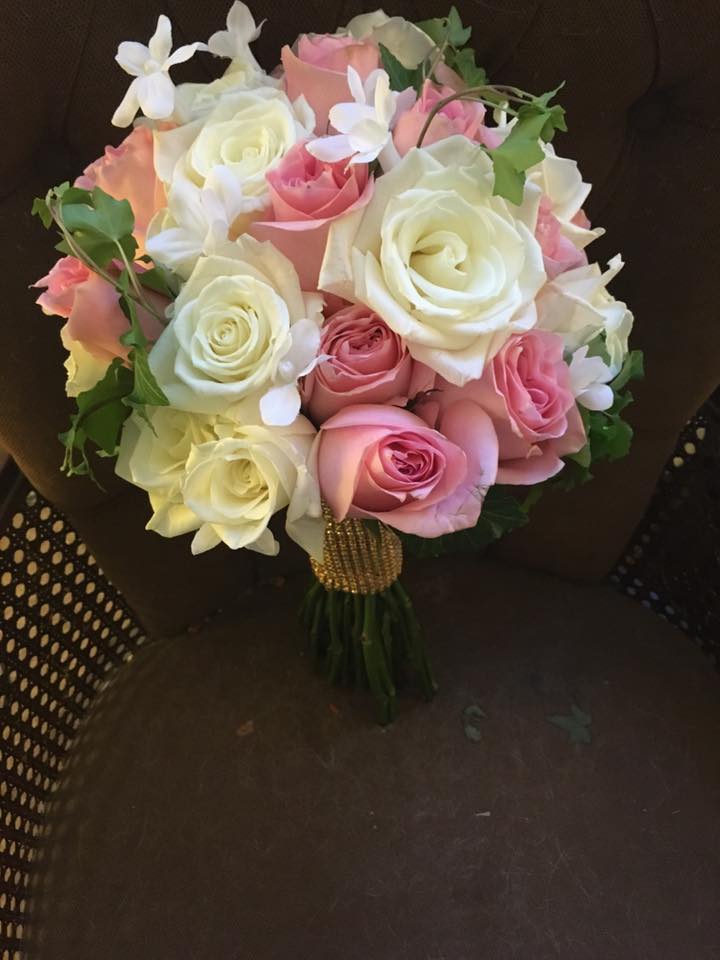 By joanna
Verified Buyer
At the last minute, I ordered 200 roses for my wedding. I was concerned that they would arrive too soon, so I contacted the seller. They responded and were able to delay shipment so they would arrive before the wedding but not too far before. The roses arrived one day early, which was fine. I kept them in the box in a cool, dark area of my parents' house (a 1904 Victorian-style house with no air-conditioning in Portsmouth, NH) and they fared perfectly well. My friends handled the bouquets for my wedding (I was a wee bit overwhelmed, ha) so all I did was take the roses from the boxes, cut the bottom of the stems, and place them in water. They did not have thorns at all. I wish I could post a picture of my bouquet (in addition to the roses, we had ranunculus [from another seller] and eucalyptus [from Trader Joe's]) because it was amazing. The roses looked perfect in the bouquets and the centerpieces. They held up really well on the day of the wedding (June 22) and for a few days after. I highly recommend these roses as well as this seller. Thank you for making my wedding spectacular!
By amazon customer
Verified Buyer
Absolutely 100% satisfied with the shipping time and the quality of the roses. I live in the United States of America and the roses arrived on time and in excellent fresh condition. These are the most extraordinary and wonderful roses in the world!!! Four days later the roses are holding up very strong and I'm sure they will last another 7 plus days. This purchase was the best decision I made about fresh roses and i will order again. I want to thank the staff and company for an above all expectation experience. Thank you so much. Shane from Georgia
By Venessa Amoroso
Verified Buyer
' Thank you Global Rose for the beautiful flowers, for contacting me when there were some concerns and for taking care of them. Everything turned out beautiful and most importantly, I truly appreciate the constant communication. The flowers were beautiful and I look forward to working with you again. We made 24 centerpieces, 16 boutonnieres, 9 bridesmaid bouquets, corsages, a beautiful bridal bouquet and more. Thank you Global Rose! '
By amazon feedback review
Verified Buyer
Excellent quality! Greenery was delivered 5 days from the actual shipping date (in the middle of August) Ruscus was in very good condition and was package well. Very happy!