Orange Carnations
From 100 to 400 Carnations
$0
FREE SHIPPING
The most spectacular orange carnations to fill your day with energy and to remind everyone of the fun in life.
EARLIEST DELIVERY DATE:

PRODUCT DESCRIPTION
Pastel and peachy-looking with ruffled edges. Orange carnations are ideal for a variety of special occasions from birthdays to graduations or even a job promotion. If you're looking for joyful looking blooms for an affordable price and a long vaselife then orange carnations are the right choice for you. Whether it's a summer bouquet for a romantic wedding in the garden or a chic centerpiece for an award night, you can count on these carnations to set the mood.
This selection of orange carnations allows you to choose your amount from 100 to 400 stems and more. When shopping online with us, do note that free delivery is included. Yes, you read that right, there's zero shipping cost to get your hands on some of the freshest carnations. Also note that we will be shipping them as closed buds hence it may take up to two full days for your carnations to blossom into floral perfection.
FLOWER REVIEWS
Vorraya Michael Archer
Verified Buyer
March 2018
Flower arrangement for my home using 200 carnations with flower fillers from Global Rose!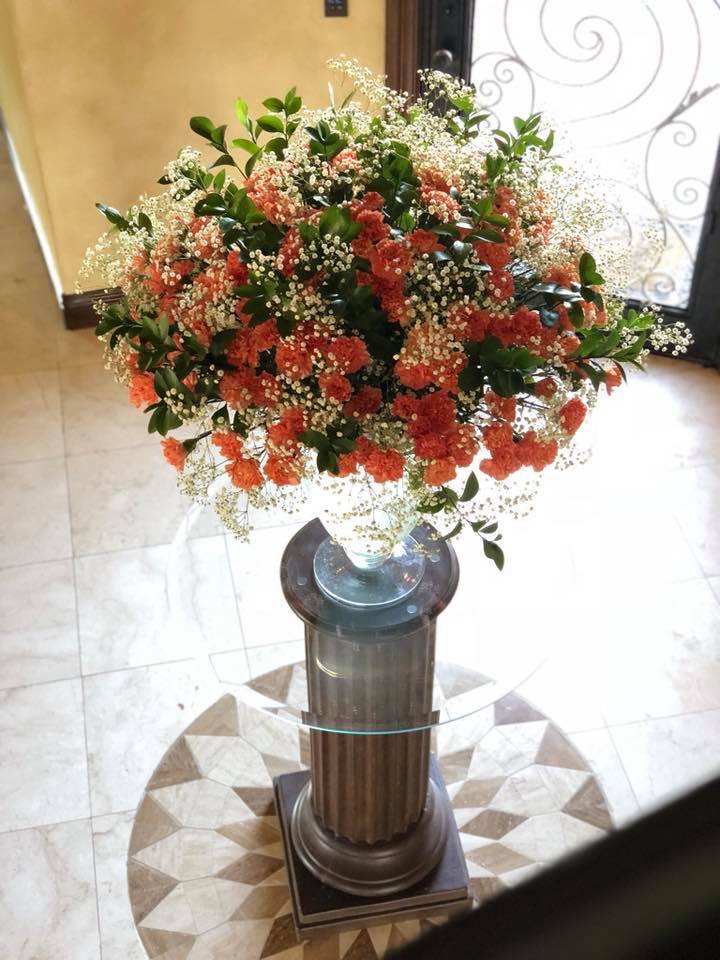 Nicy Rodriguez
Verified Buyer
July 2014
I painted wine and beer bottles, and used them as vases for my orange and hot pink roses and carnations. my guests were so in love with it. the flowers were beautiful. thanks global rose. im glad I followed your advice to have it delivered 3 days before my party.
By amazon customer
Verified Buyer
THIS order arrived well packaged and the product - the flowers were fresh, beautiful, and remained so, as carnations do. I was very pleased with this purchase. Although I had a poor experience with the calla lillies, I had success with these.
By Bonnie Smith Bemis
Verified Buyer
National Kidney Foundations Orange Gala 2017. The orange carnations were perfect!
By amazon customer
Verified Buyer
Absolutely 100% satisfied with the shipping time and the quality of the roses. I live in the United States of America and the roses arrived on time and in excellent fresh condition. These are the most extraordinary and wonderful roses in the world!!! Four days later the roses are holding up very strong and I'm sure they will last another 7 plus days. This purchase was the best decision I made about fresh roses and i will order again. I want to thank the staff and company for an above all expectation experience. Thank you so much. Shane from Georgia