Cayenne Roses Bright Orange
From 50 to 250 Roses
$0
FREE SHIPPING
For a splendid floral display resembling a warm summer's day consider these bright orange roses as a gift or as a wonderful decorative piece.
EARLIEST DELIVERY DATE:

PRODUCT INFORMATION
50 - 250 Stems Bright Orange Cayenne Roses
2 - 10 bouquets of 25 stems each
Color:
Bright Orange
Hand Picked
The stems are 16"-26" long
Vase Life:
Stage on arrival:
Fresh Closed Bud
Time to Bloom:
24 - 58 Hours
Diameter when bloomed:
Guard Petals: Yes 2 - 4
Product Code:
cayenne-qty
PRODUCT DESCRIPTION
Trust us when we say that bright orange roses are absolutely captivating when bunched up together in a large centerpiece or even a humble petite bouquet. These flowers will catch your eye when placed on the bedside table or when used to surprise mom on her birthday.
Global Rose specializes in providing bright orange roses in large quantities from a selection of 50 stalks up to 250 stems with free delivery too. It really doesn't get any better than this when you can get more blooms for even less. Every single stem will be prepared by hand to ensure that these roses will display petal perfection once they are in full bloom.
Bright orange roses are a popular choice for any occasion be it for an anniversary, a birthday or even as a get well soon picker upper. Enjoy a complimentary delivery when you order now and received your hand picked bunch directly from our wholesale store. When your flower boxes arrive, do unwrap them carefully before cutting approximately about an inch or so from each stem in order for your roses to rehydrate and blossom into stunning beauties.
FLOWER REVIEWS
Jason Heywood
Verified Buyer
February 2016
Thank you Global Rose. Gregory Welch and Michael had a beautiful wedding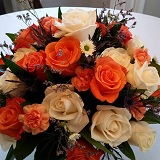 Sarah Black
Verified Buyer
March 2016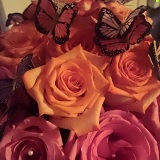 Lori English
Verified Buyer
March 2016
The Salmon and White Roses were a perfect match for our 'Down Under' Themed event.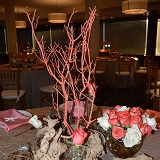 By Julie Abraham Lacki
Verified Buyer
The Ivory and Orange roses along with the orange and purple Alstroemerias were ordered from Global Rose- They were absolutely gorgeous!
By Danielle Gordon
Verified Buyer
The orange roses I ordered for my wedding bouquets and centerpieces looked amazing!
By Gini Hemmings-Nelson
Verified Buyer
I ordered these beautiful orange roses for my step daughters Senior Night (shes on the color guard and her school colors are orange and black). I made her and her sister these beautiful arm bouquets. I was very impressed with the roses and will order again!!
By Zeydy Ortiz
Verified Buyer
'Loved the flowers we received from Global Rose. I ordered peach roses and cream roses (orange roses from another vendor) as well as alstromeria, orange hypericum, bells of Ireland, and greenery. They arrived on time and held up nicely. The roses have the traditional rose form as they show on their website. Peach roses bloomed quickly to 4''. Cream roses were smaller but still bloomed 2-3''. This was the 2nd time I ordered from Global Rose and have been pleased both times.'
By Google Customer Review
Verified Buyer
Absolutely perfect! I scheduled a Wednesday delivery for a Saturday wedding. I was hesitant to receive that early but glad I did. The flowers were perfect on Saturday (would have be fine for Friday too). Since the flowers are such an important part of the wedding it was a blessing to remove from my list of worries. I put them in big buckets of water in the laundry room and turned a fan on during the day. At night, I opened the windows in the room and let the cool air in. I ordered white hydrangeas, white roses, orange roses, sunflowers and 3 different white fillers. We received a ton of compliments and everyone wanted to know who the florist was, I was proud to say.....ME!. Thank you Globalrose for making me look so good and making my daughters wedding look magical.
By Google Customer Review
Verified Buyer
Very professional. The orange roses were beautiful.
By Google Customer Review
Verified Buyer
I ordered and received 50 Long-Stem Orange Roses, and am 100% pleased with everything!
By Google Customer Review
Verified Buyer
Flowers were beautiful! Came very nicely packaged. Only gave 4 stars because some of the orange roses had brown leaves. But overall they were perfect! Will use again.
By amazon customer
Verified Buyer
Absolutely 100% satisfied with the shipping time and the quality of the roses. I live in the United States of America and the roses arrived on time and in excellent fresh condition. These are the most extraordinary and wonderful roses in the world!!! Four days later the roses are holding up very strong and I'm sure they will last another 7 plus days. This purchase was the best decision I made about fresh roses and i will order again. I want to thank the staff and company for an above all expectation experience. Thank you so much. Shane from Georgia
By Melony Smith Dickey
Verified Buyer
The flowers I ordered turned out beautifully. They were on time and in perfect condition. We designed these arrangements for an autumn sunset wedding. Ill be ordering from you again.