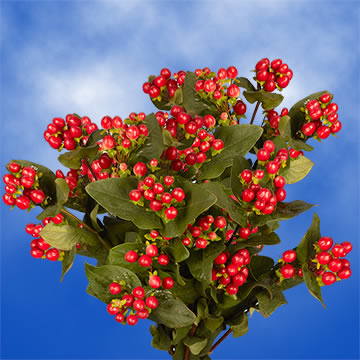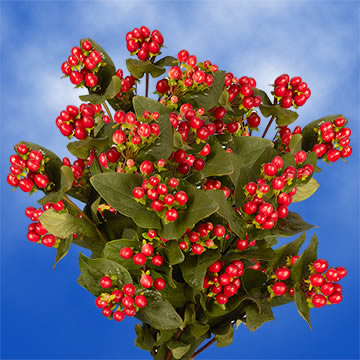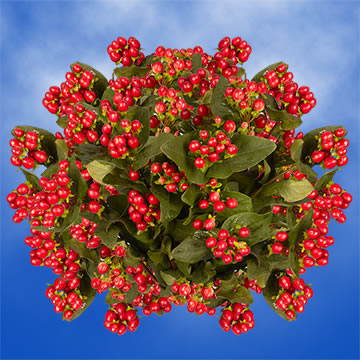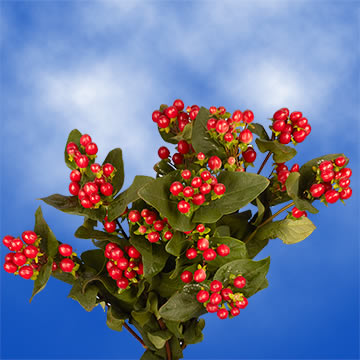 Color tones for all Cherry Hypericum Flowers may vary due to the computer monitor and/or Mother Nature.

Product Information
•••••
•
30 - 240 Stems of Hypericum Flowers
•
3 -24 bouquets of 10 stems each
• Color:
Cherry
•
Hand Picked
•
The stems are 22" - 24" long
• Vase Life:
• Stage on arrival:
Fresh Semi Open Blooms
• Time to Bloom:
12 - 24 Hours
• Diameter when bloomed:
•
Number of Petals per Flower: N/A
Additional Facts

---
---
Additional Information
•••••
• Item Condition:
New
• Brand:
GlobalRose.com
• Guard Petals:
• Product ID:
cherry-hypericum-qty
• Gtin13:
1850500073863
• Box Dimensions:
10
"x
7
"x
34
"
• Weight:
3.5 - 19.8 lbs
• Packing Material: Recyclable Carton
Product Description
•••••
You'll be uber delighted with our Beautiful Cherry Hypericum Flowers. They have been harvested healthily and will arrive freshly cut at the place of your choice. Cherry Hypericum Flowers are uplifting and bright pieces of floral perfection. These buds bloom and produce a wonderful scent and boast the plushest petals you ever could see. Beautiful Cherry Hypericum Flowers can be given to celebrate your anniversary, engagement, graduations, coming of age, retirements, baby showers, baby births. Their bright cherry color make them ideal to give someone or decorate with in any season, but especially Spring and Summer.
We are passionate about every flower that we grow. Our passion gives us the attentiveness and dedication necessary to ensure the freshness of every petal we produce. Order our Beautiful Cherry Hypericum Flowers and you'll be glad you did!