Green Emerald Hydrangeas
From15 to 50 Hydrangeas
$0
FREE SHIPPING
Heavenly Hydrangea, a garden staple, for your home or your loved ones.
EARLIEST DELIVERY DATE:

PRODUCT INFORMATION
10- 40 Stems Green Emerald Hydrangea Flowers
Color:
Green
Hand Picked
The stems are 20" - 24" long
Vase Life:
Stage on arrival:
Fresh Open Blooms
Time to Bloom:
12 - 24 Hours
Diameter when bloomed:
Product Code:
green-emerald-hydrangeas-qty
PRODUCT DESCRIPTION
Gorgeous and absolutely versatile, our emerald Hydrangea flowers are availalbe at low cost for online customers only so that everyone can create dreamy centerpieces and captivating bouquets. With stems as fresh as these, you'll be more than thrilled to display your edgy creations of hydrangeas paired with other summer florals. Any arrangements with such large and textured floral heads will look stunning on a table setting or perched in a corner.
Choose your number of stems and receive stunning emerald Hydrangea flowers at low cost regardless of the season. They can be purchased by bulk or readymade in arrangements that vary from simple to extravagant. You'll love the saturated color, glorious texture and weight that these stems will bring to an arrangement or decorative piece.
FLOWER REVIEWS
Patricia Heise
Verified Buyer
October 2016
Center pieces made with roses and hydrangeas from you guys looked wonderful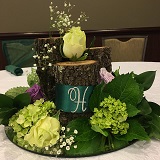 Verified Buyer
Purchased coral and ivory roses, babys breath, and a green hydrangeas for my wedding. The flowers came in on time which was 2days before my wedding. They bloomed just in time for my wedding and were gorgeous.
Written on July 5, 2014
By nicknmillie@sbcglobal.net
Verified Buyer
All I can say is that these hydrangeas were absolutely gorgeous.
By Google Customer Review
Verified Buyer
Absolutely perfect! I scheduled a Wednesday delivery for a Saturday wedding. I was hesitant to receive that early but glad I did. The flowers were perfect on Saturday (would have be fine for Friday too). Since the flowers are such an important part of the wedding it was a blessing to remove from my list of worries. I put them in big buckets of water in the laundry room and turned a fan on during the day. At night, I opened the windows in the room and let the cool air in. I ordered white hydrangeas, white roses, orange roses, sunflowers and 3 different white fillers. We received a ton of compliments and everyone wanted to know who the florist was, I was proud to say.....ME!. Thank you Globalrose for making me look so good and making my daughters wedding look magical.