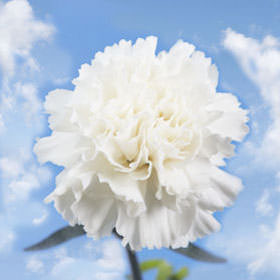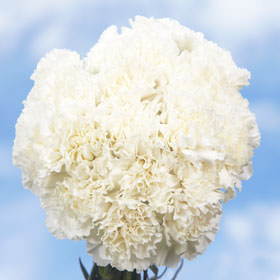 Color tones for all White Carnations may vary due to the computer monitor and/or Mother Nature.

---
---
Product Information
•••••
• 200 Stems of Carnations
• 8 bouquets of 25 stems each
• Color: White
• Hand Picked
• The stems are 20" - 22" long
• 1 carnation(s) per stem
• Number of Petals per Flower: 30 -34
• Diameter when bloomed: 3.1" - 4.1"
• Time to Bloom: 23 - 46 Hours
• Vase Life:
8 - 12 Days
• Stage on arrival: Fresh Closed Blooms
Additional Facts

Product Description
•••••
Are you looking for Cheap Mother's Day Flowers Delivered to Mom this Mother's Day? If white Carnations are her favorite, Globalrose is the place to order! Mom will receive Cheap Mother's Day Flowers Delivered in the form of 200 fresh, white Carnations. Packaged as 8 bunches with 25 stems each, the stems are 20-22" long. Flower heads are 1.6 – 2.2" in diameter when in bloom.
Spring is First Holy Communion time, and little girls are even more angelic when carrying white Carnations tied with white ribbon down the aisle. Surprise a new mom-to-be with glorious white Carnations in our Cheap Mother's Day Flowers Delivered package. Celebrate the advent of summer with white Carnations!
At Globalrose, your white Carnations are grown in environmentally-friendly greenhouses. Your order is hand-selected and will arrive fresh at your door just 4 days after you order. Color tones for all flowers may vary due to your computer monitor and/or Mother Nature.
---
Flower Reviews
•••••
Everything they promised was accurate. I followed their directions in timing my order, caring for the flowers until the event and timing their bloom and the one quart mason jars which started out looking a bit sparse and in need of filler with 20 carnations each were in full bloom and needed no filler at all. They travelled 25 miles each way and were in peak bloom for my daughter's very large bridal shower. 200 carnations on 10 tables looked absolutely perfect for the theme of the event and I could not be happier with Globalrose. I will order from them any time I need flowers. So glad I discovered them and appreciate the more than 60% I saved over having the centerpieces made by a florist.

Written on April 27, 2016

By Kathy Urick

Verified Buyer

Got the white carnations from global rose for a Teacher Appreciation Luncheon and they were so fresh I still have a few that weeks later are in great shape will definitely order from them again!!

By Marie Cisterino Ludwig

Verified Buyer

Thank you for saving my job!! NEVER assume you can find anyone local to get you the flowers you need. We had a huge catering gig for Oktoberfest for a local bank and I needed 20 centerpieces and 200 white carnations. I found your business on line and took a chance ... WOWSER!!! They arrived on time two days before and I let them breathe in big buckets. These flowers were fresh and beautiful. Big hit. You are now our go-to florist!! Thank you from the Valley Forge Catering Company

By Amanda Micek

Verified Buyer

'So many compliments. White Carnations, Pink Spray Roses and White Roses. Thank you for great service! '

By Vieroska Jimenez

Verified Buyer

' I used 100 yellow carnation and 100 white carnations from global rose, to decorate this beautiful paint of the Madonna (Mary and Jesus) for this year Easter vigil. '

By Brittney Maehl

Verified Buyer

' Thanks for the beautiful order. My company ordered 300 red and white carnations for Memorial Day. We worked with a local daycare and decorated the graves of veterans laid to rest at two local cemetaries. It was a beautiful day and we taught the little ones the true meaning of the holiday. Thank you for this opportunity. Your order was gorgeous, arrived safe and sound and was a lot less expensive than we anticipated. '

By Cheryl Centenio

Verified Buyer

I purchased the white carnations from Globalrose and I am very pleased with the flowers. Cheryl Centenio

By Patsy Kohles Wilhelm

Verified Buyer

Ordered 200 white carnations for a center pieces for a function that honored our men and women in blue. The carnations arrived in wonderful condition and the instructions were easy to follow. Will recommend Globalrose to all my friends a family

By Cathi Potter

Verified Buyer

White Carnations-spray painted Tiffany Blue strung on fishing line hung on the porch for a bridal shower

By Google Customer Review

Verified Buyer

The white carnations I ordered came on time and were beautiful and fresh. They were packaged well and included helpful directions. I would definitely order from Globalrose.com again! The only reason that I could not give five stars was because I only received 193 carnations instead of the 200 I ordered

By Google Customer Review

Verified Buyer

We bought all white carnations for my wedding from this sight and thay showed up perfect and lasted so long that after the wedding we were able to give them to people at the hospital to spread some cheer. I would buy again.

By Google Customer Review

Verified Buyer

Absolutely satisfied with Global Rose! Ordered 300 pink and white carnations for our wedding. Rcvd a personal phone call to confirm shipping addresses as well as confirmation emails that included tracking numbers. Such a smooth process especially when planning a wedding! Flowers arrived, placed them in water with the flower food and they opened right up overnight. Made our bouquets and boutonnières, all of our centerpieces and tables. So, delivery was a Wednesday, decorated Thursday and Wedding was Friday. Here it is a week later and they are still beautiful!! Will definitely be ordering again and again! Thank you Global Rose!!

By amazon customer

Verified Buyer

THIS order arrived well packaged and the product - the flowers were fresh, beautiful, and remained so, as carnations do. I was very pleased with this purchase. Although I had a poor experience with the calla lillies, I had success with these.
Botanical Name : Rosa cvs., Hybrids




The name Rose comes from French, which itself comes from Latin rosa. The Rose undoubtedly remains the queen of the cut flowers. The historical association of this flower with romance and beauty ensures that roses will continue to be a highly desired cut flower in the future.




Not sure what flower to buy, send roses, because roses are always right




Colors: Red Roses, White Roses, Ivory Roses, Pink Roses, Yellow Roses, Orange Roses, Two colors Roses, Green Roses, Hot Pink Roses, Cream Roses, Bi-color Roses and tinted Roses




Vase Life: When properly handled, and given an effective fresh flower food, roses will give a display life of 6-12 days depending on cultivar. They are harvested and cut when in bud, and held in refrigerated conditions until ready for shipment.




Availability: 365 days




Length: Rose stems are 16" to 26" long.




Pack: Bunches of 25 Roses. Box may contain 75, 100, 150, 200 or 250 roses.




Roses Uses: Can be used to make, bridal bouquets, dozen rose bouquets, wedding centerpieces, restaurants table decorations, fundraisers/fundraising events, corporate functions, corsages and many other uses. roses, alstroemerias, hydreangeas and fillers are some of the wholesale flowers that can be combined with roses for wedding flowers.




Enjoy!
Globalrose suggests these simple care tips to keep your Roses fresh and beautiful.




• It is recommended that your Roses be delivered (two to three days before the event) to an address where someone can receive and care for them. If this is not possible, your Roses will be left in a safe place at the delivery address. All our orders are dispatched with signature release authorization.




• It is very important to bring your Roses indoor as soon as they are delivered. If this is not immediately possible, make sure you place your Roses box in a cool place. Roses should be stored at room temperature as long as they are kept away from heat or cold sources and out of direct sunlight.




• Before you unpack your Roses, choose a work area that includes a table or counter top and a floor that can resist water. Have handy a set of shears and several empty containers.




• When you are ready to arrange your Roses, open the box/es and begin by removing the Roses bunch by bunch. Without removing the plastic wrappers protecting the Roses buds, remove all other packaging materials from the box/es. Keep in mind that each bunch has several Roses (25 per bunch).




• Prepare containers/buckets by filling them with room temperature water. Immediately after your Roses arrive, pour in and mix the enclosed floral food packets provided with each Roses order. The floral food has been shown to increase the life of fresh Roses by several days. Save a few packets for when you change the water in a few days.




• Cut each stem one inch from the bottom. Place the Roses in water immediately after cutting them. Re-cutting Roses stems from time to time is important (every two days), as stem tips may be incapable of transporting water to the Roses over time.




• Be sure to remove any leaves that fall below the water line to prevent bacteria from forming. Floral food provided and enclosed with each order will also help to limit bacteria growth.




• Place Roses in your prepared water-filled containers. Ideally, the plastic wrappers should be kept while the Roses are hydrating. Hydration occurs anywhere between six to eight hours.




• To ensure longer lasting Roses, continue to keep them out of direct sunlight and away from heat. Change the water and cut Roses stems one inch every other day. Each time you change the water, add more floral food and be sure that no leaves sit below the water level.




• With the passage of time, give your roses a "face-lift" every couple of days by gently removing discolored or drooping petals from your Roses.




Enjoy your flowers.
Does the price include shipping?




Shipping is FREE on ALL orders within the continental US for packages delivered Tuesday through Friday. Saturday delivery is available in some areas for and extra charge per box. Deliveries to Alaska, Hawaii and Puerto Rico are charged with an additional fee per box.




What's the earliest I can have my flowers delivered?




All our flowers (except wedding combos, boutonnieres, corsages, bridesmaid and bridal bouquets) can be delivered as early as three or four days after placing the order. Order before 10:00 a.m. EST on Monday and flowers can be delivered as early as Thursday of that same week. Order before 10:00 a.m. EST on Tuesday and flowers can be delivered as early as Friday of that same week. Order before 8:00 a.m. EST on Friday and flowers can be delivered as early as Tuesday of the following week. Order before 4:00 p.m. EST on Friday and flowers can be delivered as early as Wednesday of the following week.




For all our wedding combos, boutonnieres, corsages, bridesmaid and bridal bouquets we recommend you place your order at least 10 days prior to your delivery date.




We do not deliver on Sunday or Monday or Holidays (New Year's Day, Christmas Day, 4th of July) Saturday delivery is available in most of the continental US zip codes at an additional charge of $20.00 per box.




Where is your service available?




Orders are accepted worldwide but deliveries are only available in the US (including Alaska, Hawaii and Puerto Rico) and Canada.




When should I order?




Orders can be placed as early as 100 days prior to the delivery date and as late as four week days before the delivery date. On wedding combos, corsages, boutonnieres and bridesmaid or bridal bouquets orders should be placed with at least 10 days in advance.




Can I change or cancel my order?




Changes and cancellations will be accepted until five days prior to the original delivery date. Globalrose will charge a 15% cancellation fee. NO exceptions to Globalrose cancellation policy. Unfortunately we can't accept cancellations within 5 days of your original delivery date. Any change or cancellation request must be notified via e-mail only. No changes or cancellations are accepted over the phone. In the event you cancel an order keep in mind that the refund will be for the original order amount minus the 15% cancellation fee. The refund can take up to 3 week days due to the banks.




What payment options do I have?




Globalrose.com LLC accepts Visa, MasterCard, Discover, American Express and Paypal




Any additional questions please call us at 1 888 590 7673




Enjoy your flowers.