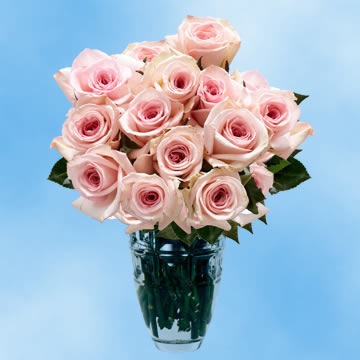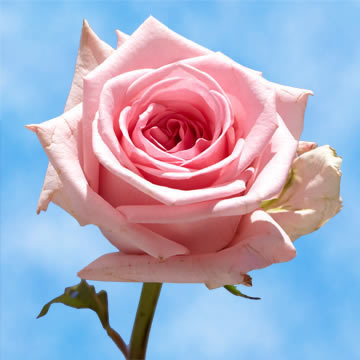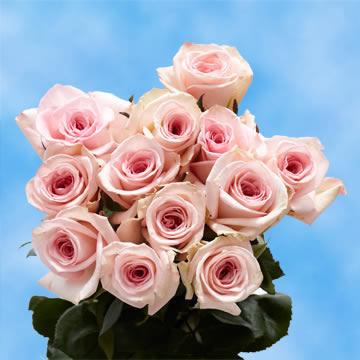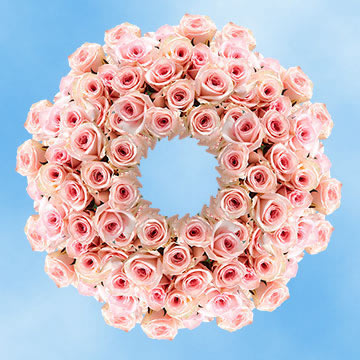 Color tones for all Assorted Pink Roses may vary due to the computer monitor and/or Mother Nature.

400 Assorted Pink Roses
400 Wedding Pink Roses. Globalrose.com has fascinating Wedding Pink Roses for you to enjoy.
---
---
---
Product Information
•••••
• 400 Pink Roses
• 16 bouquets of 25 stems each
• Color: One or more shades of pink
• Hand Picked
• The stems are 16" - 18" long
• 1 rose(s) per stem
• Guard Petals: Yes 3 - 4
• Diameter when bloomed: 2.6" - 3.8"
• Time to Bloom: 23- 47 Hours
• Vase Life:
8 - 12 Days
• Stage on arrival: Fresh closed bud.
Additional Facts

Product Description
•••••
The symbol of decadence?Wedding Pink Roses, of course. These luscious flowers have true character: beautiful in every single way. How often do you come across that kind of perfection? From their splendid petal count to their color, Wedding Pink Roses are a leading competitor in the eternal beauty contest of flowers.
If you want flowers that reflects how you feel about a special lady then Wedding Pink Roses are what you've been looking for. The big birthday of a beautiful girl begs for flowers that reflect her outstanding qualities. All the compliments in the world can't compare to the magnitude of what is said with the gesture of Wedding Pink Roses. Be sure to include their V.I.P. presence in a wedding arrangement or they will be sorely missed, they are the touch of extravagance that will truly set the proper atmosphere for a celebration never to be forgotten. If there was ever an "always right" kind of flower, Wedding Pink Roses would be it.
We provide flowers that live up to their reputation. Why settle for less? These flowers are raised in the most caring of environments in Columbia where each bud is inspected for excellence. We have high standards for our beauty queens and all flowers are expected to meet them. For a bloom that will make anyone burst with joy, you can trust us to deliver the best.
Testimonials
•••••
NiamXaivntaub Vaj
March 2018
flowers for my ceremony! Beautiful as always.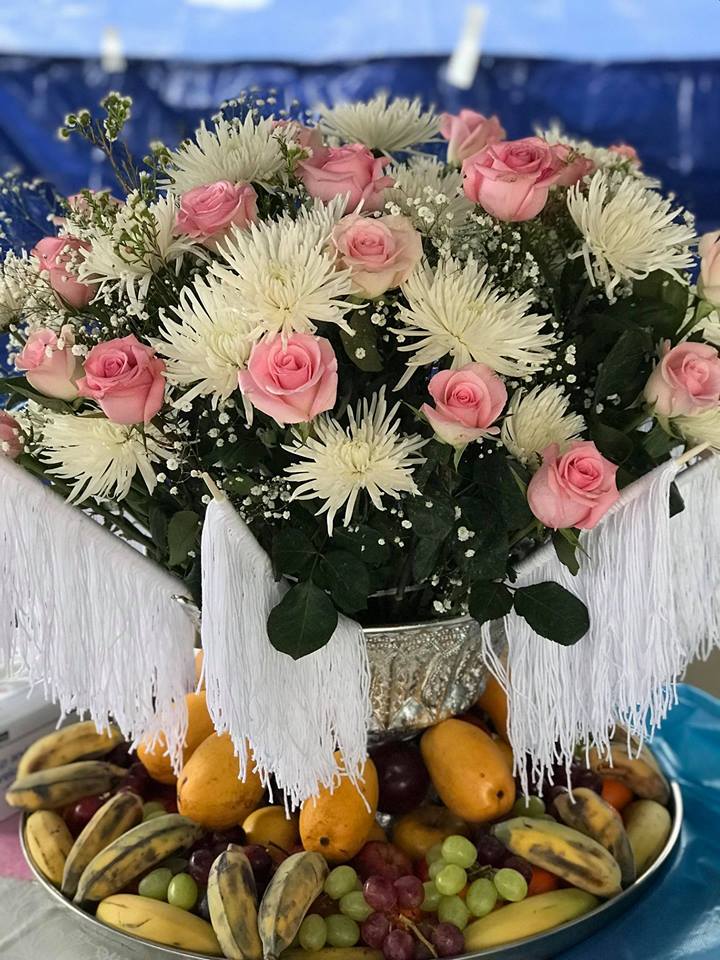 The Roses I got were BEAUTIFUL!!! I ordered 2 shades of pink and 2 shades of ivory for a total of 400 roses. The colors were perfect and there was a clear definition between them. They arrived wednesday as expected and opened up perfectly by friday. My wedding Saturday was absolutely georgous and because the flowers opened up much larger than i expected so i had extras for the small details. A Full week later i still have several vases in my house and they look fantastic.
Written on September 18, 2014
Botanical Name : Rosa cvs., Hybrids




The name Rose comes from French, which itself comes from Latin rosa. The Rose undoubtedly remains the queen of the cut flowers. The historical association of this flower with romance and beauty ensures that roses will continue to be a highly desired cut flower in the future.




Not sure what flower to buy, send roses, because roses are always right




Colors: Red Roses, White Roses, Ivory Roses, Pink Roses, Yellow Roses, Orange Roses, Two colors Roses, Green Roses, Hot Pink Roses, Cream Roses, Bi-color Roses and tinted Roses




Vase Life: When properly handled, and given an effective fresh flower food, roses will give a display life of 6-12 days depending on cultivar. They are harvested and cut when in bud, and held in refrigerated conditions until ready for shipment.




Availability: 365 days




Length: Rose stems are 16" to 26" long.




Pack: Bunches of 25 Roses. Box may contain 75, 100, 150, 200 or 250 roses.




Roses Uses: Can be used to make, bridal bouquets, dozen rose bouquets, wedding centerpieces, restaurants table decorations, fundraisers/fundraising events, corporate functions, corsages and many other uses. roses, alstroemerias, hydreangeas and fillers are some of the wholesale flowers that can be combined with roses for wedding flowers.




Enjoy!
Globalrose suggests these simple care tips to keep your Roses fresh and beautiful.




• It is recommended that your Roses be delivered (two to three days before the event) to an address where someone can receive and care for them. If this is not possible, your Roses will be left in a safe place at the delivery address. All our orders are dispatched with signature release authorization.




• It is very important to bring your Roses indoor as soon as they are delivered. If this is not immediately possible, make sure you place your Roses box in a cool place. Roses should be stored at room temperature as long as they are kept away from heat or cold sources and out of direct sunlight.




• Before you unpack your Roses, choose a work area that includes a table or counter top and a floor that can resist water. Have handy a set of shears and several empty containers.




• When you are ready to arrange your Roses, open the box/es and begin by removing the Roses bunch by bunch. Without removing the plastic wrappers protecting the Roses buds, remove all other packaging materials from the box/es. Keep in mind that each bunch has several Roses (25 per bunch).




• Prepare containers/buckets by filling them with room temperature water. Immediately after your Roses arrive, pour in and mix the enclosed floral food packets provided with each Roses order. The floral food has been shown to increase the life of fresh Roses by several days. Save a few packets for when you change the water in a few days.




• Cut each stem one inch from the bottom. Place the Roses in water immediately after cutting them. Re-cutting Roses stems from time to time is important (every two days), as stem tips may be incapable of transporting water to the Roses over time.




• Be sure to remove any leaves that fall below the water line to prevent bacteria from forming. Floral food provided and enclosed with each order will also help to limit bacteria growth.




• Place Roses in your prepared water-filled containers. Ideally, the plastic wrappers should be kept while the Roses are hydrating. Hydration occurs anywhere between six to eight hours.




• To ensure longer lasting Roses, continue to keep them out of direct sunlight and away from heat. Change the water and cut Roses stems one inch every other day. Each time you change the water, add more floral food and be sure that no leaves sit below the water level.




• With the passage of time, give your roses a "face-lift" every couple of days by gently removing discolored or drooping petals from your Roses.




Enjoy your flowers.
Does the price include shipping?




Shipping is FREE on ALL orders within the continental US for packages delivered Tuesday through Friday. Saturday delivery is available in some areas for and extra charge per box. Deliveries to Alaska, Hawaii and Puerto Rico are charged with an additional fee per box.




What's the earliest I can have my flowers delivered?




All our flowers (except wedding combos, boutonnieres, corsages, bridesmaid and bridal bouquets) can be delivered as early as three or four days after placing the order. Order before 10:00 a.m. EST on Monday and flowers can be delivered as early as Thursday of that same week. Order before 10:00 a.m. EST on Tuesday and flowers can be delivered as early as Friday of that same week. Order before 8:00 a.m. EST on Friday and flowers can be delivered as early as Tuesday of the following week. Order before 4:00 p.m. EST on Friday and flowers can be delivered as early as Wednesday of the following week.




For all our wedding combos, boutonnieres, corsages, bridesmaid and bridal bouquets we recommend you place your order at least 10 days prior to your delivery date.




We do not deliver on Sunday or Monday or Holidays (New Year's Day, Christmas Day, 4th of July) Saturday delivery is available in most of the continental US zip codes at an additional charge of $20.00 per box.




Where is your service available?




Orders are accepted worldwide but deliveries are only available in the US (including Alaska, Hawaii and Puerto Rico) and Canada.




When should I order?




Orders can be placed as early as 100 days prior to the delivery date and as late as four week days before the delivery date. On wedding combos, corsages, boutonnieres and bridesmaid or bridal bouquets orders should be placed with at least 10 days in advance.




Can I change or cancel my order?




Changes and cancellations will be accepted until five days prior to the original delivery date. Globalrose will charge a 15% cancellation fee. NO exceptions to Globalrose cancellation policy. Unfortunately we can't accept cancellations within 5 days of your original delivery date. Any change or cancellation request must be notified via e-mail only. No changes or cancellations are accepted over the phone. In the event you cancel an order keep in mind that the refund will be for the original order amount minus the 15% cancellation fee. The refund can take up to 3 week days due to the banks.




What payment options do I have?




Globalrose.com LLC accepts Visa, MasterCard, Discover, American Express and Paypal




Any additional questions please call us at 1 888 590 7673




Enjoy your flowers.