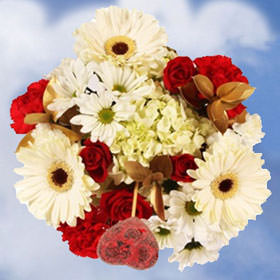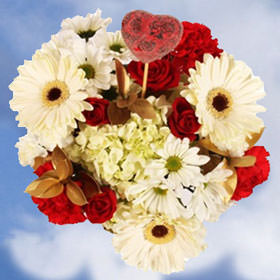 Color tones for all Valentine's Day Hugs & Kisses Bouquets may vary due to the computer monitor and/or Mother Nature.

7 Hugs & Kisses Valentine's Day Bouquets
Each bouquet is a fantastic arrangement of 16 flowers. Vase not included. Each box comes with 7 splendid bouquets and each arrangement contains; 3 stems of Ruscus, 3 stems of White Gerbera Daisies, 2 stems of White Mini-Carnations, 3 stems of Red Carnations, 2 stems of White Daisy Pompoms, 2 stems of Red Spray Roses, and 1 stem of White Hydrangea.
---
---
---
Product Information
•••••
• 7 Valentine's Day Bouquets
• 7 bouquets with 16 stems each
• Color: Assorted Valentine's Day Colors
• Assembled & Picked by Hand
• The stems are 18" - 22" long
• 16 Flowers per centerpiece
• Recommended Vases:
• Time to Bloom: 24 - 46 Hours
• Vase Life:
6 - 10 Days
• Stage on arrival: Fresh Semi Bloomed
Additional Facts

Product Description
•••••
Not to be forgotten after the hugs and kisses is the beautiful and delicate Valentine's Day Hugs & Kisses Bouquets from Globalrose.com. Each bouquet will express your love with a stunning arrangement of 16 flowers. PLEASE BE ADVISED THAT QUANTITIES ARE LIMITED.
The beloved blooms of the Valentine's Day Hugs & Kisses Bouquets are the perfect gifts this Valentine's Day! Your Mom, grandma, aunts, girlfriend or even your business clients will appreciate the beauty of nature's gift! For southerners not contending with snow, decorate your garden party with Valentine's Day Hugs & Kisses Bouquets and invite the neighbors over for a wine & cheese get together! Or, amongst the beautiful bouquets, throw a surprise Engagement Party for your family and friends to attend as you pop the question and cupid's arrow hits the spot!
Globalrose.com's experience in growing flora coupled with our top-notch sales team enables us to guarantee the highest quality product that is shipped directly to you via FedEx! We inspect each bloom for perfection and guarantee you'll be fully satisfied with your floral purchase.
---
Flower Reviews
•••••
Arnelis Crespo Pitre

February 2016

My wedding bouquets. - Centerpiece flowers from my wedding.

By joanna

Verified Buyer

At the last minute, I ordered 200 roses for my wedding. I was concerned that they would arrive too soon, so I contacted the seller. They responded and were able to delay shipment so they would arrive before the wedding but not too far before. The roses arrived one day early, which was fine. I kept them in the box in a cool, dark area of my parents' house (a 1904 Victorian-style house with no air-conditioning in Portsmouth, NH) and they fared perfectly well. My friends handled the bouquets for my wedding (I was a wee bit overwhelmed, ha) so all I did was take the roses from the boxes, cut the bottom of the stems, and place them in water. They did not have thorns at all. I wish I could post a picture of my bouquet (in addition to the roses, we had ranunculus [from another seller] and eucalyptus [from Trader Joe's]) because it was amazing. The roses looked perfect in the bouquets and the centerpieces. They held up really well on the day of the wedding (June 22) and for a few days after. I highly recommend these roses as well as this seller. Thank you for making my wedding spectacular!

By Google Customer Review

Verified Buyer

I ordered 500 roses from Global Rose for my engagement party. They came on time, opened up beautifully and just made my event beautiful. Cant say enough about them. Id order from them any day.

By amazon customer

Verified Buyer

We used these as a Valentines Day fundraiser. I was a little nervous ordering them online, but they were perfect. Maybe 2 broken stems when they got to us (we ordered 400). We ordered them on a Wednesday got them on Tuesday and handed them out to the kids on Friday. The flowers were beautiful the whole time. The extras were still looking good after a weekend in my classroom. Will be ordering again.

By Stanford Medicine // Office of Medical Student Af

Verified Buyer

400 Red Carnations for our Match Day 2015 mason jar centerpieces. Thanks Global Rose! / Thanks Global Rose! We ordered your red carnations to fill our mason jar centerpieces for Match Day 2015.

By Christina Whitley

Verified Buyer

Beautiful red carnations for Sunday of the Cross.

By Angeleic Marie

Verified Buyer

' Global Rose is an outstanding company !!! This is my second order with them, not only are flowers gorgeous and hardy but the people in the office are polite and professional. I received my order of 200 red carnations for my daughters wedding on the 3rd today and they included about 9 extra flowers. So pleased I would definitely order again. Thank you Global Rose!!!! '

By Google Customer Review

Verified Buyer

I ordered 100 red carnations... They arrived on time.... followed directions to keep for the 2 days before the event and they were all beautiful for our party.... I will use them again if I have the need...

By Google Customer Review

Verified Buyer

Customer Service was very good. the flowers themselves were just OK. I did get 100 Red Carnations but they were small and had absolutely no fragrance to them. Otherwise everything was satisfactory

By Google Customer Review

Verified Buyer

Flowers arrived Tuesday. Red carnations were very tight and after several days I still had to work at them to open for display for beginning of our Valentine Weekend at the restaurant. Many remain tightly closed. I had plenty so it is OK. White are beautiful. Was very pleased with the prompt delivery and will likely order from you again. Connie Hume

By Google Customer Review

Verified Buyer

North Putnam FCCLA, Indiana pre -ordered our usual 100 red carnations. Then the week before Valentines Day we sold orders for carnations.On Thursday morning when I saw we had nearly sold 200 I quick ordered an assorted bunch of 100 carnations to mix and match our orders. Success we sold out of carnations!!!! Everyone was very happy with the flowers. They arrived on time - both orders!

By Google Customer Review

Verified Buyer

I ordered 200 red carnations and they bloomed beautifully. I easily followed the directions given and had lovely flowers for the 8th grade prom I organize. I will absolutely use them again.

By ginger griffin

Verified Buyer

I purchased 100 red carnations. The arrived fresh and beautiful, and lasted almost THREE WEEKS! Great quality!

By Ramona Lynne Seeger-Jackson

Verified Buyer

' Filler pack of Status, Babysbreath, Limonioum, purple and White Asters, with Lavender and white daisy mums. Perfect for vintage country wedding '

By Amanda Key

Verified Buyer

' First time to use global rose and i loved the flowers, the only issue i had was FedEx delivery on both days. Next time Ill have it delivered to my work instead of residence. I ordered 50 light pink roses and 20 white hydrangeas and i followed the instructions they had and was very pleased. These were for a friends baby shower. '

By Trixie Ortiz

Verified Buyer

White hydrangea centerpiece designed by Trixie Ortiz YOUnique Events & Design using fresh hydrangeas from global rose

By Marilyn D Rust

Verified Buyer

I ordered white hydrangeas for my daughters wedding in November. Spectacular flowers and service! I would order from Global Rose again!! Thank you!!

By Google Customer Review

Verified Buyer

These flowers were unbelievable! I ordered white hydrangeas, babys breath, greens, and red roses for my wedding. They were so gorgoeous! My unbelievable Mother-in-law did my arrangements and they were perfect centerpieces! Thank you!

By Google Customer Review

Verified Buyer

Flowers arrived at the exact time they estimated and they were all individually wrapped with water sac and they were fresh and huge blooms. They were beautiful at the event and are still fresh, and will last for at least another week. Beautiful white Hydrangeas.

By Google Customer Review

Verified Buyer

Ordered white hydrangeas, they were packed well and bloomed beautifully when hydrated per instructions. Would order from this company again.

By Google Customer Review

Verified Buyer

Absolutely perfect! I scheduled a Wednesday delivery for a Saturday wedding. I was hesitant to receive that early but glad I did. The flowers were perfect on Saturday (would have be fine for Friday too). Since the flowers are such an important part of the wedding it was a blessing to remove from my list of worries. I put them in big buckets of water in the laundry room and turned a fan on during the day. At night, I opened the windows in the room and let the cool air in. I ordered white hydrangeas, white roses, orange roses, sunflowers and 3 different white fillers. We received a ton of compliments and everyone wanted to know who the florist was, I was proud to say.....ME!. Thank you Globalrose for making me look so good and making my daughters wedding look magical.

By amazon feedback review

Verified Buyer

My order arrived early and in good condition. The instructions on the package and on the website were easy to understand. The white hydrangeas are still looking beautiful 8 Days Later. I would order again from Global Rose. Thank you for making the wedding table centerpieces absolutely amazing!

By amazon customer

Verified Buyer

THIS order arrived well packaged and the product - the flowers were fresh, beautiful, and remained so, as carnations do. I was very pleased with this purchase. Although I had a poor experience with the calla lillies, I had success with these.

By Google Customer Review

Verified Buyer

Granddaughter helped me find the daisies that I wanted for our 50th Wedding Anniversary. They were beautiful and packaged perfectly. . they arrived at our house at 10m thank you so much, if I need flowers again,I will surely use them again.

By Google Customer Review

Verified Buyer

We ordered Gerbera Daisies for a wedding. They arrived on the date we requested, in excellent condition. very satisfied & would purchase again.

By nicknmillie@sbcglobal.net

Verified Buyer

All I can say is that these hydrangeas were absolutely gorgeous.

By amazon customer

Verified Buyer

Absolutely 100% satisfied with the shipping time and the quality of the roses. I live in the United States of America and the roses arrived on time and in excellent fresh condition. These are the most extraordinary and wonderful roses in the world!!! Four days later the roses are holding up very strong and I'm sure they will last another 7 plus days. This purchase was the best decision I made about fresh roses and i will order again. I want to thank the staff and company for an above all expectation experience. Thank you so much. Shane from Georgia

By amazon feedback review

Verified Buyer

Excellent quality! Greenery was delivered 5 days from the actual shipping date (in the middle of August) Ruscus was in very good condition and was package well. Very happy!

By Google Customer Review

Verified Buyer

The flowers arrived right on time and they were absolutely stunning! The sweetest spray roses Ive ever smelled! Great prices too!

By meredith r.

Verified Buyer

So glad I ordered these to use in my beehive centerpieces for a bumble bee themed 1st birthday.
Botanical Name : Rosa cvs., Hybrids




The name Rose comes from French, which itself comes from Latin rosa. The Rose undoubtedly remains the queen of the cut flowers. The historical association of this flower with romance and beauty ensures that roses will continue to be a highly desired cut flower in the future.




Not sure what flower to buy, send roses, because roses are always right




Colors: Red Roses, White Roses, Ivory Roses, Pink Roses, Yellow Roses, Orange Roses, Two colors Roses, Green Roses, Hot Pink Roses, Cream Roses, Bi-color Roses and tinted Roses




Vase Life: When properly handled, and given an effective fresh flower food, roses will give a display life of 6-12 days depending on cultivar. They are harvested and cut when in bud, and held in refrigerated conditions until ready for shipment.




Availability: 365 days




Length: Rose stems are 16" to 26" long.




Pack: Bunches of 25 Roses. Box may contain 75, 100, 150, 200 or 250 roses.




Roses Uses: Can be used to make, bridal bouquets, dozen rose bouquets, wedding centerpieces, restaurants table decorations, fundraisers/fundraising events, corporate functions, corsages and many other uses. roses, alstroemerias, hydreangeas and fillers are some of the wholesale flowers that can be combined with roses for wedding flowers.




Enjoy!
Globalrose suggests these simple care tips to keep your Roses fresh and beautiful.




• It is recommended that your Roses be delivered (two to three days before the event) to an address where someone can receive and care for them. If this is not possible, your Roses will be left in a safe place at the delivery address. All our orders are dispatched with signature release authorization.




• It is very important to bring your Roses indoor as soon as they are delivered. If this is not immediately possible, make sure you place your Roses box in a cool place. Roses should be stored at room temperature as long as they are kept away from heat or cold sources and out of direct sunlight.




• Before you unpack your Roses, choose a work area that includes a table or counter top and a floor that can resist water. Have handy a set of shears and several empty containers.




• When you are ready to arrange your Roses, open the box/es and begin by removing the Roses bunch by bunch. Without removing the plastic wrappers protecting the Roses buds, remove all other packaging materials from the box/es. Keep in mind that each bunch has several Roses (25 per bunch).




• Prepare containers/buckets by filling them with room temperature water. Immediately after your Roses arrive, pour in and mix the enclosed floral food packets provided with each Roses order. The floral food has been shown to increase the life of fresh Roses by several days. Save a few packets for when you change the water in a few days.




• Cut each stem one inch from the bottom. Place the Roses in water immediately after cutting them. Re-cutting Roses stems from time to time is important (every two days), as stem tips may be incapable of transporting water to the Roses over time.




• Be sure to remove any leaves that fall below the water line to prevent bacteria from forming. Floral food provided and enclosed with each order will also help to limit bacteria growth.




• Place Roses in your prepared water-filled containers. Ideally, the plastic wrappers should be kept while the Roses are hydrating. Hydration occurs anywhere between six to eight hours.




• To ensure longer lasting Roses, continue to keep them out of direct sunlight and away from heat. Change the water and cut Roses stems one inch every other day. Each time you change the water, add more floral food and be sure that no leaves sit below the water level.




• With the passage of time, give your roses a "face-lift" every couple of days by gently removing discolored or drooping petals from your Roses.




Enjoy your flowers.
Does the price include shipping?




Shipping is FREE on ALL orders within the continental US for packages delivered Tuesday through Friday. Saturday delivery is available in some areas for and extra charge per box. Deliveries to Alaska, Hawaii and Puerto Rico are charged with an additional fee per box.




What's the earliest I can have my flowers delivered?




All our flowers (except wedding combos, boutonnieres, corsages, bridesmaid and bridal bouquets) can be delivered as early as three or four days after placing the order. Order before 10:00 a.m. EST on Monday and flowers can be delivered as early as Thursday of that same week. Order before 10:00 a.m. EST on Tuesday and flowers can be delivered as early as Friday of that same week. Order before 8:00 a.m. EST on Friday and flowers can be delivered as early as Tuesday of the following week. Order before 4:00 p.m. EST on Friday and flowers can be delivered as early as Wednesday of the following week.




For all our wedding combos, boutonnieres, corsages, bridesmaid and bridal bouquets we recommend you place your order at least 10 days prior to your delivery date.




We do not deliver on Sunday or Monday or Holidays (New Year's Day, Christmas Day, 4th of July) Saturday delivery is available in most of the continental US zip codes at an additional charge of $20.00 per box.




Where is your service available?




Orders are accepted worldwide but deliveries are only available in the US (including Alaska, Hawaii and Puerto Rico) and Canada.




When should I order?




Orders can be placed as early as 100 days prior to the delivery date and as late as four week days before the delivery date. On wedding combos, corsages, boutonnieres and bridesmaid or bridal bouquets orders should be placed with at least 10 days in advance.




Can I change or cancel my order?




Changes and cancellations will be accepted until five days prior to the original delivery date. Globalrose will charge a 15% cancellation fee. NO exceptions to Globalrose cancellation policy. Unfortunately we can't accept cancellations within 5 days of your original delivery date. Any change or cancellation request must be notified via e-mail only. No changes or cancellations are accepted over the phone. In the event you cancel an order keep in mind that the refund will be for the original order amount minus the 15% cancellation fee. The refund can take up to 3 week days due to the banks.




What payment options do I have?




Globalrose.com LLC accepts Visa, MasterCard, Discover, American Express and Paypal




Any additional questions please call us at 1 888 590 7673




Enjoy your flowers.