Hydrangea Flowers For Sale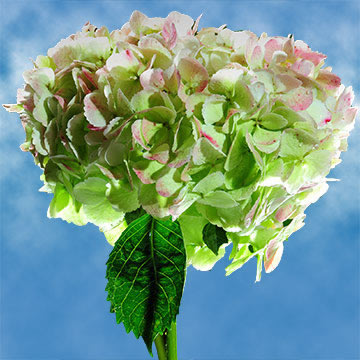 10 Stems of Green with White and Light Pink Tips Hydrangeas
$113.00
Free Shipping

Buy Now
These products are an elite selection of florets that are used year-round in special occasions such as weddings, dinner parties and social events. They are also used in movies and videos to capture the essence of elegance and beauty. Simplistic yet attractive, our jumbo green antique Hydrangea Flowers For Sale will captivate and make you a definitive repeat customer.
We grow in technologically advanced state-of-the-art greenhouses to give you a natural habit experience. Crisp, clean, dewy and glistening petals are products of our growth process. You'll see the difference and know it's from Globalrose. We utilize the best shipping standards to guarantee on-time delivery of our products, just in time for your event. You'll receive them in the freshest state possible, as if you picked them yourself.
Our wholesale prices are guaranteed, that's why we're able to have our jumbo green antique Hydrangea Flowers For Sale. It's what we do - it' who we are. Premium selections at the best value. Unrivaled freshness and delivery standards are our mantra. Happy customers are too. Make your occasion a memorable one. Your blossoms will leave your guests in awe and your event an occasion to remember.