Tropical Mix Flowers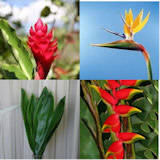 60 Beautiful Tropical Flower Stems
Fabulously Sunny!
$268.00
Free Shipping

Buy Now
A perfect mix of the tropics with: red ginger, birds of paradise, fire opal, ti leaves. Tropical Mix Flowers are a sophisticated and enticing assortment of tropical florets.
Globalrose.com produces year round in the best climate available in the world. All our products are grown in greenhouses, using the latest technology offered, so we can guarantee quality every single day. Your orders are shipped absolutely fresh, direct from the greenhouses to you via FedEx. Globalrose sells at prices that are usually lower than most local wholesalers. All our Tropical Mix Flowers are cut specially for you, your loved one or special event (wedding, party, fundraising event, birthday or holiday), 3 days before they are delivered to your door. All orders must be placed at least 7 week days before your delivery date.