Buy Rainbow Roses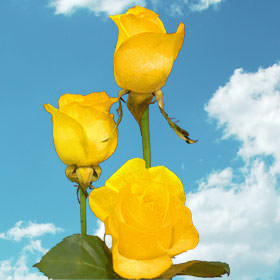 100 Yellow & Peach Rainbow Roses
$190.00
Free Shipping

Buy Now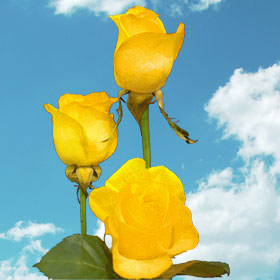 Yellow and Peach Rainbow Roses 200 Rainbow Roses
$342.00
Free Shipping

Buy Now
Exuding from the petals of our Rainbow Roses is a simple, yet elegant, allure that is sure to charm. An array of vibrant yellow and peach hues adorn the delicate petals on these blossoms. Such a gift of beauty are these yellow and peach , as their petals radiate such a lovely splendor of tones that warm the heart and please the eye.
Our blossoms boast a tranquil and blissful spirit in which we all seek throughout our lives, making them an ideal choice for anyone, or any occasion. The yellow and peach hues displayed on these buds make them an exquisite choice to adorn summer weddings with, as they are a lovely compliment to the flourishing vegetation. Romantic evenings with that special someone, anniversaries, and engagement parties alike, our yellow and peach florets grace a unique grandeur no matter where they are.
We grow our Rainbow Roses all year round in the warmth of the South American sun, so you can relish in their beauty whenever you please. When you buy from GlobalRose.com, you can rest-assured that you are getting the freshest and highest quality possible, because we cut your blossoms especially for you, your loved one, or special event, just days before they are delivered to your door. All of our products take just 3-4 days to deliver, so please place your order accordingly. Also, please note that color tone for all may vary due to monitor screen, or Mother Nature.