Amandine Roses Light Green
From 50 to 250 Amandine Roses
$0
FREE SHIPPING
Our homegrown Amandine roses are spectacular light green flowers which will surely bring spring's freshness into your arrangements.
EARLIEST DELIVERY DATE:

PRODUCT DESCRIPTION
Light green roses can be gifted to express affection, friendship, gratitude, and optimism to your loved ones. This is because of their close ties to nature, peace, and tranquility. The natural shade of green on these buds, in particular, symbolizes the beginning of spring and nature's regrowth. A sprig with dozens of light green roses is more than perfect to send to a first time mom or an expecting family to convey a message full of life and joyful, new beginnings.
Globalrose.com produces fine quality florets in a variety of shades and tones throughout the year in the best climate available in the world. All of our rose varieties are grown in greenhouses, using the latest technology in the market so that we can guarantee quality every single day. Your order is shipped absolutely fresh, direct from our greenhouses to you via FedEx.
Choose from 50 up to 250 stems of green flowers to suit your needs. Globalrose sells wholesale flowers and wholesale roses at prices that are usually lower than most local wholesalers. All our products are cut specially for you, your loved one or special event (wedding, party, fundraising event, birthday or holiday), 3 days before they are delivered to your door. Buy our beautiful and cheap cut flowers online with free delivery and we promise that you will be completely satisfied.
FLOWER REVIEWS
Erin Traynor
Verified Buyer
July 2016
Flowers I created for my niece's wedding, the second time I've used Global Rose. Flowers were flawless! Using you again in August! Photography by Graham Buss Photography. I had so much fun putting all these arrangements together! Got a quite from a florist for 5,000.. But found globalrose and and saved about 75% so glad I decided to do it myelf. Thanks again globalrose!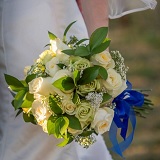 By Google Customer Review
Verified Buyer
There were no problems with the flowers! I ordered lime green roses. They looked good, more yellow in the center, but against my navy blue bridesmaid dresses they looked more green. UPS delivered then in the morning, just as scheduled. I was there to receive them and started hydrating them right away! They were not super tight buds, slightly open.
By amazon customer
Verified Buyer
Absolutely 100% satisfied with the shipping time and the quality of the roses. I live in the United States of America and the roses arrived on time and in excellent fresh condition. These are the most extraordinary and wonderful roses in the world!!! Four days later the roses are holding up very strong and I'm sure they will last another 7 plus days. This purchase was the best decision I made about fresh roses and i will order again. I want to thank the staff and company for an above all expectation experience. Thank you so much. Shane from Georgia
By amazon customer
Verified Buyer
We used these as a Valentines Day fundraiser. I was a little nervous ordering them online, but they were perfect. Maybe 2 broken stems when they got to us (we ordered 400). We ordered them on a Wednesday got them on Tuesday and handed them out to the kids on Friday. The flowers were beautiful the whole time. The extras were still looking good after a weekend in my classroom. Will be ordering again.