Gerbera Daisy
From 20 to 135 Flowers
$0
FREE SHIPPING
Exuberant blooms are Gerbera Daisy Flowers with their bright vivacious colors and dainty button centers. These blossoms are ideal when a boost of cheer is needed!
EARLIEST DELIVERY DATE:

PRODUCT INFORMATION
20 - 135 stems of Gerberas Flowers
4 - 27 bouquets of 5 stems each
Color:
Assorted Colors
Hand Picked
The stems are 16" - 18" long
Vase Life:
Stage on arrival:
Ready to use on arrival
Time to Bloom:
25 - 49 Hours
Diameter when bloomed:
Number of Petals per Flower: 25 - 35
Product Code:
gerberas-qty
PRODUCT DESCRIPTION
Gerbera Daisy Flowers. When You Order Gerbera Daisy Flowers From Global Rose, You Can Be Confident That You Will Only Get The Best Gerbera Daisy Flowers Since We Guarantee The Freshness Gerbera Daisy Flowers Online!
FLOWER REVIEWS
Susan OConnor Bell
Verified Buyer
September 2019
The flowers turned out great. Made individual arrangements in wine bottles for a rehearsal dinner and they were beautiful !! Only suggestion I have is to include care instructions in delivery box, but I did find on line! Came early morning on delivery date
Mary Beth Daniels-Crowe
Verified Buyer
June 2016
Thank you so much for the perfectly beautiful gerbera daisies. They were fresh and the color was so bright and cheerful.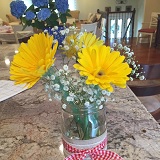 By Google Customer Review
Verified Buyer
We ordered Gerbera Daisies for a wedding. They arrived on the date we requested, in excellent condition. very satisfied & would purchase again.
By amazon customer
Verified Buyer
We used these as a Valentines Day fundraiser. I was a little nervous ordering them online, but they were perfect. Maybe 2 broken stems when they got to us (we ordered 400). We ordered them on a Wednesday got them on Tuesday and handed them out to the kids on Friday. The flowers were beautiful the whole time. The extras were still looking good after a weekend in my classroom. Will be ordering again.