Blue & White Roses
From 100 to 200 Roses
$0
FREE SHIPPING
Magic and wonder are evoked when you get out Rainbow Roses Wholesale, and the price is enchanting too.
EARLIEST DELIVERY DATE:

PRODUCT INFORMATION
100 -200 Blue and White Rainbow XL Roses
4 - 8 bouquets of 25 stems each
Color:
Blue and White
Hand Picked
The stems are 20"-22" long
Vase Life:
Stage on arrival:
Fresh Closed Bud
Time to Bloom:
26 - 48 Hours
Diameter when bloomed:
Guard Petals: Yes 3 - 6
Product Code:
blue-white-rainbow-roses-qty
PRODUCT DESCRIPTION
Rainbow Roses. Looking for nice looking Rainbow Roses at Wholesale price? GlobalRose specializes in provide Rainbow Roses in large quantities with Free Delivery and Guaranteed Freshness!
FLOWER REVIEWS
Hilary D Kelly
Verified Buyer
January 2016
Beautiful variegated blue and white roses. Thank you for your continued quality..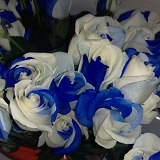 Donna Holland
Verified Buyer
June 2016
Our wedding reception table bouquets were a combination of light pink & blue/white roses with babys breath from Global Rose. The packaging and delivery of the flowers were handled very professionally. Written instructions on the care of the flowers was on point. Flowers were opening by day three. So when it came time to make our arrangements it was easily done! Overall excellent experience!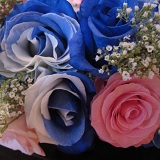 Gabrielle Gonzales
Verified Buyer
September 2012
sharing my daughters wedding bouquet still looking beautiful since the wedding last weekend...ivory roses combined with blue hydrangeas...the roses werestudded with 'diamond' jewel pins....!!!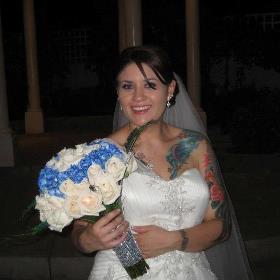 By AltheaRose Duffy
Verified Buyer
Outstanding!! these Rainbow Roses are opening and becoming totally magical!
By Haley Ray
Verified Buyer
The rainbow roses were BEAUTIFUL! Thanks globalrose.com!! 🌈
By Google Customer Review
Verified Buyer
The rainbow roses were spectacular and the hit of the party.
By Google Customer Review
Verified Buyer
Very happy with the roses most of the time. Only once has Global Rose not done right by us on roses that were supposed to be a certain color and arrived incorrect. One other time, we received roses that were not as purchased and Global Rose offered reimbursement or to send new ones. Always a great buy. Customer Service has room for improvement. Overall, were happy as we continue to shop with Global Rose. And, the rainbow roses are a must purchase at least once!
By joanna
Verified Buyer
At the last minute, I ordered 200 roses for my wedding. I was concerned that they would arrive too soon, so I contacted the seller. They responded and were able to delay shipment so they would arrive before the wedding but not too far before. The roses arrived one day early, which was fine. I kept them in the box in a cool, dark area of my parents' house (a 1904 Victorian-style house with no air-conditioning in Portsmouth, NH) and they fared perfectly well. My friends handled the bouquets for my wedding (I was a wee bit overwhelmed, ha) so all I did was take the roses from the boxes, cut the bottom of the stems, and place them in water. They did not have thorns at all. I wish I could post a picture of my bouquet (in addition to the roses, we had ranunculus [from another seller] and eucalyptus [from Trader Joe's]) because it was amazing. The roses looked perfect in the bouquets and the centerpieces. They held up really well on the day of the wedding (June 22) and for a few days after. I highly recommend these roses as well as this seller. Thank you for making my wedding spectacular!
By amazon customer
Verified Buyer
Absolutely 100% satisfied with the shipping time and the quality of the roses. I live in the United States of America and the roses arrived on time and in excellent fresh condition. These are the most extraordinary and wonderful roses in the world!!! Four days later the roses are holding up very strong and I'm sure they will last another 7 plus days. This purchase was the best decision I made about fresh roses and i will order again. I want to thank the staff and company for an above all expectation experience. Thank you so much. Shane from Georgia
By amazon feedback review
Verified Buyer
50 absolutely beautiful roses arrived on Valentine's Day - the most perfect, flawless roses I've ever seen! She was definitely thrilled and impressed. Now I have to figure out how to top this next year.
By amazon customer
Verified Buyer
We used these as a Valentines Day fundraiser. I was a little nervous ordering them online, but they were perfect. Maybe 2 broken stems when they got to us (we ordered 400). We ordered them on a Wednesday got them on Tuesday and handed them out to the kids on Friday. The flowers were beautiful the whole time. The extras were still looking good after a weekend in my classroom. Will be ordering again.