Brighton Roses Bright Yellow
From 50 to 250 Roses
$0
FREE SHIPPING
Beautiful yellow roses for your home and much more!
EARLIEST DELIVERY DATE:

PRODUCT INFORMATION
50 - 250 Stems Bright Yellow Brighton Roses
2 - 10 bouquets of 25 stems each
Color:
Bright Yellow
Hand Picked
The stems are 16"-26" long
Vase Life:
Stage on arrival:
Fresh Closed Bud
Time to Bloom:
25 - 49 Hours
Diameter when bloomed:
Guard Petals: Yes 3 - 5
Product Code:
brighton-qty
PRODUCT DESCRIPTION
Our beautiful yellow roses symbolize the young spirit, a sense of everlasting beauty as well as the freshness of a spring morning. Their large blooms are absolutely perfect and incredibly beautiful when used as floral arrangements or even as event decorations. Each bloom will bring a sense of freshness to your space whether bundled together in a vase or when placed amongst other complementing blooms. Thanks to their unique color tones, they can be really fun to experiment with.
Place an order now and receive a complimentary delivery service directly to your doorstep. You won't be disappointed because every order will be carefully packaged with our customized carton boxes to keep each one of them safe and fresh. Some of our yellow roses might even arrive with their guard petals still intact for extra protection.
FLOWER REVIEWS
Cassandra Liegler
Verified Buyer
September 2016
We used flowers from Global Rose for our wedding reception, they were beautiful!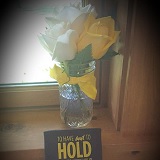 Sarah Hayden Clinton
Verified Buyer
September 2016
Beautiful roses I received from Global Rose for my Mom's 90th birthday ! Amazed at the quality. I also ordered the other flowers in the arrangements. (I tried to post more pics but I couldn't, so I'll post more in the comments)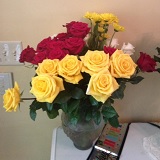 Rosalba Tav
Verified Buyer
July 2016
Week after purchase and in the middle of a heat wave, beautiful roses!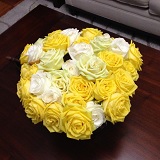 By Jessica Leigh Wright
Verified Buyer
' Flowers i received from Global Rose for my wedding, this is a picture of the bouquet we put together! I was a budget bride so we did all the flowers ourselves.. we got 60 hydrangeas, 250 roses, and fillers for under 400 dollars! The roses were absolutely gorgeous and so big! The hydrangeas were also perfect.. I dont think we had any flowers that we couldnt use because they were dead.. they were all alive and wonderful! We did get sent 50 yellow roses instead of peach ones but we did get our money back and I over-ordered so i had plenty left over so it all worked out.. would definitely recommend! We had 6 bouquets (one throwaway bouquet) and a ton of boutonnieres and we did all of the centerpieces for under 400! We also had a ton left over to leave two vases full of roses for the church we were married at. So happy that I found global rose! '
By Cora Marcelino
Verified Buyer
' Our 50th wedding anniversary with 100 yellow roses all over the place, especially the cake table. '
By Jean Ann Irving
Verified Buyer
' Fifty yellow roses, a gift from my son, arrived in picture perfect condition. They lasted for more than one week following the instructions included. '
By Robert Emery
Verified Buyer
Taken after 7 days!! truly a great deal!!!! Out of 50 Yellow roses only 2 did not open and bloom for several days.
By Tracy Farnsworth
Verified Buyer
' We ordered 50 roses for my parents surprise 50th anniversary party. Seven days later, the yellow roses are fully open and the ivory roses are just starting to open. I am really impressed with the quality, price, and speed of shipping. Guests who were sent home with a vase of roses were overjoyed with the quality too! Thanks. '
By Holly Getzie Wolf
Verified Buyer
Flowers I ordered turned out so beautiful! 100 yellow roses for my moms 60th birthday. This is the second time I have ordered with you and the flowers come so fresh. Thanks
By James Piper
Verified Buyer
My mother wanted 75 yellow roses for her 75th birthday Dec 18th - unfortunately she passed away expectantly in August from complication from surgery and did not make it - She still got her 75 yellow roses with thanks to Global Rose ! You guys did a great job and the price was right - Thanks for making my moms 75th birthday special!
By Timothy Clark
Verified Buyer
Just one of the arrangements of yellow roses and purple Peruvian Lillies used for an open house celebrating an upcoming wedding. Used clusters of Lillie blooms scattered around the buffet tables as well
By Ginny Barr Niebauer
Verified Buyer
Having fun designing with Global Rose yellow roses. They are gorgeous.
By Judi Myers Grames
Verified Buyer
'I wanted to surprise my daughter on her 50th birthday. She is the only one in the family born in Texas, so she is my Yellow Rose. GlobalRose was fantastic in helping me surprise her. They are very reasonable, and helpful in processing the shipping. I loved the variety available, and was able to order the exact amount of roses (50) that I wanted. Most floral companies go by the dozen. My daughter tells me they have beautiful aroma, and came packaged to protect each flower. The color I chose is true to what I picked out. I am so pleased, and must show you the pictures she sent me. Thank you so much for helping me make her present a wonderful surprise.'
By Google Customer Review
Verified Buyer
200 yellow roses arrived on time. they were beautiful! i would buy from them again.
By Google Customer Review
Verified Buyer
I ordered twice, the first order was for a test run of my wedding flowers and the roses were absolutely beautiful. The second time the yellow roses were greenish. And did not turn the beautiful yellow like the first time around.
By Google Customer Review
Verified Buyer
I ordered the basic wedding combo including 100 yellow roses and an additional 4800 yellow rose petals. The flowers arrived on time. All the flowers were very fresh except 2 bunches of the yellow roses were at the beginning stages of wilting. All the flowers arrived 2 days before the wedding. I was glad we had not asked for them to be delivered 3 days ahead. I followed the detailed instructions from Global Rose. These were very helpful. I kept the flowers in buckets of water in our basement to keep them cool. Overall, I am very happy with my purchase.
By Google Customer Review
Verified Buyer
Flowers arrived on time, but had brown spots on some of the roses and had to throw away some. They did not hold up more than 3 days. Yellow roses can be delicate, I understand. I will still use them only order a different type of flower.
By Google Customer Review
Verified Buyer
The 50 yellow roses are gorgeous. The recipient was esctatic. I will use Global Rose as my preferred supplier!!!!
By Google Customer Review
Verified Buyer
Very good experience. Prices were great. Roses showed up on time. Popped them into water immediately and they were looking great in just a few hours. After two days my yellow roses had over a 4' bloom. Very happy and will be ordering more in the future. Thanks!
By Google Customer Review
Verified Buyer
3 doz yellow roses with baby breath arrived on time. they are breathtakingly beautiful.
By Google Customer Review
Verified Buyer
The 6 dozen yellow roses were beautiful! My son said that they were the prettiest roses he had ever seen! They are perfect for decorating at my Moms 80th birthday party!
By Google Customer Review
Verified Buyer
We ordered 100 yellow roses and filler flowers for a business event we hosted. The whole experience was amazing. They arrived right on time and were beautiful. As they opened up they were huge and we received many compliments. We definitely plan on using them again in the future.
By amazon feedback review
Verified Buyer
The flowers are beautiful Red and Yellow Roses my 90 year old friend Loved 24 Long Stem Roses. Will always order from you forever.
By amazon feedback review
Verified Buyer
thank you , got my beautiful yellow roses on time , very happy 11 days later still looking great i will be buying them again , big hit
By jennifer m.
Verified Buyer
I was concerned to order flowers on Amazon especially when I saw they were coming from another country. Yellow roses are my mother's favorite and this was their 50th anniversary soI had to order these. When they arrived, they were packed well. The box was smashed but the flowers survived unharmed. When I unpacked them, I was pleasantly surprised. These were gorgeous! They were a perfect shade of yellow and opened up beautifully! I would definitely order from them again!
By christina spadafino
Verified Buyer
My mother was over the moon! She loves yellow roses so for her 70th she got 70 yellow roses. They were carefully packed and arrived fresh and beautiful. Lasted 2 weeks.
By marjoriehope
Verified Buyer
Fresh cut mothers day roses 50 yellow roses were bought for a friend, she owns the yellow rose cabins in Goodrich, Texas!
By amazon customer
Verified Buyer
Absolutely 100% satisfied with the shipping time and the quality of the roses. I live in the United States of America and the roses arrived on time and in excellent fresh condition. These are the most extraordinary and wonderful roses in the world!!! Four days later the roses are holding up very strong and I'm sure they will last another 7 plus days. This purchase was the best decision I made about fresh roses and i will order again. I want to thank the staff and company for an above all expectation experience. Thank you so much. Shane from Georgia