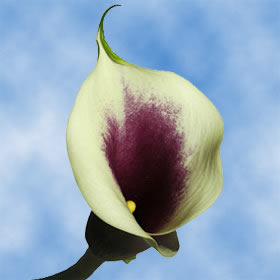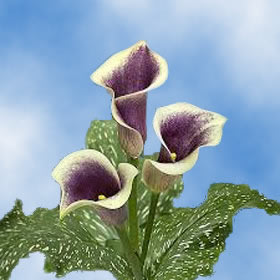 Color tones for all Bicolor Calla Lilies may vary due to the computer monitor and/or Mother Nature.

Product Information
•••••
•
10 -240 Stems of Calla Lilies
•
1 -24 bouquets of 10 stems each
• Color:
Purple/White
•
Hand Picked
•
The stems are 14" - 18" long
• Vase Life:
• Stage on arrival:
Fresh Closed Blooms
• Time to Bloom:
24 - 58 Hours
• Diameter when bloomed:
•
Number of Petals per Flower: 1
Additional Facts

---
---
Additional Information
•••••
• Item Condition:
New
• Brand:
GlobalRose.com
• Guard Petals:
• Product ID:
calla-purple-white-qty
• Gtin13:
1850500073511
• Box Dimensions:
10
"x
10
"x
34
"
• Weight:
3.5 - 19.8 lbs
• Packing Material: Recyclable Carton
Product Description
•••••
Calla Lilies are energetic and attention-grabbing blooms that make a statement in their simplicity. They are dramatic and playful, perfectly sized for boutonnieres and corsages. Available in different colors. In all wedding/or special occasion flowers we recommend your delivery date to be two or three days before your event. Your flowers and roses are shipped absolutely fresh, direct from the greenhouses to you via FedEx. Globalrose sells wholesale flowers and wholesale roses at prices that are usually lower than most local wholesalers. All our flowers and roses are cut specially for you, your loved one or special event (wedding, party, fundraising event, birthday or holiday), 3 days before they are delivered to your door. Color tones for all flowers and roses may vary due to the computer monitor and/or Mother Nature.