Cool Water Roses Lavender
From 50 to 250 Roses
$0
FREE SHIPPING
Let roses do the talking when they are as beautiful as these.
EARLIEST DELIVERY DATE:

PRODUCT DESCRIPTION
Remember that feeling of your first love? You can now fall madly in love all over again but with this variety of lavender rose for sale in a range of quantities to suit your needs. If there is a special person in your life, do not hesitate to get them a bouquet of Cool Water roses boasting romantic lavender pink petals and wide open rose blooms.
Our selection of lavender rose for sale is available all year round, like all other fresh blossoms at Globalrose.com, thanks to our state of the art greenhouses that have the very best climate-control technology. We ship all of our products through FedEx or UPS, to ensure high consistency and quality of shipment to your doorstep. Your order will arrive garden-fresh thanks to our special packaging and shipping methods. Please remember that these closed buds will need less than three days for their healthy bulbs to bloom into full cup shapes.
FLOWER REVIEWS
Verified Buyer
I ordered 250 roses for my anniversary. The roses came in and they looked beautiful. I am on day 5 and they are still awesome. Global rose saved me a lot of money.
Written on May 19, 2018
Angella Brandt
Verified Buyer
January 2017
Beautiful shades of purple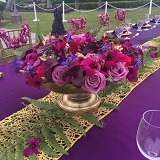 From Facebook
Amber Matchett
Verified Buyer
December 2013
Ocala, FL
My wedding flowers made from your Wedding Combo DIY Simple package with Cool Water and Vendela Roses. They turned out beautiful and I still have a centerpiece that will probably last a few more days.
By Angella Brandt
Verified Buyer
Winter event... Beautiful lavender roses ... They bloomed perfectly/Beautiful lavender roses and babys breath
By Mik Gerard
Verified Buyer
Beautiful Lavender roses - 9/26/17
By Google Customer Review
Verified Buyer
Arrived on time, some of the hot pink roses fell off at the top but still lived and made a pretty but short centerpiece. Their color was great. Lavender roses were awesome. Hydrangeas didn't last more than a few days.
By joanna
Verified Buyer
At the last minute, I ordered 200 roses for my wedding. I was concerned that they would arrive too soon, so I contacted the seller. They responded and were able to delay shipment so they would arrive before the wedding but not too far before. The roses arrived one day early, which was fine. I kept them in the box in a cool, dark area of my parents' house (a 1904 Victorian-style house with no air-conditioning in Portsmouth, NH) and they fared perfectly well. My friends handled the bouquets for my wedding (I was a wee bit overwhelmed, ha) so all I did was take the roses from the boxes, cut the bottom of the stems, and place them in water. They did not have thorns at all. I wish I could post a picture of my bouquet (in addition to the roses, we had ranunculus [from another seller] and eucalyptus [from Trader Joe's]) because it was amazing. The roses looked perfect in the bouquets and the centerpieces. They held up really well on the day of the wedding (June 22) and for a few days after. I highly recommend these roses as well as this seller. Thank you for making my wedding spectacular!
By amazon customer
Verified Buyer
Absolutely 100% satisfied with the shipping time and the quality of the roses. I live in the United States of America and the roses arrived on time and in excellent fresh condition. These are the most extraordinary and wonderful roses in the world!!! Four days later the roses are holding up very strong and I'm sure they will last another 7 plus days. This purchase was the best decision I made about fresh roses and i will order again. I want to thank the staff and company for an above all expectation experience. Thank you so much. Shane from Georgia
By amazon feedback review
Verified Buyer
The flowers looked great as soon as she put them in some cool water. She loves them I will order again for sure.