Hot Pink Carnations
From 1 to 400 Carnations
$0
FREE SHIPPING
Express feelings of love and gratitude with this vibrant and spirited bouquet of hot pink carnations.
EARLIEST DELIVERY DATE:

PRODUCT DESCRIPTION
Hot pink carnations for your home, office space, Valentine's date, mommy dearest or your favorite colleague. These spirited bouquet can be used for a variety of occasions from spring events, 30th birthdays, store openings, graduations and even a simple gift to wish some one well.
Every single stem of our hot pink carnations will be snipped fresh from our farm and packaged for delivery directly to the location of your choice. When you purchase this bundle of hot pink carnations from our online wholesale site, you will not only receive the best blooms in the market but also a free delivery service. Also included in your floral box are some sachets of floral food to keep them looking as stunning as ever for even longer. To ensure that your carnations last to full extent of their vaselife, simply follow our flower care manual which will be included in every online purchase.
FLOWER REVIEWS
Cristina Agraz
Verified Buyer
October 2015
Beautiful carnations! Thank you! / Hot Pink carnations, they lived close to 3 weeks! Thank you!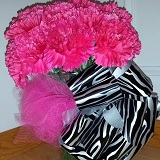 By amazon customer
Verified Buyer
THIS order arrived well packaged and the product - the flowers were fresh, beautiful, and remained so, as carnations do. I was very pleased with this purchase. Although I had a poor experience with the calla lillies, I had success with these.
By Lindsey Naggatz
Verified Buyer
' We saved a lot of money ordering our flowers for our reception decor through you guys! We ordered 500 hot pink Carnations. They arrived right on time, as promised and out of 500, there were easily less than 25 that I could not use. They were true hot pink, exactly what I wanted. We will recommend you to everyone we know. '
By Cristina Agraz
Verified Buyer
' Beautiful carnations! Thank you! / Hot Pink carnations, they lived close to 3 weeks! Thank you! '
By Google Customer Review
Verified Buyer
Ordered 200 hot pink carnations for a bridal shower - came on the day promised, in excellent condition. Was able to make multiple arrangements to use as centerpieces. Would highly recommend to others.
By Rosio Rodriguez
Verified Buyer
Love these pink carnations that I ordered for my soon to be here daughter (her baby shower). I love how elegant these flowers made my baby shower look. And the guest loved them. Highly recommend these pink carnations and this website.
By Alton Bailey
Verified Buyer
' I was more than a little nervous when I ordered 1200 pink carnations to celebrate our mothers during each of our 3 church services, but I trusted the great reviews I had read, and the wonderful customer service I had received in the answering of my many questions. The flowers were received on time. The online ''how to care for'' videos gave me confidence. And, most importantly, on Sunday the flowers were a huge hit with the ladies. While I always try to buy locally, the prices from Global Rose made it impossible for me not to at least give them a try. In short, Ill be back. There was nothing about my experience that was negative. As long as GR keeps this type of service and pricing, Ill be back, and Ill recommend them to others.. '
By Laurel Tamariz
Verified Buyer
' My winter wedding--got exactly the florals I wanted! 500 roses in vendela, proud white, jade, cherry brandy, and echimo. White mums, a couple hundred pink carnations, and plenty of winter greens and fruits from our garden mixed in.'
By Zhenry Sonson
Verified Buyer
Ordered pink carnations and babies breath for our wedding & they turned out amazing!!! Thank you global rose!
By Google Customer Review
Verified Buyer
I ordered 400 lite pink carnations and 50 pink-edged cream roses for my daughters first birthday centerpieces. Gorgeous and Amazing! I arranged the flowers into wet floral foam and the day before the event and they lasted for 3-weeks. The roses dried lovely. They have a new customer, I will never order flowers from a local florist again.
By Google Customer Review
Verified Buyer
I ordered 400 pink carnations to be given to mothers at our church on Mothers Day. They arrived on the date I specified and were very fresh. I followed directions received with the flowers and in the two days that I allotted before we gave them out they opened beautifully. They were very well received and appreciated by the mothers who received them. Globalrose made me look good!
By Google Customer Review
Verified Buyer
I ordered beautiful petite roses called Majaluca and pink carnations. I had put off ordering because I was so busy with other things in my life. I ordered 2 days before and the flowers were flown, shipped from Bogota Colombia and they arrived the day promised, and in time for my sons wedding with plenty time to bloom them out. The quality was absolutely great! I will definitely order from Global Rose again!
By amazon customer
Verified Buyer
We used these as a Valentines Day fundraiser. I was a little nervous ordering them online, but they were perfect. Maybe 2 broken stems when they got to us (we ordered 400). We ordered them on a Wednesday got them on Tuesday and handed them out to the kids on Friday. The flowers were beautiful the whole time. The extras were still looking good after a weekend in my classroom. Will be ordering again.