Novelty Carnations
From 100 to 400 Carnations
$0
FREE SHIPPING
An impressive bunch of fresh novelty carnations with zero delivery cost to the location of your choice.
EARLIEST DELIVERY DATE:

PRODUCT DESCRIPTION
A charming assortment of novelty carnations with new and exciting colors just for you and your loved ones. There are no plain red carnations, white or pink carnations but all other colors may be included. This special pack of novelty carnations will no doubt include an appealing and brilliant mix of carnations, all hand selected and crafted just for you.
We cultivate all sorts of different carnations from spray to bi-color varieties all year round thanks to our ideal location with conducive climate for these plants to florish. Quality and freshness is guaranteed in every single online order to give you the promise of the best novelty carnations in the market. Whether it's a bouquet of 100 or 300, our carnations can be used as wedding florets, thank you gifts, anniversary surprises, birthdays or as table top arrangements.
FLOWER REVIEWS
Sophia Mc Anarney
Verified Buyer
August 2015
Thank you global rose the carnations were gorgeous.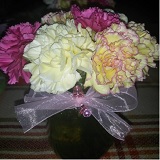 By amazon customer
Verified Buyer
THIS order arrived well packaged and the product - the flowers were fresh, beautiful, and remained so, as carnations do. I was very pleased with this purchase. Although I had a poor experience with the calla lillies, I had success with these.
By Lindsey Naggatz
Verified Buyer
' We saved a lot of money ordering our flowers for our reception decor through you guys! We ordered 500 hot pink Carnations. They arrived right on time, as promised and out of 500, there were easily less than 25 that I could not use. They were true hot pink, exactly what I wanted. We will recommend you to everyone we know. '
By Rosio Rodriguez
Verified Buyer
Love these pink carnations that I ordered for my soon to be here daughter (her baby shower). I love how elegant these flowers made my baby shower look. And the guest loved them. Highly recommend these pink carnations and this website.
By Alton Bailey
Verified Buyer
' I was more than a little nervous when I ordered 1200 pink carnations to celebrate our mothers during each of our 3 church services, but I trusted the great reviews I had read, and the wonderful customer service I had received in the answering of my many questions. The flowers were received on time. The online ''how to care for'' videos gave me confidence. And, most importantly, on Sunday the flowers were a huge hit with the ladies. While I always try to buy locally, the prices from Global Rose made it impossible for me not to at least give them a try. In short, Ill be back. There was nothing about my experience that was negative. As long as GR keeps this type of service and pricing, Ill be back, and Ill recommend them to others.. '
By Laurel Tamariz
Verified Buyer
' My winter wedding--got exactly the florals I wanted! 500 roses in vendela, proud white, jade, cherry brandy, and echimo. White mums, a couple hundred pink carnations, and plenty of winter greens and fruits from our garden mixed in.'
By Cristina Agraz
Verified Buyer
' Beautiful carnations! Thank you! / Hot Pink carnations, they lived close to 3 weeks! Thank you! '
By Zhenry Sonson
Verified Buyer
Ordered pink carnations and babies breath for our wedding & they turned out amazing!!! Thank you global rose!
By Google Customer Review
Verified Buyer
I ordered 400 lite pink carnations and 50 pink-edged cream roses for my daughters first birthday centerpieces. Gorgeous and Amazing! I arranged the flowers into wet floral foam and the day before the event and they lasted for 3-weeks. The roses dried lovely. They have a new customer, I will never order flowers from a local florist again.
By Google Customer Review
Verified Buyer
I ordered 400 pink carnations to be given to mothers at our church on Mothers Day. They arrived on the date I specified and were very fresh. I followed directions received with the flowers and in the two days that I allotted before we gave them out they opened beautifully. They were very well received and appreciated by the mothers who received them. Globalrose made me look good!
By Google Customer Review
Verified Buyer
Ordered 200 hot pink carnations for a bridal shower - came on the day promised, in excellent condition. Was able to make multiple arrangements to use as centerpieces. Would highly recommend to others.
By Google Customer Review
Verified Buyer
I ordered beautiful petite roses called Majaluca and pink carnations. I had put off ordering because I was so busy with other things in my life. I ordered 2 days before and the flowers were flown, shipped from Bogota Colombia and they arrived the day promised, and in time for my sons wedding with plenty time to bloom them out. The quality was absolutely great! I will definitely order from Global Rose again!
By Stanford Medicine // Office of Medical Student Af
Verified Buyer
400 Red Carnations for our Match Day 2015 mason jar centerpieces. Thanks Global Rose! / Thanks Global Rose! We ordered your red carnations to fill our mason jar centerpieces for Match Day 2015.
By Christina Whitley
Verified Buyer
Beautiful red carnations for Sunday of the Cross.
By Angeleic Marie
Verified Buyer
' Global Rose is an outstanding company !!! This is my second order with them, not only are flowers gorgeous and hardy but the people in the office are polite and professional. I received my order of 200 red carnations for my daughters wedding on the 3rd today and they included about 9 extra flowers. So pleased I would definitely order again. Thank you Global Rose!!!! '
By Google Customer Review
Verified Buyer
I ordered 100 red carnations... They arrived on time.... followed directions to keep for the 2 days before the event and they were all beautiful for our party.... I will use them again if I have the need...
By Google Customer Review
Verified Buyer
Customer Service was very good. the flowers themselves were just OK. I did get 100 Red Carnations but they were small and had absolutely no fragrance to them. Otherwise everything was satisfactory
By Google Customer Review
Verified Buyer
Flowers arrived Tuesday. Red carnations were very tight and after several days I still had to work at them to open for display for beginning of our Valentine Weekend at the restaurant. Many remain tightly closed. I had plenty so it is OK. White are beautiful. Was very pleased with the prompt delivery and will likely order from you again. Connie Hume
By Google Customer Review
Verified Buyer
North Putnam FCCLA, Indiana pre -ordered our usual 100 red carnations. Then the week before Valentines Day we sold orders for carnations.On Thursday morning when I saw we had nearly sold 200 I quick ordered an assorted bunch of 100 carnations to mix and match our orders. Success we sold out of carnations!!!! Everyone was very happy with the flowers. They arrived on time - both orders!
By Google Customer Review
Verified Buyer
I ordered 200 red carnations and they bloomed beautifully. I easily followed the directions given and had lovely flowers for the 8th grade prom I organize. I will absolutely use them again.
By ginger griffin
Verified Buyer
I purchased 100 red carnations. The arrived fresh and beautiful, and lasted almost THREE WEEKS! Great quality!
By Kathy Urick
Verified Buyer
Got the white carnations from global rose for a Teacher Appreciation Luncheon and they were so fresh I still have a few that weeks later are in great shape will definitely order from them again!!
By Marie Cisterino Ludwig
Verified Buyer
Thank you for saving my job!! NEVER assume you can find anyone local to get you the flowers you need. We had a huge catering gig for Oktoberfest for a local bank and I needed 20 centerpieces and 200 white carnations. I found your business on line and took a chance ... WOWSER!!! They arrived on time two days before and I let them breathe in big buckets. These flowers were fresh and beautiful. Big hit. You are now our go-to florist!! Thank you from the Valley Forge Catering Company
By Amanda Micek
Verified Buyer
'So many compliments. White Carnations, Pink Spray Roses and White Roses. Thank you for great service! '
By Vieroska Jimenez
Verified Buyer
' I used 100 yellow carnation and 100 white carnations from global rose, to decorate this beautiful paint of the Madonna (Mary and Jesus) for this year Easter vigil. '
By Brittney Maehl
Verified Buyer
' Thanks for the beautiful order. My company ordered 300 red and white carnations for Memorial Day. We worked with a local daycare and decorated the graves of veterans laid to rest at two local cemetaries. It was a beautiful day and we taught the little ones the true meaning of the holiday. Thank you for this opportunity. Your order was gorgeous, arrived safe and sound and was a lot less expensive than we anticipated. '
By Cheryl Centenio
Verified Buyer
I purchased the white carnations from Globalrose and I am very pleased with the flowers. Cheryl Centenio
By Patsy Kohles Wilhelm
Verified Buyer
Ordered 200 white carnations for a center pieces for a function that honored our men and women in blue. The carnations arrived in wonderful condition and the instructions were easy to follow. Will recommend Globalrose to all my friends a family
By Cathi Potter
Verified Buyer
White Carnations-spray painted Tiffany Blue strung on fishing line hung on the porch for a bridal shower
By Google Customer Review
Verified Buyer
The white carnations I ordered came on time and were beautiful and fresh. They were packaged well and included helpful directions. I would definitely order from Globalrose.com again! The only reason that I could not give five stars was because I only received 193 carnations instead of the 200 I ordered
By Google Customer Review
Verified Buyer
We bought all white carnations for my wedding from this sight and thay showed up perfect and lasted so long that after the wedding we were able to give them to people at the hospital to spread some cheer. I would buy again.
By Google Customer Review
Verified Buyer
Absolutely satisfied with Global Rose! Ordered 300 pink and white carnations for our wedding. Rcvd a personal phone call to confirm shipping addresses as well as confirmation emails that included tracking numbers. Such a smooth process especially when planning a wedding! Flowers arrived, placed them in water with the flower food and they opened right up overnight. Made our bouquets and boutonnières, all of our centerpieces and tables. So, delivery was a Wednesday, decorated Thursday and Wedding was Friday. Here it is a week later and they are still beautiful!! Will definitely be ordering again and again! Thank you Global Rose!!