Pink White Tulips
From 60 - 200 Tulips
$0
FREE SHIPPING
These Pink and White Tulips are a treat for you and your loved ones to enjoy. Decorate your home, furnish a ceremony, or gift it to someone special, because these flowers are absolutely wonderful and we know you'll love them!
EARLIEST DELIVERY DATE:

PRODUCT INFORMATION
60 - 200 Stems Pink and White Tulips
6 - 20 bouquets of 10 stems each
Color:
Pink and White
Hand Picked
The stems are 16" - 18" long
Vase Life:
Stage on arrival:
Fresh Semi-Open Blooms
Time to Bloom:
14 - 36 Hours
Diameter when bloomed:
Number of Petals per Flower: N/A
Product Code:
pinkwhite-tulip-qty
PRODUCT DESCRIPTION
Pink White Tulip Flower. For Your Next Special Event, Order Pink White Tulip Flowers From Globalrose! We Carry Only The Best Pink White Tulip Flowers And Offers Free Delivery And Guaranteed Freshness!
FLOWER REVIEWS
Susan Carroll Benson
Verified Buyer
October 2016
Roses, tulips, dahlias spray roses and runnunculus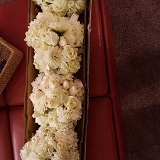 From Facebook
received my tulips in perfect timing, plus the instructions in the email were very precise. The tulips opened beautifully as was told. The only thing I would suggest in placing instructions inside the box with the flowers also. Thanks so much for the beautiful tulips.
Written on February 9, 2015
very fresh tulips
Written on September 24, 2016
By meredith r.
Verified Buyer
So glad I ordered these to use in my beehive centerpieces for a bumble bee themed 1st birthday.
By Google Customer Review
Verified Buyer
The tulips I ordered arrived on time and without any incident. Thank you!! They were absolutely beautiful!!!!!
By amazon customer
Verified Buyer
We used these as a Valentines Day fundraiser. I was a little nervous ordering them online, but they were perfect. Maybe 2 broken stems when they got to us (we ordered 400). We ordered them on a Wednesday got them on Tuesday and handed them out to the kids on Friday. The flowers were beautiful the whole time. The extras were still looking good after a weekend in my classroom. Will be ordering again.