Soulmate Roses Deep Dark Lilac
From 50 to 250 Roses
$0
FREE SHIPPING
Globalrose is proud to offer beautiful Loose Flowers Deep Dark Lilac Roses for Floral Arrangements available online! Includes a free and convinient delivery.
EARLIEST DELIVERY DATE:

PRODUCT INFORMATION
50 - 250 Stems Soulmate Roses
2 - 10 bouquets of 25 stems each
Color:
Deep Dark Lilac
Hand Picked
The stems are 16"-26" long
Vase Life:
Stage on arrival:
Fresh Closed Bud
Time to Bloom:
22 - 48 Hours
Diameter when bloomed:
Guard Petals: Yes 3 - 5
Product Code:
soulmate-qty
FLOWER REVIEWS
Angella Brandt
Verified Buyer
December 2014
Winter event... Beautiful lavender roses ... They bloomed perfectly/Beautiful lavender roses and baby's breath
Angella Brandt
Verified Buyer
January 2017
Beautiful shades of purple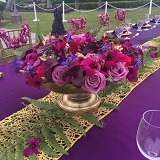 From Facebook
By amazon customer
Verified Buyer
Absolutely 100% satisfied with the shipping time and the quality of the roses. I live in the United States of America and the roses arrived on time and in excellent fresh condition. These are the most extraordinary and wonderful roses in the world!!! Four days later the roses are holding up very strong and I'm sure they will last another 7 plus days. This purchase was the best decision I made about fresh roses and i will order again. I want to thank the staff and company for an above all expectation experience. Thank you so much. Shane from Georgia
By Google Customer Review
Verified Buyer
Absolutely perfect! I scheduled a Wednesday delivery for a Saturday wedding. I was hesitant to receive that early but glad I did. The flowers were perfect on Saturday (would have be fine for Friday too). Since the flowers are such an important part of the wedding it was a blessing to remove from my list of worries. I put them in big buckets of water in the laundry room and turned a fan on during the day. At night, I opened the windows in the room and let the cool air in. I ordered white hydrangeas, white roses, orange roses, sunflowers and 3 different white fillers. We received a ton of compliments and everyone wanted to know who the florist was, I was proud to say.....ME!. Thank you Globalrose for making me look so good and making my daughters wedding look magical.