14th February, known as the Day for Love, gives everyone around us a reason to celebrate our relationship with our loved ones. And the most common medium to share this love has been flowers. Sometimes a single flower serves the best; however, bouquets have always been considered the safest option.
Although this day is famous among couples, it should be celebrated with everyone who contributes their love and support in our life. To help you save time and effort, we have listed the valentine's day bouquet ideas for every type of relationship.
Variety Of Relationships and The Need for Unique Bouquet Ideas
A bouquet serves as a gesture of solid affection and appreciation. With this valentine's day bouquet ideas for every type of relationship, you can celebrate every type of relationship in your life.
For a life partner to make them feel special: A bouquet of red roses is the classic choice for couples. However, you can play with the color of roses and beautifully mix them. You can pick one of your partner's favorite colors to express your love and make them feel special.
 For a best friend to thank them for adding color to life: The color yellow is the symbol of friendship. Skip the yellow rose and choose a bouquet of sunflowers for your best friend. You can also include daisies, lilies, and tulips to complete the sunflower, and thank you, friend, for adding color to your life.
For a family member to appreciate their efforts: The flower tulip symbolizes love and appreciation. Choose a bouquet of tulip flowers for your family members and express the love you have in your heart. Make sure to gift this bouquet to your parents this valentine's and tell them how much you love them.
For colleagues to build trust and association: A bouquet of lilies, hydrangeas, or alstroemerias can be the best pick for your favorite person at work. These flowers help you show appreciation and thankfulness and build trust in the workspace.
Valentine's Day Bouquet Ideas for Every Type of Relationship:
You can choose the type of bouquet according to the relationship you share with the person you want to celebrate this valentine. Since every flower has a distinct meaning, here are 10 unique valentine's day bouquet ideas for every type of relationship:
A bouquet of 50 red roses is one of the best picks for this valentine. This bouquet includes beautifully handpicked red roses, which can rejoice your partner's mood, and its long stems give you an excellent space to hold. It is prepared by combining 2 bouquets of 25 stems each, which can be separated and used in diy valentine's day rose flower bouquet.
Since red roses have been a timeless symbol of love, passion, and deep affection, this bouquet is perfect for a couple and a life partner in a romantic relationship. This roses bouquet has a sweet fragrance that helps you both strengthen your bond of love and growth together. The bright red symbolizes your commitment to being beside each other perfectly.
A bouquet with 16 fresh premium roses, 8 green Ruscus, and a ribbon tuxedo is a beautiful combination of colors and delicacy. You are free to choose the color of roses, go for the one loved by the person you are gifting and make them feel special by expressing your concern for them. This bouquet stays fresh for 8-13 days, filling the room with love for specific days.
Consider this as one of the best valentine bouquet ideas for the love of your life, best friend, or co-worker. This bouquet organization brings a sophisticated and elegant look, making it ideal for professional yet solid thanks to people participating in your life. Choose red roses to gift him, bicolor yellow for your best friend, and light pink roses can be best for your colleague.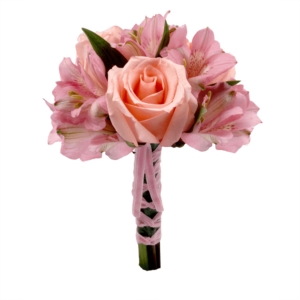 Pink Roses and Alstroemerias Small European Bouquet is of the charming piece that can be considered out of all valentine's day bouquet ideas for every type of relationship this. This bouquet is perfect for couples who want to represent their grace, gratitude, joy, and commitment. This bouquet has 1 rose clubbed with 8 pink Alstroemerias, giving a message that the person is a rose unique and special among others.
This Pink roses and Alstroemerias are best for gifting people in a romantic relationship or are tightly connected with a bond of friendship. A Pink rose represent grace, gratitude, joy, and pink Alstroemerias represent devotion and friendship, which make it a thoughtful and loving gift for celebrating Valentine's Day.
A pink Roses Matsumoto and Hypericum Petite European Bouquet are an exquisite and delicate blend of textures and colors. This bouquet contains 6 flowers, comprising 1 stem of Dark Pink Rose, 1 stem of Light Pink Rose, 1 stem of Dark Pink Spray Rose, 2 stems of Green Hypericums, and 1 branch of Pink Matsumoto.
This bouquet is fabulous for the occasion of Valentine's Day; the soft pink hue and delicate flowers are guaranteed to delight the person who receives it. The shades of pink and green Hypericum create a stunning and harmonious symbol of gratitude, love, and faith, making it one of the perfect valentine's day floral ideas for romantic relationship, friendships or family relationships. The bouquet is fresh for many hours, pouring your space with beauty and love.
The "Choose the quantity of Valentine's Day Candy Bouquets" can be a unique choice to celebrate Valentine's Day with your loved ones. The bouquet is made up of 10 gorgeous flowers that are arranged to create a perfect blend of beauty and delicacy. It has one stem Pink Spray Roses, 2 stems of Purple Tinted Baby Eucalyptus, 2 stems of Pink Tinted Ruscus, 1 stem of White Baby's breath, 2 stems of purple Novelty Pompoms, and 2 branches of White Carnations.
This bouquet is perfect for couples celebrating their feelings of love and affection. The combination of purple, pink, and white symbolizes love, passion, and innocence, making it the ideal gift to your loved one.
The Choose Your Quantity of Hugs and Kisses Bouquets is a lovely arrangement of 16 flowers to convey love and thanks this Valentine's Day. This bouquet includes a combination of flowers, including Ruscus, White Gerbera Daisies White Mini-Carnations Red Carnations, White Daisy Pompoms Red Spray Roses, and White Hydrangea, which creates a delicate and romantic aura.
This bouquet is ideal for couples looking to show their love to their partner. Such arrangement represents love, faith in each other, and a promise to be with each other. The vibrant red carnations and spray roses symbolize love and passion, and the white flowers represent purity and innocence. The bouquet is a great present to show your loved ones how much you love them and appreciate their presence.
This bouquet of purple and lavender color brings an exquisite combination of sophistication and luxury. The bouquet has 6 flowers together 3 soft pastel hues of roses in lavender and 3 delicate purple statices creating an exclusive blend of simplicity and professionalism.
This bouquet is ideal for making your co-worker feel special, or any family member since lavender and purple together give a calm and soothing feeling. It tends to bring love and simplicity to the relationship. Of Couse, you can choose this for the love of your life to bring transparency between you.
The Choose Your Quantity of Candles Bouquet is a breathtaking and romantic combination of 14 beautiful flowers. This bouquet includes 4 Red Spray Roses, 4 Red Alstroemerias, 3 Red Gerberas, and 3 Leather Leaves, creating a vivid and vibrant piece that is perfect for your loved ones.
With its bold and passionate color pattern, this bouquet is perfect for Valentine's Day and ensures the renewing your lost love. This bouquet is an ideal gift for your life parent or best friend, as it helps express your love and affection most timelessly and beautifully.
This Red Roses and Greenery Small European Bouquet is perfect for sharing romance and love. This bouquet includes 6 flowers, which are 3 stems of red roses and 2 stems of Green Ruscus, and 1 stem of a green safari sunset.
This bouquet is one of the best in the list of valentine's day bouquet ideas for every type of relationship. It has bold red roses and crisp and fresh greenery, making it an ideal valentines bouquet ideas for him. It helps you express your love and show appreciation to your loved ones. You can also gift this to your family to make this Valentine's memorable.
This Pink Orange Roses Alstroemerias Small European Bouquets are the perfect blend of softness and boldness. The bouquet includes 6 flowers, a combination of 2 stems of dark pink Rose, 1 stem of orange rose and 2 stems of orange Alstroemerias, and 2 stems of dark pink Alstroemerias.
The mix of dark pink roses, orange roses, and orange Alstroemerias creates a unique and eye-catching bouquet to express love and affection. You must choose this for a romantic and lively relationship with your partner. You can also gift this to your best friend to build trust and commitment.
Conclusion
So, these were the list of 10 unique valentine's day bouquet ideas for every type of relationship, and by now, you must have selected the best ones for your loved ones. While a bouquet is not just limited to bringing smiles to their faces and celebrating love but also has several benefits.
The right Valentine Day bouquet enables you to effectively express your love which cannot be done in words. It helps you build trust and strengthens the bond between you and the recipient.
Moreover, bringing a bouquet of their favorite flower and color shows how much you care and the difference they make in your life. It shows how well you know and remembers their likes, which eventually gives you everlasting happiness.