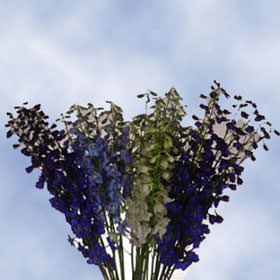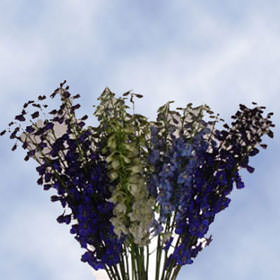 Color tones for all Assorted Colors Delphinium Volken Flowers may vary due to the computer monitor and/or Mother Nature.

Product Information
•••••
•
60 - 240 Stems of Delphinium Volken Flowers
•
6 - 24 bouquets of 10 stems each
• Color:
Assorted
•
Hand Picked
•
The stems are 22" - 24" long
• Vase Life:
• Stage on arrival:
Fresh Closed Blooms
• Time to Bloom:
25 - 49 Hours
• Diameter when bloomed:
•
Number of Petals per Flower: 19 - 30
Additional Facts

Assorted Delphinium Volken Choose Your Quantity From 960 - 3840 Blooms: 60 - 240 Flowers
Send to your dear ones a slice of heaven with these spectacular White with Pink Miss Teen Dendrobium Orchids. The perfect flowers for centrepieces, bouquets and all kind of floral arrangements.
---
---
Additional Information
•••••
• Item Condition:
New
• Brand:
GlobalRose.com
• Guard Petals:
• Product ID:
delphinium-volken-assorted-qty
• Gtin13:
1850500073689
• Box Dimensions:
10
"x
6
"x
34
"
• Weight:
5.5 - 19.8 lbs
• Packing Material: Recyclable Carton
Product Description
•••••
Delphinium flowers have long stems that are topped with a raceme of many flowers. The flowers have five petal like sepals which grow together to form a hollow pocket with a spur at the end. They come in different colors. Your flowers and roses are shipped absolutely fresh, direct from the greenhouses to you via FedEx. Globalrose sells wholesale flowers and wholesale roses at prices that are usually lower than most local wholesalers. All our flowers and roses are cut specially for you, your loved one or special event (wedding, party, fundraising event, birthday or holiday), 3 days before they are delivered to your door. Color tones for all flowers and roses may vary due to the computer monitor and/or Mother Nature.