All You Need to Know About Roses!
"Take time to smell the roses." - Proverb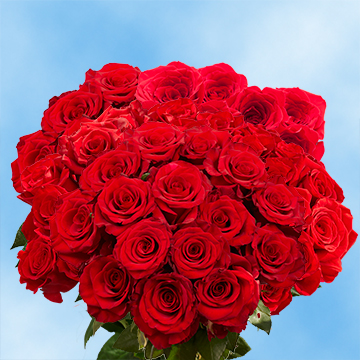 The Story of the Rose
Roses. Gentle, beautiful, graceful, and elegant! In times of great significance, you can always rely on the rose as the perfect flower to convey words and emotions. Roses have quite a lengthy and tumultuous history. At roughly 35 million years old and with over 150 different subspecies spread far and wide, roses have been a relatively steadfast part of our short history on this planet. About 5000 years ago, people across Asia and Europe began cultivating garden roses. In Ancient Roman times. The southern parts of the Roman Empire were famously home to many large communal gardens brimming with roses. Before the rise of Christianity, the Romans revered roses and attributed them to their Goddess Venus. Consecutively, once the Romans converted to the Christian faith under Emperor Constantine, the rose came to be associated with the Virgin Mary. Amid the 15th century, roses were symbolically used by warring factions vying for control of England in what would infamously come to be called the "War of the Roses". Roses had so much appeal that during the 17th century, it wasn't uncommon to use roses and even rose water as currency. Interestingly, a large portion of modern-day roses descend from a lineage of cultivated roses transported from Asia in the late 18th century. In the 19th century, Josephine the Empress of France, and wife to Napoleon, supported the advancement of rose breeding. Her gardens at the grand Chateau de Malmaison served as the breeding grounds. By the end of the 20th century, over 10,000 hybrids had been successfully bred. As popular as ever, after thousands of years of selective breeding, cultivation, and mutation, the modern rose is still prized for its abundance, accessibility, beauty, colors, hardiness, and symbolism. From birthdays to weddings, from Mother's Day to Valentine's Day; the rose is a flower that's significance can neither be over nor understated.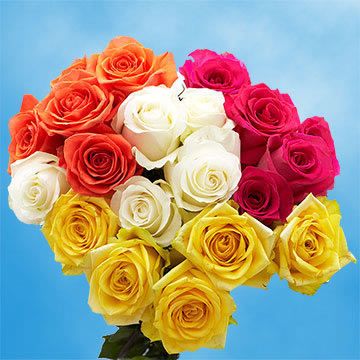 What do the specific colors of roses mean and am I picking the right one?
You'd love to show your appreciation to a friend or a loved one by giving them a wonderful arrangement of roses? Here's something you might not have considered or maybe you've asked yourself this already; What do the colors mean? This section will help guide you in making the perfect selection when it comes to picking out your roses!
| | |
| --- | --- |
| Color | Meaning |
| Red | Beauty & Romance! |
| White | Purity & Innocence! |
| Pink | Admiration & Happiness! |
| Yellow | Friendship & Joy! |
| Orange | Desire & Devotion! |
Where can I buy fresh and natural Roses in bulk quantities and at wholesale prices?
We're honored to provide our customers with fresh roses naturally culled and harvested from our environmentally friendly farms and greenhouses! We offer them in an eclectic array of colors for you to choose from that includes solids, bicolored, and multi-colored flowers! They're great for dressing tables, countertops, and walkways during wedding celebrations and other important ceremonies, events, and social gatherings. Order online because when you shop exclusively with Global Rose you don't just get super fresh flowers, you also get outstanding customer service and the best deals in the market! Global Rose offers free shipping to the continental United States..
| | | | |
| --- | --- | --- | --- |
| Variety | globalrose.com | Variety | 50flowers.com |
| 100 Assorted Roses | $100.00 | 100 Assorted Roses | $139.99 |
| 100 Multi-Color Roses | $106.00 | 100 Multi-Color Roses | $139.99 |
| 100 Orange Roses | $92.00 | 100 Orange Roses | $139.99 |
| 100 Pink Roses | $87.00 | 100 Pink Roses | $139.99 |
| 100 Red Roses | $83.00 | 100 Red Roses | $129.99 |
| 100 White Roses | $92.00 | 100 White Roses | $139.99 |
| 100 Yellow Roses | $92.00 | 100 Yellow Roses | $139.99 |
| 100 Roses in a Color of Your Choice | $108.00 | 100 Roses in a Color of Your Choice | $129.99 |