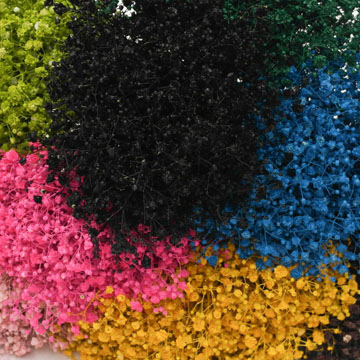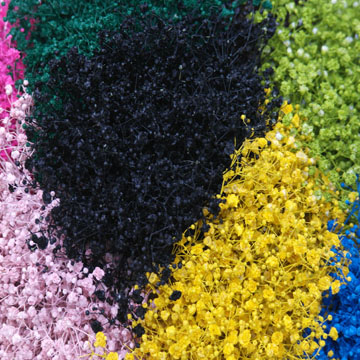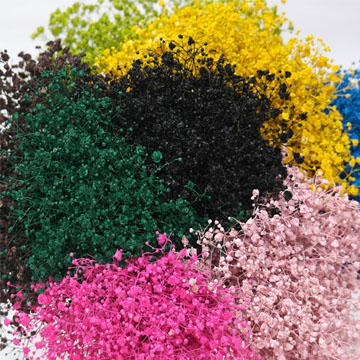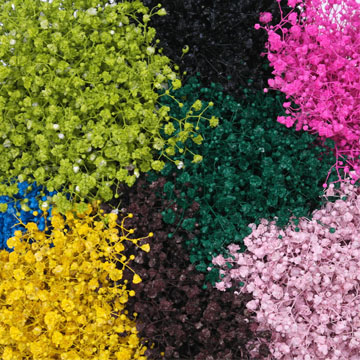 Color tones for all Tinted Baby's Breath may vary due to the computer monitor and/or Mother Nature.

Product Information
•••••
•
30 to 240 Stems of Tinted Baby's Breath
•
3 to 24 bouquets of 10 stems each
• Color:
Assorted
•
Hand Picked
•
The stems are 20" - 24" long
• Vase Life:
• Stage on arrival:
Fresh Semi-Bloomed
• Time to Bloom:
12 - 24 Hours
• Diameter when bloomed:
•
Number of Petals per Flower: N/A
Additional Facts

30 to 240 Stems of Tinted Baby's Breath Gypsophila
These flowers are lovely, and no matter which way you choose to show them off we know they'll look great! Insert these Tinted Baby's Breath flowers into a homemade floral arrangement for the perfect ornament to decorate yours or a loved one's home.
---
---
Additional Information
•••••
• Item Condition:
New
• Brand:
GlobalRose.com
• Guard Petals:
• Product ID:
babys-breath-tinted-qty
• Gtin13:
1850500077229
• Box Dimensions:
7 - 10
"x
6 - 10
"x
27 - 37
"
• Weight:
3.5 - 19.8 lbs
• Packing Material: Recyclable Carton
Product Description
•••••
Want to send Tinted Baby's Breath Flowers to someone you love? Need help adding color to some homemade designs that just aren't quite up to snuff? We've got your back! Globalrose now carries an eclectic selection of high quality Tinted Baby's Breath Flowers that have been carefully grown for your online ordering convenience. These premium flowers are sure to make an everlasting impression. We grow our Tinted Gysophila Flowers in our eco-friendly greenhouses and our environmentally conscious, where our experts use the utmost care to ensure every plant we produce meets our vision and standard of quality. A lot of work goes into every seed planted, stem grown, and flower harvested and provided to our customers. Once you've ordered, you can be confident that your flowers will arrive in a timely fashion, thanks to our partnership with FedEx. Cusotmers ordering within the continental United States are also eligible for free delivery when you order!
Globalrose is committed to quality customer service and delivering quality products to all of our customers. There's no reason to sacrifice quality when shopping online for flowers! We have a proven track record of providing absolutely fresh and high quality flowers to our customers around the world and we take great pride in setting the industry standard for online flower wholesaling.