Asiatic Lilies
From 8 to 120 Flowers
$0
FREE SHIPPING
Buy online flowers such as these Asiatic for sale and present a gift of beauty to someone you care about.
EARLIEST DELIVERY DATE:

PRODUCT DESCRIPTION
We have a stunning collection of online flowers, Asiatics for sale just for you and your family to enjoy. Have them delivered as a gift on a special day or simply get them for your home. This lily variety is one of the most affordable blooms you can purchase to give you excellent value for money thanks to their multiple flowerheads per stem as well as large, wide-open blooms.
Our online Asiatic flowers for sale are offered in a variety of color tones for you to choose from. Go for our white or pink lilies if you're hoping to bring some springtime freshness into your home or deliver our orange blooms to a friend to cheer her up. No matter your recipient's personality type, you will surely find the right color for him or her. If it's for Mom you're shopping for, try 40 stems of hot pink online flowers to make her day or as a surprise birthday gift.
Choose from 20 stems, 40 stems or 120 stalks of bright, beautiful lily buds depending on your needs. They are all offered at incredible price points because we are a direct to consumer grower of the top roses and lilies in the market. Shop for your blooms at their freshest stage only on our Global Rose online store.
FLOWER REVIEWS
Debby Beisner
Verified Buyer
September 2016
My daughter, the bride, told me she wanted sunflowers, red roses, and orange lilies and then she told me about globalrose.com. I was impressed with the helpful ordering suggestions and online chat help. The flowers arrived to my motel out of town and opened perfectly for our arrangements on the wedding day. Thank you, Global Rose. Hope you keep up your good work (and if anyone wants to know about that awesome cake look for facebook page of Sweet April Cakes)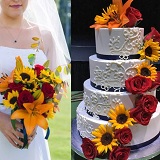 By Google Customer Review
Verified Buyer
Will buy from again! I have never purchased flowers online glad I did it was a good experience. Received email confirmation right after ordering. I was able to track my flowers. Received them right before noon day they were scheduled to be delivered. Hydrangea looked amazing and the asiatic lilies were closed as they said they would be. The only thing I would change is ordering the lilies a couple days earlier as I had to make them sweat to open. All in all I would definitely recommend ordering from this company saved me tons of money.