Black Roses Fresh Flowers Order Online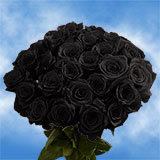 50 to 250 Stems of Black Roses
Irresistibly Magnetic!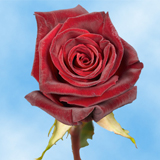 Dark Red Roses Choose Your Quantity From 75 to 250 Black Baccara Roses
Wondrously Seductive!
What is it about Black Roses and flowers that makes them so alluring? So alien, yet so very much the same; What about the darkness calls to us and stops us right in our tracks? We can't help but feel drawn to it, can't help but be admire and feel fascinated. Black flowers in general have been used to symbolize the ending of the things we love, but conversely they can also be used to symbolize the beginning of something new. Black Roses can inspire confidence in change and can make for a very unique and thoughtful gift if handled correctly.