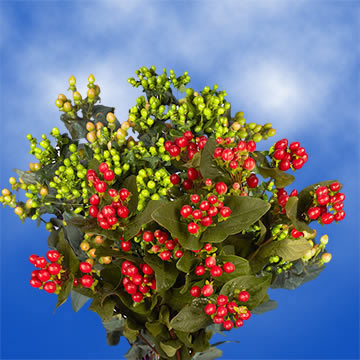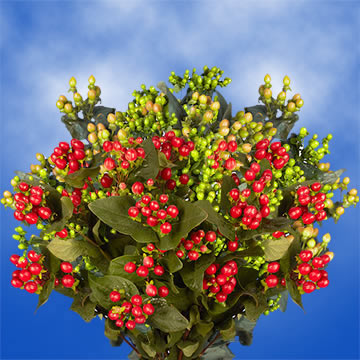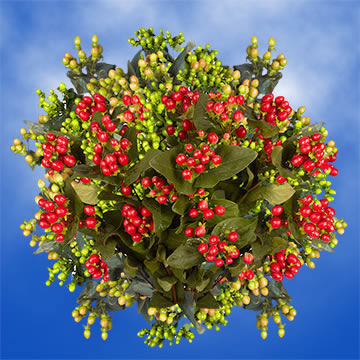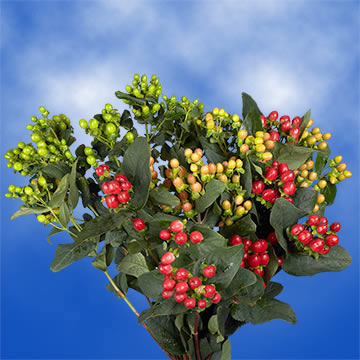 Color tones for all Assorted Color Hypericum Flowers may vary due to the computer monitor and/or Mother Nature.

Product Information
•••••
•
30 - 240 Stems of Hypericum Flowers
•
3 -24 bouquets of 10 stems each
• Color:
Assorted
•
Hand Picked
•
The stems are 22" - 24" long
• Vase Life:
• Stage on arrival:
Fresh Semi Open Blooms
• Time to Bloom:
13 - 24 Hours
• Diameter when bloomed:
•
Number of Petals per Flower: N/A
Additional Facts

Assorted Color Hypericum Flowers Choose Your Quantity From 240 - 1920 Blooms: 30 - 240 Flowers
These beautiful assorted hypericum are the best flower to include in floral arrangements These gorgeous flowers will bring the elegance you were looking for to any space.
---
---
Additional Information
•••••
• Item Condition:
New
• Brand:
GlobalRose.com
• Guard Petals:
• Product ID:
assorted-hypericum-qty
• Gtin13:
1850000073851
• Box Dimensions:
10
"x
6
"x
34
"
• Weight:
3.5 - 19.8 lbs
• Packing Material: Recyclable Carton
Product Description
•••••
We have the Best Assorted Color Hypericum Flowers available this season. Never sacrifice quality for affordability when you want beautiful flowers. We have healthily harvested our Hypericum Flowers this season and we'd like you to enjoy them as much as we are. These prettily petaled blooms are perfect for gift giving for occasions like Mother's Day, Birthdays, Graduations and other celebratory occasions. We also recommend that these be given as gifts during the Summer or Spring seasons. They can also be given in the winter to bring a bit of warmth into their lives. We guarantee that every petal will be intact on your blooms when they arrive.
As experienced floral professionals, we know what it takes to produce quality flowers. It takes plenty of focus, passion and skill. We can help with your order for Assorted Color Hypericum Flowers and provide excellent customer service every time.